Union Arms, 36 Panton street, Haymarket SW1
The pub was re-built in 1878. It was re-named the Tom Cribb in 1960 in honour of boxing champion and former landlord Tom Cribb. Cribb is said to have been landlord here from 1825 to 1834. It was at 26 Panton street until at least 1891. ***
St Martins pub history index
A listing of historical public houses, Taverns, Inns, Beer Houses and Hotels in St Martins in Fields, London. The St Martins in Fields , London listing uses information from census, Trade Directories and History to add licensees, bar staff, Lodgers and Visitors.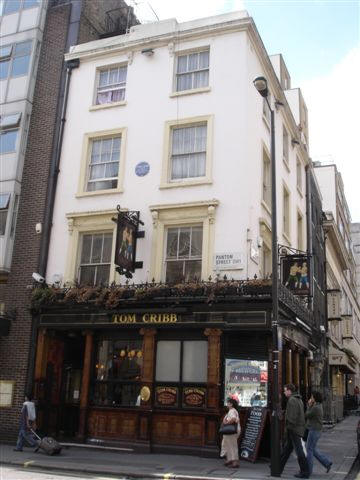 Union Arms, 36 Panton Street, SW1 - in July 2007
Kindly provided by Stephen Harris
Residents at this address.
1825-34/Tom Cribb/../../../.. ***

1829/Thomas Cribb/../../../Robsons Directory

1832/Thomas Cribb/../../../Robsons Directory

1839/John Crook/../../../Pigots Directory

1842/John Crook/../../../Robsons Directory

1848/Thomas Whinney/../../../Post Office Directory

January 1848/John Osmond (assignee of Thomas Whinney, a bankrupt)/Outgoing Licensee/../../Era

January 1848/James Raven/Incoming Licensee/../../Era

1851/Ed Sedgwick/../../../Kellys Directory

1851/Richard Sedgwick/Victualler/58/Lenham, Kent/Census
1851/Elizabeth Sedgwick/Wife/56/Gretytlistone, Wiltshire/Census
1851/Charles Sedgwick/Son, Carpenter (Journeyman)/20//Census
1851/Margaret Mahoney/House Servant/18/St Martins, Westminster/Census
1851/Charles Miller/Potman/19/Chippenham, Wiltshire/Census
1851/Edward Day/Cousin, Grocers shopman/25/Lenham, Kent/Census

1856/T F P Thompson/../../../Post Office Directory

1861/Thomas P Thompson/Victualler/39/Westminster, Middlesex/Census
1861/Caroline E Thompson/Wife/34/Bloomsbury, Middlesex/Census
1861/Frances Thompson/Mother, Widow/74/Berwick on Tweed, Scotland/Census
1861/Jane Hodge/Barmaid/19/Bridgwater, Somerset/Census
1861/Hannah Hincks/Cook, Widow/44/Bethnal Green, Middlesex/Census
1861/George J Shaw/Potman/20/Goswell street, London/Census
1861/Annie Conoley/Housemaid/22/Cork, Ireland/Census

March 1864/Thomas Francis Pemberton Thompson/Outgoing Licensee/../../Era Newspaper

March 1864/Frederick Luke Key/Incoming Licensee/../../Era Newspaper

1869/G William Groves/../../../Post Office Directory

1871/George W Groves/Licensed Victualler, Widow/46/Pimlico, Middlesex/Census
1871/George W Groves/Son/14/Stockholm, Sweden/Census
1871/Henry Groves/Son/12/St George Hanover Square, Middlesex/Census
1871/Arthur C Groves/Son/11/St George Hanover Square, Middlesex/Census
1871/Louis Brampleburgh/General Servant/26/Brussels, Belguim/Census
1871/Robert Morgell/Lodger, Retires Lieut Indian Army/58/East Indies/Census

1874/G W Groves/../../../LV Directory

My g grandfather was Lewis Chapman Hendry, the proprietor in 1879 and 1880 according to the Westminster Poor rates register *

1881/Edwin Edbrooke/Publican/40/Dunster, Somerset/Census
1881/Richard Dennett/Cellarman/22/Newton Tracy, Devon/Census
1881/John Watson/Potman/23/St James, Middlesex/Census
1881/Alice Allgood/Barmaid/43/Molton, Northampton/Census
1881/Edith Copelane/Barmaid/22/London, Middlesex/Census
1881/Julia Wiskar/Cook/20/London, Middlesex/Census
1881/Agnes Haggie/Housemaid/20/Cupar (N B), Fife, Scotland/Census

1882/Edwin Edbrooke/../../../Post Office Directory

1884/Edwin Edbrooke/../../../Post Office Directory

1891/John M Pierpoint/../../../Post Office Directory

1891/John M Pierpoint/Licensed Victualler/49/St Pancras, London/Census
1891/Victoria Pierpoint/Wife/49/Cambridge/Census
1891/Albert J Pierpoint/Son, Manager/26/Kensington, London/Census
1891/Claude Pierpoint/Son/9/Steeple Morden, Cambridge/Census
1891/Isabel Ramsley/Barmaid/29/Holloway, London/Census
1891/Morton Masterson/Nephew/24/Bayswater, London/Census

The history of Thomas John Sewell, licensee

1894/Thomas John Sewell, Union Arms, 26 Panton street, Haymarket SW/../../Post Office Directory

1895/Thomas John Sewell, Union Arms, 26 Panton street, Haymarket SW/../../Post Office Directory

1896/Thomas John Sewell, Union Arms, 26 Panton street, Haymarket SW/../../Post Office Directory

1899/Harry Naylor/../../../Post Office Directory

1901/Henry Naylor/Licensed Victualler/46/London/Census
1901/Matilda Naylor/Wife/46/Chelmsford/Census
1901/Alexandra Farrow/Sister in Law/26/Chelmsford/Census
1901/Hagar Valiant/Barmaid/27/Needham, Norfolk/Census
1901/Florence E Hitchman/Barmaid/24/London/Census
1901/Clara Pennett/Cook/29/London/Census
1901/Henry Sheppard/Barman/24/London/Census

1910/Harry Naylor/../../../Post Office Directory

1921/Patrick & McGregor Ltd/../../../Post Office Directory

1938/Patrick & McGregor Ltd/../../../Post Office Directory

1944/Patrick & McGregor Ltd/../../../Post Office Directory



** Provided By Stephen Harris

*** Provided By PhilipNichols