Search London wiki and Pub wiki history sites
All public house, restaurants, bars etc closed for the forseeable future from 20th March 2020, but this is a pub history site.
Welsh Harp, 47 Chandos street WC2
The name was abbreviated to Harp in 1995 and Chandos Street is now known as Chandos Place. **
St Martins pub history index
A listing of historical public houses, Taverns, Inns, Beer Houses and Hotels in St Martins in Fields, London. The St Martins in Fields , London listing uses information from census, Trade Directories and History to add licensees, bar staff, Lodgers and Visitors.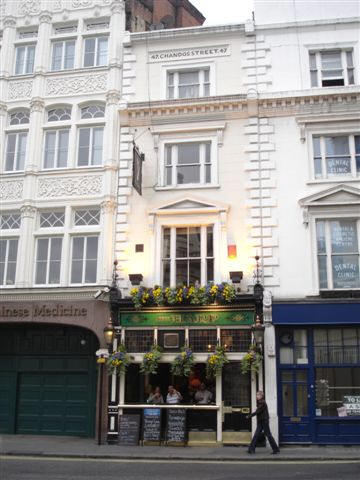 Welsh Harp, 47 Chandos Place, WC2 - in April 2007
Kindly provided by Stephen Harris
Residents at this address.
1805/James Barton, the Welsh Harp, Chandos street, Covent Garden/../../Holdens Directory

1832/Jacob Newcombe/../../../Robsons Directory

1839/John Small/../../../Pigots Directory

1843/Alfred J Sharman/../../../Kellys Directory

January 1849/William Streeter/Outgoing Licensee/../../Era Newspaper

January 1849/Henry Baldey/Incoming Licensee/../../Era Newspaper

1851/Henry Baldey/../../../Kellys Directory

1851/Ann Baldy/Victualler, Widow/34/Goring, Sussex/Census
1851/Jane Newland/Barmaid/15/Merrington, Sussex/Census
1851/George Wilcox/Waiter/28/Biddlesworth, Norfolk/Census
1851/Kate Conner/Cook/42/Ireland/Census

November 1851/Amy Saltmarsh (late Baldey)/Outgoing Licensee/../../Era

November 1851/John Jenner Saltmarsh, her husband/Incoming Licensee/../../Era

July 1853/James Wells/Outgoing Licensee/../../Era Newspaper

July 1853/Henry James Paxman/Incoming Licensee/../../Era Newspaper

1856/Henry James Paxman/../../../Post Office Directory

November 1857/Henry James Paxman/Outgoing Licensee/../../Era Newspaper

November 1857/Joseph Henry Crozier/Incoming Licensee/../../Era Newspaper

1861/Joseph H Crozier/Licensed Victualler/34/London, Middlesex/Census
1861/Maria Crozier/Wife/27/Leicestershire/Census
1861/Mary Hammond/Sister in Law, Assistant/15/Leicestershire/Census
1861/Sarah Jane Hammond/Niece/9/Leicestershire/Census
1861/Edward Rd Phillips/Potman/25/Worcester/Census

1869/John Conrad Habricht/../../../Post Office Directory

1871/Elizabeth Goach/Licensed Victualler, Widow/47/Calais, British subject/Census
1871/Jane Davis/Servant/22/London/Census
1871/Margaret Setts/Servant/19/London/Census
1871/Louisa Doughty/Servant/25/../Census
1871/William Harris/Assistant/20/London/Census
1871/Margaret Patterson/Adopted/10/London/Census

1880/Mrs Louisa Ward/../../../Post Office Directory **

1881/Louisa Ward/Licensed Victualler, Widow/57/Paddington, Middlesex/Census
1881/Louisa Jane Ward/Daughter/25/Holloway, Middlesex/Census
1881/George Albert Ward/Son/23/Paddington, Middlesex/Census
1881/John Henry Ward/Son/19/Paddington, Middlesex/Census
1881/Robert Theophilus Ward/Son/17/Paddington, Middlesex/Census
1881/Jeanette Emily Ward/Daughter/10/Holloway, Middlesex/Census
1881/Edith Agnes Ward/Daughter/10/Holloway, Middlesex/Census
1881/Elizabeth Butt/Domestic Servant/29/Malden, Essex/Census
1881/Tom Shore/Potman/20/Brixton, Surrey/Census

1882/Mrs Louisa Ward/../../../Post Office Directory

1884/William Wing/../../../Post Office Directory

1891/George James Bloomfield/../../../Post Office Directory

1891/Edwin H Gilbert/Licensed Victualler/23/Hammersmith, London/Census
1891/Mary Ann Gilbert/Wife/30/Pimlico, London/Census
1891/Dorothy Gilbert/Daughter/1/Manchester, Lancashire/Census
1891/Lillian Owen/Barmaid/18/Islington, London/Census
1891/Susan Finding/Domestic Servant/18/Bedford, Beds/Census
1891/Thomas Holder/Barman/20/Manchester, Lancashire/Census

1895/Edwin Henry Gilbert/../../../Post Office Directory

1899/Mrs Caroline Barratt/../../../Post Office Directory

1901/Caroline B Smith/Licensed Victualler, Widow/45/Wiliton, Somerset/Census
1901/Charles J Smith/Son/18/Weyhill, Hampshire/Census
1901/Florence G Smith/Daughter/17/Weyhill, Hampshire/Census
1901/Alice M Smith/Daughter/13/Newbury, Berkshire/Census
1901/Charles Hill/Father, Widow/77/Fairlei Mount, Hampshire/Census
1901/Florence E Yeates/Cousin, Barmaid/25/Bristol/Census
1901/Charles S Hill/Nephew/14/Thatcham, Berkshire/Census
1901/Kate Smith/Domestic Servant/19/Leatherhead, Surrey/Census

1910/Ernest Bacon/../../../Post Office Directory

1911/Harry Myers/Licensed Victuallers manager/27/Bow, London/Census
1911/Kate Myers/Wife/26/Bishopsgate, London/Census
1911/Mark Myers/Son/4/Hoxton, LondonCensus
1911/Barry Baron Myers/Son/2/Canonbury, London/Census
1911/Nancy Simmonds/Assistant/../East London/Census
1911/Bertha Tabler/Barmaid/20/Chingford, essex/Census
1911/Constance Nadig/Cook/42/Kentish Town, London/Census
1911/Eva King/Nursemaid/23/Marylebone, London/Census

1915/Philip Aris Beresford/../../../Post Office Directory

1938/William Henry Hislop/../../../Post Office Directory

1944/Hy Michl Emery/../../../Post Office Directory



** Provided By Stephen Harris