Search London wiki and Pub wiki history sites
All public house, restaurants, bars etc closed for the forseeable future from 20th March 2020, but this is a pub history site.
White Swan, 14 New street WC2
St Martins pub history index
At 14 New Row, Covent Garden by 1944. In early records it is listed as the Moths Hotel, the Swan Hotel and the White swan.
A listing of historical public houses, Taverns, Inns, Beer Houses and Hotels in St Martins in Fields, London. The St Martins in Fields , London listing uses information from census, Trade Directories and History to add licensees, bar staff, Lodgers and Visitors.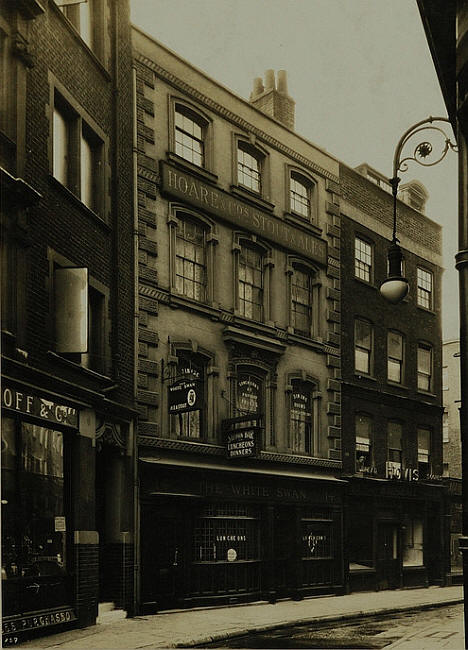 White Swan, 14 New Road WC2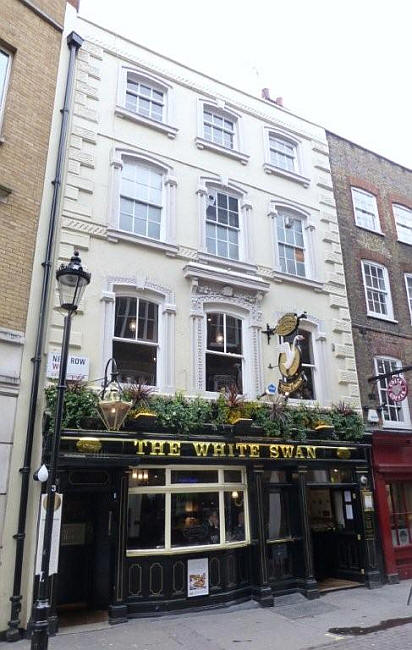 White Swan, 14 New Street, WC2 - in March 2013
Kindly provided by Stephen Harris
Residents at this address.
1805/John Rogers, Swan Tavern, 14 New street, Covent garden/../../Holdens Directory

1811/J Rogers, Swan Tavern, New street, Covent garden/../../Holdens Directory

1822/John Lord/Swan Tavern/../../London Directory

1842/George Moth/White Swan/../../Robsonís Directory **

1848/George Moth/Moths Hotel/../../Post Office Directory

1851/George Moth/Moths Hotel/../../Kellys Directory

1851/Emma Wardly/Housekeeper at Tavern/38/Marylebone, Middlesex/Census
1851/Francis Moth/Visitor, Painter, Widow/41/Brown Candover, Hampshire/Census
1851/George Moth/Visitor, Solicitors Clerk/15/Winchester, Hampshire/Census
1851/William Moth/Visitor/13/Alresford, Hampshire/Census
1851/Henry Daws/Waiter/30/Middlesex/Census
1851/Charles Hare/Waiter/25/Richmond, Surrey/Census
1851/Edward Chappin/Porter/16/Hammersmith, Middlesex/Census
1851/Mary Moth/Barmaid/22/Easton, Hampshire/Census
1851/Elizabeth Budcock/Cook/42/Brixton, Surrey/Census
1851/Caroline Nash/Kitchenmaid/25/Willesden, Berkshire/Census
1851/Mary Santyer/Housemaid/21/Winchester, Hampshire/Census

May 1852/George Moth/Outgoing Licensee/../../Era

May 1852/Thomas Young/Incoming Licensee/../../Era

1856/Thomas Young/Swan Hotel/../../Post Office Directory

April 1856/Thomas Young/Outgoing Licensee/../../Era Newspaper

April 1856/Frederick Andreas Hoffman/Incoming Licensee/../../Era Newspaper

1861/Charles Pavely/Publican/37/London/Census
1861/Elizabeth Paveley/Wife/37/London/Census
1861/Mary A Freeman/Servant/26/London/Census
1861/James Tyrell/Potman/20/London/Census
1861/Jane Protheroe/Cook/25/Hamburg/Census
1861/George Altmanns/Waiter/19/Hamburg/Census

1865/Mr Charles Pavely/Swan Hotel/../../LV Association

1869/Charles Pavely/Swan Hotel/../../Post Office Directory

Swan Hotel, 14 New Street :
1871/Charles Pavely/Publican employing 3 Women & 2 Men/47/Hertfordshire/Census
1871/Elizabeth Pavely/Wife/47/Wandsworth, Surrey/Census
1871/Emma Leeson/Aunt, Widow/60/Hertfordshire/Census
1871/Julia Graham/Barmaid/28/Hoxton, Middlesex/Census
1871/Kate Kent/Barmaid/24/Dover, Kent/Census
1871/Ellen Budsbey/Cook/36/Ireland/Census
1871/Joe Armsworth/Waiter/21/London, Middlesex/Census
1871/Samuel Hudy/Waiter/27/London, Middlesex/Census

1881/Carl L Von Bibra/Licensed Victualler/27/St Martins In The Fields, Middlesex/Census
1881/Mary Ann Bibra/Wife/27/Finsbury, Middlesex/Census
1881/Louis F Bibra/Son/3/Esher, Surrey/Census
1881/William E Bibra/Son/4 months/St Martins In The Fields, Middlesex/Census
1881/Emily Cooke/Visitor/28/Bishops Gate, Middlesex/Census
1881/Edward Harris/Visitor, Artist/26/Birmingham, Warwick/Census
1881/William A Breakspeare/Visitor, Artist/25/Birmingham, Warwick/Census
1881/Amelia Holloway/Domestic Servant And Barmaid/24/Hackney, Middlesex/Census
1881/Charles J Everett/Visitor, Clerk (Wholesale Druggist)/27/Lambeth, Surrey/Census
1881/Albert C Bowker/Potman/19/Lambeth, Surrey/Census
1881/Emily Day/Domestic Servant/19/Kent/Census

1884/George A Hildyard/../../../Post Office Directory

1891/John F Hickley/Hotel Keeper/?/Portland, Dorset/Census
1891/Mary B Hickley/Wife/34?/Kidderminster, Worcester/Census
1891/Annie B Hill/Barmaid/24/Yelminster, Dorset/Census
1891/Elizabeth Wall/Barmaid/21/Hereford/Census
1891/Miriam Bamber/General Servant/24/Marston, Oxford/Census
1891/Frederick Chalkwright/Potman/18/Peters Street, London/Census
1891/Ada Nicholls/Barmaid/24/Heacham, Norfolk/Census

1899/Thomas Naylor/../../../Post Office Directory

1901/George R Hives/Public House Manager/34/Peterborough, Northampton/Census
1901/Annie Hives/Wife, Manageress/32/Exeter, Devon/Census
1901/Annie Hives/Daughter/1/St Martin in the Fields, London/Census
1901/Ann Jennings/Mother in Law, Widow/71/Bow, London/Census
1901/Minnie Hammond/Barmaid/25/Camden Town, London/Census
1901/Ellen Jackson/Cook/36/Bishops Stortford, Hertfordshire/Census
1901/Ellen Phillips/Housemaid/23/Battersea, London/Census
1901/Thomas J Thorrell/Potman/30/Notting Hill, London/Census

1910/George Robert Hives/../../../Post Office Directory

1921/Mrs Priscilla Maud Waters/../../../Post Office Directory

1938/Hy D Widdicombe & Alfred Jn Reed/../../../Post Office Directory

1944/Arthur George Morgan & Michl Jn Regan/../../../Post Office Directory



** Provided By Stephen Harris