White Swan, 14 New street WC2
St Martins pub history index
The List of Masonic Lodges of 1740 - 1755 note that a masonic lodge met at the Swan, New street, Covent Garden with a constitution date of May 5th 1755 .
At 14 New Row, Covent Garden by 1944. In early records it is listed as the Moths Hotel, the Swan Hotel and the White swan.
A listing of historical public houses, Taverns, Inns, Beer Houses and Hotels in St Martins in Fields, London. The St Martins in Fields , London listing uses information from census, Trade Directories and History to add licensees, bar staff, Lodgers and Visitors.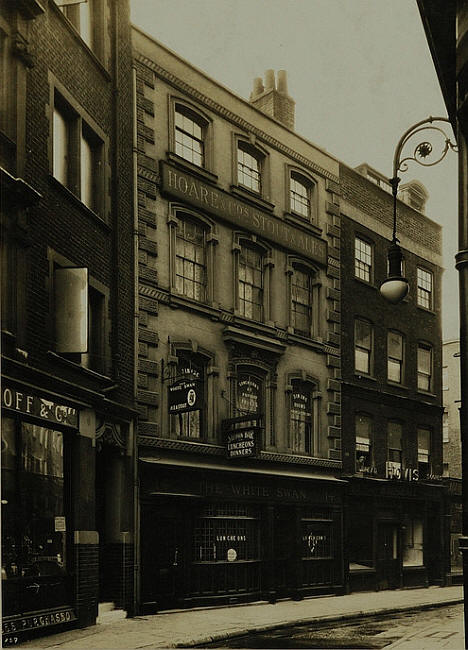 White Swan, 14 New Road WC2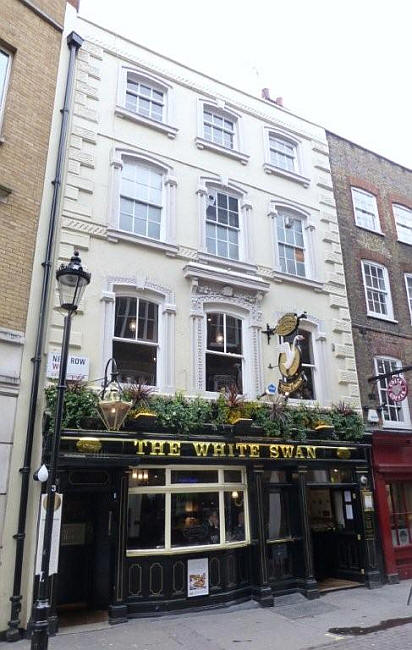 White Swan, 14 New Street, WC2 - in March 2013
Kindly provided by Stephen Harris
Residents at this address.
In 1768, the Lodge of Concord, Swan, is at the New Street, Covent Garden, a Masonic Lodge

June 1789/John Thing, the Swan, New Street, Covent Garden, victualler/../../Sun Fire Insurance records held at the LMA

1805/John Rogers, Swan Tavern, 14 New street, Covent garden/../../Holdens Directory

1811/J Rogers, Swan Tavern, New street, Covent garden/../../Holdens Directory

1822/John Lord/Swan Tavern/../../London Directory

1842/George Moth/White Swan/../../Robson's Directory **

1848/George Moth/Moths Hotel/../../Post Office Directory

1851/George Moth/Moths Hotel/../../Kellys Directory

1851/Emma Wardly/Housekeeper at Tavern/38/Marylebone, Middlesex/Census
1851/Francis Moth/Visitor, Painter, Widow/41/Brown Candover, Hampshire/Census
1851/George Moth/Visitor, Solicitors Clerk/15/Winchester, Hampshire/Census
1851/William Moth/Visitor/13/Alresford, Hampshire/Census
1851/Henry Daws/Waiter/30/Middlesex/Census
1851/Charles Hare/Waiter/25/Richmond, Surrey/Census
1851/Edward Chappin/Porter/16/Hammersmith, Middlesex/Census
1851/Mary Moth/Barmaid/22/Easton, Hampshire/Census
1851/Elizabeth Budcock/Cook/42/Brixton, Surrey/Census
1851/Caroline Nash/Kitchenmaid/25/Willesden, Berkshire/Census
1851/Mary Santyer/Housemaid/21/Winchester, Hampshire/Census

May 1852/George Moth/Outgoing Licensee/../../Era

May 1852/Thomas Young/Incoming Licensee/../../Era

1856/Thomas Young/Swan Hotel/../../Post Office Directory

April 1856/Thomas Young/Outgoing Licensee/../../Era Newspaper

April 1856/Frederick Andreas Hoffman/Incoming Licensee/../../Era Newspaper

1861/Charles Pavely/Publican/37/London/Census
1861/Elizabeth Paveley/Wife/37/London/Census
1861/Mary A Freeman/Servant/26/London/Census
1861/James Tyrell/Potman/20/London/Census
1861/Jane Protheroe/Cook/25/Hamburg/Census
1861/George Altmanns/Waiter/19/Hamburg/Census

1865/Mr Charles Pavely/Swan Hotel/../../LV Association

1869/Charles Pavely/Swan Hotel/../../Post Office Directory

Swan Hotel, 14 New Street :
1871/Charles Pavely/Publican employing 3 Women & 2 Men/47/Hertfordshire/Census
1871/Elizabeth Pavely/Wife/47/Wandsworth, Surrey/Census
1871/Emma Leeson/Aunt, Widow/60/Hertfordshire/Census
1871/Julia Graham/Barmaid/28/Hoxton, Middlesex/Census
1871/Kate Kent/Barmaid/24/Dover, Kent/Census
1871/Ellen Budsbey/Cook/36/Ireland/Census
1871/Joe Armsworth/Waiter/21/London, Middlesex/Census
1871/Samuel Hudy/Waiter/27/London, Middlesex/Census

1881/Carl L Von Bibra/Licensed Victualler/27/St Martins In The Fields, Middlesex/Census
1881/Mary Ann Bibra/Wife/27/Finsbury, Middlesex/Census
1881/Louis F Bibra/Son/3/Esher, Surrey/Census
1881/William E Bibra/Son/4 months/St Martins In The Fields, Middlesex/Census
1881/Emily Cooke/Visitor/28/Bishops Gate, Middlesex/Census
1881/Edward Harris/Visitor, Artist/26/Birmingham, Warwick/Census
1881/William A Breakspeare/Visitor, Artist/25/Birmingham, Warwick/Census
1881/Amelia Holloway/Domestic Servant And Barmaid/24/Hackney, Middlesex/Census
1881/Charles J Everett/Visitor, Clerk (Wholesale Druggist)/27/Lambeth, Surrey/Census
1881/Albert C Bowker/Potman/19/Lambeth, Surrey/Census
1881/Emily Day/Domestic Servant/19/Kent/Census

1884/George A Hildyard/../../../Post Office Directory

1891/John F Hickley/Hotel Keeper/?/Portland, Dorset/Census
1891/Mary B Hickley/Wife/34?/Kidderminster, Worcester/Census
1891/Annie B Hill/Barmaid/24/Yelminster, Dorset/Census
1891/Elizabeth Wall/Barmaid/21/Hereford/Census
1891/Miriam Bamber/General Servant/24/Marston, Oxford/Census
1891/Frederick Chalkwright/Potman/18/Peters Street, London/Census
1891/Ada Nicholls/Barmaid/24/Heacham, Norfolk/Census

1899/Thomas Naylor/../../../Post Office Directory

1901/George R Hives/Public House Manager/34/Peterborough, Northampton/Census
1901/Annie Hives/Wife, Manageress/32/Exeter, Devon/Census
1901/Annie Hives/Daughter/1/St Martin in the Fields, London/Census
1901/Ann Jennings/Mother in Law, Widow/71/Bow, London/Census
1901/Minnie Hammond/Barmaid/25/Camden Town, London/Census
1901/Ellen Jackson/Cook/36/Bishops Stortford, Hertfordshire/Census
1901/Ellen Phillips/Housemaid/23/Battersea, London/Census
1901/Thomas J Thorrell/Potman/30/Notting Hill, London/Census

1910/George Robert Hives/../../../Post Office Directory

1921/Mrs Priscilla Maud Waters/../../../Post Office Directory

1938/Hy D Widdicombe & Alfred Jn Reed/../../../Post Office Directory

1944/Arthur George Morgan & Michl Jn Regan/../../../Post Office Directory



** Provided By Stephen Harris