Search London wiki and Pub wiki history sites
All public house, restaurants, bars etc closed for the forseeable future from 20th March 2020, but this is a pub history site.
White Hart, 18 Abchurch lane, St Mary Abchurch EC4
St Mary Abchurch pub history index
Latterly the address is at 135 Cannon Street and 18 Abchurch lane from at least 1884; this is the White Hart Restaurant by 1934 at this address; it is also noted as being a restaurant in the 1911 census.
A listing of historical London public houses, Taverns, Inns, Beer Houses and Hotels in St Mary Abchurch parish, City of London. The St Mary Abchurch,City of London Public House Trade Directory uses information from census, Trade Directories and History to add licensees, bar staff, Lodgers and Visitors.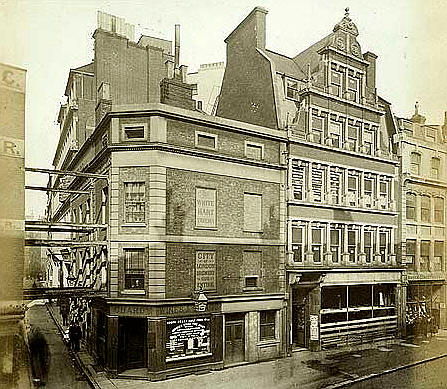 White Hart, 18 Abchurch Lane, St Mary Abchurch
Kindly provided by John Carnabie
Residents at this address
1805/R J Hart/../../../Holden Directory

1822/J Masters/../../../London Directory

1823/Mr Orgill, White Hart, Abchurch lane/../../Licensed Victuallers Association

1825/Mr J Orgill/../../../Licensed Victuallers Association

1832/William Austin/../../../Robsons Directory

1841/Charles T Chard/../../../Post Office Directory

1842/Charles Chard/../../../Robsons Directory

1848/Charles Thomas Chard/../../../Post Office Directory

1851/Charles Thomas Chard/../../..Kellys Directory

1851/Charles Thomas Chard/Tavern Keeper/45/Surrey/Census
1851/Harriet Chard/Wife/30/Surrey/Census
1851/Phoebe Chard/Daughter/18/City of London, Middlesex/Census
1851/Charles Chard/Son/16/City of London, Middlesex/Census
1851/Elizabeth Bousfield/Visitor, Widow/60/City of London, Middlesex/Census
1851/Margaret Ayres/Servant/20/City of London, Middlesex/Census
1851/Caroline Taylor/Servant/17/City of London, Middlesex/Census
1851/_ Murphy/Servant/18/Ireland/Census
1851/George Moore/Servant/30/London, Middlesex/Census
1851/John Osborne/Servant/14/London, Middlesex/Census

1856/Charles Thomas Chard/../../../Post Office Directory

1869/Charles Thomas Chard/../../../Post Office Directory

1871/Charles Chard/Licensed Victualler/37/City, Middlesex/Census
1871/Josephin Chard/Wife/31/Limerick, Ireland/Census
1871/Emily Miller/General Servant/31/England/Census
1871/Elizabeth Garner/General Servant/30/England/Census
1871/Lucy Durrant/General Servant/22/England/Census
1871/Matilda Durrant/General Servant/23/England/Census
1871/Olive Salter/Barmaid/16/England/Census
1871/Laura Dale/Barmaid/19/England/Census

1881/Martha Beales/Housekeeper/24/Nottingham/Census
1881/Agnes Peek/Barmaid/22/Worksop, Nottingham/Census
1881/Martha Jane Grant/Barmaid/22/Lambeth, Surrey/Census
1881/Margretia Kreppel/Barmaid/21/Finsbury, Middlesex/Census
1881/Ann Beales/Barmaid/31/Witty, Leicester/Census
1881/Mary Dore/Vegetable Maid, Widow/43/Strand, Middlesex/Census
1881/Hannah E Carroll/Housemaid/19/Commercial Rd E., Middlesex/Census
1881/Mary Ann House/Kitchen Maid/21/Finsbury, Middlesex/Census
1881/Catherine Healy/Scullery Maid/17/Lambeth, Surrey/Census
1881/William Smithson/House Porter, Widow/42/Norwich, Norfolk/Census

1882/George Anderson/../../../Post Office Directory

1884/George Anderson/../../../Post Office Directory

1891/George Anderson/../../../Post Office Directory

1899/George Anderson/../../../Post Office Directory

1901/Jane Perry/Housemaid/30/North Wales/Census
1901/Emily King/Kitchenmaid/30/City of London/Census
1901/Alfred Adkin/Kitchen Boy/15/Hackney, Middlesex/Census
1901/Agnes M Peck/Barmaid/40/Worksop, Nottinghamshire/Census
1901/Annie F Peck/Barmaid/37/Worksop, Nottinghamshire/Census
1901/Alice M Peck/Housekeeper/27/Worksop, Nottinghamshire/Census
1901/Ada E Lamprell/Barmaid/32/City of London/Census
1901/Mary Welfare/Barmaid/19/Brighton, Sussex/Census

1910/J Smith & Co/../../../Post Office Directory

1911/Elizabeth Matthias/Housekeeper/41/Walworth, London/Census
1911/Emma Agnes Scott/Restaurant Assistant/33/Bedminster, Bristol/Census

1921/J Smith & Co/../../../Hughes Directory

1934/J Smith & Co/Restaurant/../../Post Office Directory