Search London wiki and Pub wiki history sites
All public house, restaurants, bars etc closed for the forseeable future from 20th March 2020, but this is a history site.
Weavers Arms, 17 London Wall, St Mary Aldermanbury EC2
St Mary Aldermanbury index
Address also given as 42 Aldermanbury. Situated at the junction with Aldermanbury, this pub's site is now occupied by a post-modern office block called City Place House, completed in 1992. *
A listing of historical London public houses, Taverns, Inns, Beer Houses and Hotels in St Mary Aldermanbury parish, City of London. The St Mary Aldermanbury,City of London Public House Trade Directory uses information from census, Trade Directories and History to add licensees, bar staff, Lodgers and Visitors.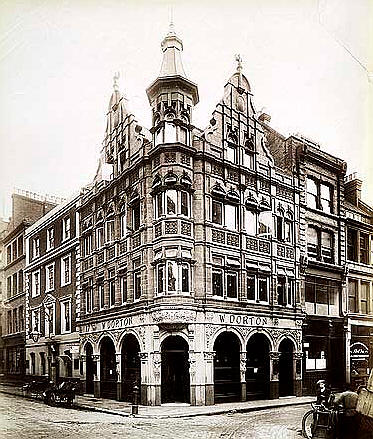 Weavers Arms, 17 London Wall, St Mary Aldermanbury - Licensed Victualler W Dorton
Kindly provided by John Carnabie
Residents at this address
1821/John Hanks / Victualler & Carpenter /../../Sun Fire Office records held at Guildhall Library **

1825/Mr Hole, Weavers Arms, Aldermanbury/../../Licensed Victuallers Association

1832/William Halls/../../../Robsons Directory

1836/William Ailes/../../../Robsons Directory

1836/William Ailes / Former Licensed Victualler, now out-of-business /../../London Gazette, 27 December 1836 **

1841/Solomon Hill/../../../P.O. Directory **

1842/Solomon Hill/../../../Robsonís Directory **

1844/William Hall/../../../Thompsonís Directory **

1848/William Hall/../../../Post Office Directory

1851/William Hall/../../../Kellyís Directory **

1852/William Hall/../../../Watkinís Directory **

July 1854/William Hall, deceased/Outgoing Licensee/../../Era

July 1854/Elizabeth Hall, widow and adminstratrix of Wm Hall/Incoming Licensee/../../Era

1856/Mrs Elizabeth Hall/../../../Post Office Directory

1860/Mrs Elizabeth Hall/../../../P.O. Directory **

December 1859/Elizabeth Hall/Outgoing Licensee/../../London City Press

December 1859/George Turner/Incoming Licensee/../../London City Press

1861/George Turner/Licensed Victualler/50/Bulmer, Essex/Census
1861/S E Ann Turner/Wife/40/Gateshead, Durham/Census
1861/Elizabeth Turner/Daughter/20/St Giles, Cripplegate/Census
1861/Emily Turner/Daughter/17/St Giles, Cripplegate/Census
1861/Isabella Turner/Daughter/13/St Andrews, Holborn/Census
1861/Fanny Turner/Daughter/10/St Andrews, Holborn/Census
1861/Amelia Coote/Sister/48/Bulmer, Essex/Census
1861/George Coote/Nephew, Carpenter/26/Bulmer, Essex/Census
1861/John Lawe/Servant/30/Gloucestershire/Census
1861/Maria Radley/Servant/17/London/Census

1869/Mrs Ann Turner/../../../Post Office Directory **

1877/Arthur Booth/../../../P.O. Directory **

1881/Samuel J Sheen/Licensed Victualler/29/Whitechapel, Middlesex/Census
1881/Amy A Sheen/Wife/31/Marylebone, Middlesex/Census
1881/Emma M Titshall/Barmaid/21/London St Lukes, Middlesex/Census
1881/Harriet E Chesterson/Barmaid/26/Cheshunt, Hertford/Census
1881/Annie Owens/Domestic Servant/21/Whitechapel, Middlesex/Census

1882/Samuel Jno Sheen/../../../Post Office Directory

1884/Harriet M Tullett/../../../Post Office Directory

1891/Mrs Harriet Mary Kemp/../../../Post Office Directory

1891/James S Kemp/Licensed Victualler/37/Portsea, Hants/Census
1891/Harriet M Kemp/Wife/36/Islington, London/Census
1891/Edith H Kemp/Daughter/16/Islington, London/Census
1891/Frederick S Kemp/Son/15/Islington, London/Census
1891/Jessie Smith/Barmaid/21/Leicester Square, London/Census
1891/Elizabeth Hibble/Domestic Servant, Housemaid/24/Newington Causeway, London/Census
1891/Emily A Walley/Domestic Servant, Cook/24/Somers Town, London/Census
1891/Ellen E Coppock/Barmaid/22/Bermondsey, London/Census

1895/Mrs Harriet Mary Kemp/../../../Post Office Directory

1899/Coysh & Knight/../../../Post Office Directory

1901/John H Ellis/Licensed Victualler/44/St Saviours, Surrey/Census
1901/Julia F Ellis/Wife/37/Ireland/Census
1901/Hubert Trogge/Potman/25/Germany/Census

1906/Frederick Wadkin/../../../Post Office Directory

1910/Frederick Wadkin/../../../Post Office Directory

1911/Frederick Richard Wadkin/Licensed Victualler/34/Deptford, Kent/Census
1911/Rose Annie Wadkin/Wife, Assistant/29/Shepherds Bush, London/Census
1911/Annie Maud Mitchell/Barmaid/24/Shepherds Bush, London/Census
1911/Rose Muriel Wadkin/Daughter/7/Shepherds Bush, London/Census
1911/Violet Dorothy Wadkin/Daughter/6/London Wall, City/Census
1911/Martha McDonald/Barmaid/25/Gibraltar/Census
1911/Annie Victoria Fennell/Barmaid/23/Gravesend, Kent/Census
1911/Annie Louie Payne/Nursemaid/22/Chatham, Kent/Census
1911/Adam Carl Andreras/Potman/27/St Georges East, London/Census

1921/Frederick Wadkin/../../../Hughes Directory

1934/Thomas James Bishop/../../../Post Office Directory

1938/Allens (Caterers) Ltd/../../../Post Office Directory

1940/Allens (Caterers) Ltd/../../../Post Office Directory



* Provided By Tris

** Provided By Stephen Harris