Half Moon, Cheapside, St Mary Colechurch EC2
St Mary Colechurch pub history index
In the 1770-1780 Masonic Lodges listing, the Half Moon, Cheapside is the meeting place of a masonic Lodge, and apparently constituted in December 2nd 1736; and the Half Moon is also listed in the earlier listings of 1730-32 and 1736-39, plus latterly of 1740-55.
Later the New London Tavern, Cheapside and latterly the building is at 140 Cheapside.
On a map, Eastcheap is immediately east of St Pauls, and you can make out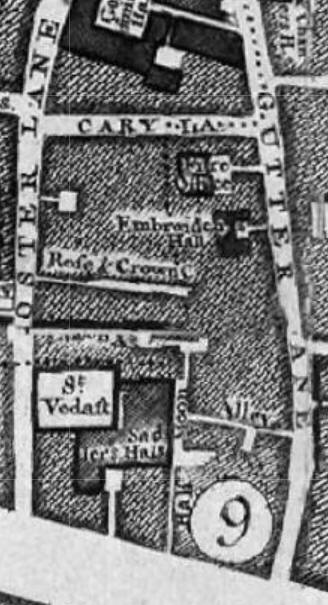 Number 9 is Half Moon Alley, Cheapside - in 1746 - see Rocques map
A listing of historical London public houses, Taverns, Inns, Beer Houses and Hotels in St Mary Colehurch parish, City of London.
Residents at this address
There are two early tokens #318 and #319 for the Half Moon, Cheapside - the first is dated 1658, the second is not dated, but to Edward Attwood :
#Token 318 Obverse : AT THE HALFE MOON A half-moon, in the field.
Reverse. IN THE CORTE . 1658 In the field, S. A. M.
#Token 319 Obverse : EDWARD ATTWOOD A half-moon, in the field.
Reverse IN CHEAPSIDE In the field, E. I. A.
The Half-moon tavern was on the north side of Cheapside, abutting westward on Gutter lane, having a way by the court from Cheapside into Gutter lane. After the fire it was rebuilt, retaining the appellation of the Half-moon tavern.
Elias Ashmole, in his Diary, March 11th, 1682, notices his presiding at the Half-moon tavern, in Cheapside, at a noble dinner prepared at the charge of some newly accepted masons: "I was the senior fellow among them, it being thirty-five years ago since I was admitted."
During a long series of years the Half-moon tavern maintained a distinguished notoriety, and is historically recorded as the scene of many public city events. As the property of the Saddlers Company it was leased by them to taverners till 1817, when Mr. Butler, chemist, became lessee of the premises, "heretofore the Half-moon tavern, but lately known as the New London tavern."
A fire destroyed the whole in February, 1821, when the house now 140 Cheapside was rebuilt on the site. Half-moon passage, leading from Cheapside to the tavern, is now named Cooper's
1794/Lewis Lewis, wine and brandy merchant, 140 Cheapside/../../Wakefields Directory

In 1810, John Lockie describes this as "London Tavern (New), Cheapside, behind 140, about nine or ten doors on the Left from St Pauls church yard."

1811/Lewis & Son, New London tavern, Cheapside/../../Holdens Directory
1811/Lewis & Son, wine merchants, Gutter lane, Cheapside/../../Holdens Directory

1822/../New London Tavern, Cheapside/../../History of Yorkshire Directory