Cock, 45 Monument street, St Mary At Hill EC3R
Later at 25 Monument Street by 1904, then 45 Monument Street by 1915; It had become the Walrus & the Carpenter by 1983 and still uses that name today.
A listing of historical London public houses, Taverns, Inns, Beer Houses and Hotels in St Mary at Hill parish, City of London. The St Mary at Hill, City of London Public House Trade Directory uses information from census, Trade Directories and History to add licensees, bar staff, Lodgers and Visitors.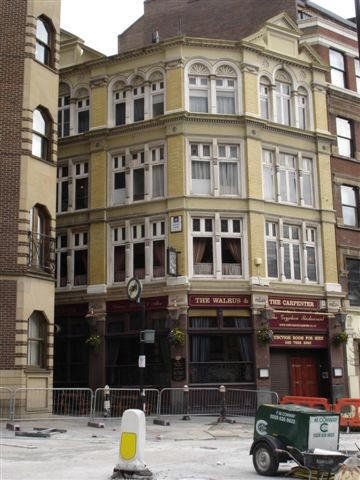 Walrus & carpenter, 45 Monument Street - in April 2006
Kindly provided by Stephen Harris
Residents at this address
1811/John Hall, Cock, Love lane, Eastcheap/../../Holdens Directory

1823/George Gullen/victualler/../../Sun Fire Office records held at the London Metropolitan Archives *

1827/Thomas Graham/victualler/../../Sun Fire Office records held at the London Metropolitan Archives *

1828/William Marshall/victualler/../../Sun Fire Office records held at the London Metropolitan Archives *

1833-34/William Marshall, Cock, 20 Love lane, Little Eastcheap/../../Pigots Directory

1839/William Marshall/../../../Pigots Directory

1841/William Marshall/../../../Post Office Directory *

1843/Mrs Mary Ann Marshall,/../../../Post Office Directory *

July 1849/Mary Ann Marshall, daughter and administratrix of Mary Ann Marshall/Incoming Licensee/../../Era Newspaper

1856/John Meredith Howard/../../../Post Office Directory *

1861/John Meredith Howard/Victualler/35/St Lukes, Middlesex/Census
1861/Elizth Ann Howard/Wife/32/Lichfield, Staffordshire/Census
1861/Elizth M Howard/Daughter/7/St Marylebone, London/Census
1861/John S Howard/Son/6/St Marylebone, London/Census
1861/Georgiana H Howard/Daughter/5/St Marylebone, London/Census
1861/Sarah Thirpeth/Barmaid/27/Ireland/Census
1861/Jane Thirkah/Housemaid/15/Cambridge/Census
1861/James Goldfinch/Waiter/24/Stepney, Middlesex/Census
1861/James Reid/Lodger, Fish Salesman/68/Barking, Essex/Census

February 1864/John Meredith Howard, deceased/Outgoing Licensee/../../London City Press

February 1864/Elizabeth Ann Howard, widow and executrix/Incoming Licensee/../../London City Press

1869/Robert Grant/../../../Post Office Directory

1871/aRobert Grant/Licensed Victualler/40/Margate, Kent/Census
1871/Elizabeth Grant/Wife/38/Lichfield, Staffordshire/Census
1871/Elizabeth M A Howard/Step Daughter, Barmaid/17/London, Middlesex/Census
1871/John Sammuel Howard/Stepson, Barman/16/London, Middlesex/Census
1871/Georgiabna H Howard/Step Daughter/15/London, Middlesex/Census
1871/John W Heywood/Brother, Mason/46/Lichfield, Staffordshire/Census
1871/Maria Grimes/Visitor, Widow/80/Tiverton, Devon/Census
1871/James Sparks/Potman/19/Thurton, Suffolk/Census

February 1875/Robert Grant, deceased/Outgoing Licensee/../../London Evening Standard

February 1875/Elizabeth Ann Grant, widow and executrix of Robert Grant/Incoming Licensee/../../London Evening Standard

1881/Elizabeth Grant/Licensed Victualler, Widow/50/Lockfield/Census
1881/John Howard/Son, Licenced Victualler/26/London City, Middlesex/Census
1881/Sarah Wright/Servant, Widow/40/Cambridge/Census
1881/James Strack/Cellerman/59/Suffolk/Census
1881/Susan Holland/Servant/23/Bermondsey/Census
1881/Fanny Edwards/Servant/69/Locksfield (N S)/Census

1882/Mrs Elizabeth Grant/../../../Post Office Directory

1884/Elizabeth A Grant/../../../Post Office Directory

1891/Chas Deakin & Co/../../../Post Office Directory

1891/Frederick Cousins Ward/Licensed Victualler/36/St Pancras/Census
1891/Georgine Haywood Ward/Wife/34/City, Middlesex/Census
1891/Elizabeth Ann Grant/Mother in Law, Retired Licensed Victualler, Widow/64/City, Middlesex/Census
1891/Alice Brown/General Servant/25/Dhadwell/Census
1891/Thomas Edwin Perry/Barman/23/Wales/Census
1891/Frederick Godwin/Barman/21/Hammersmith/Census
1891/Frederick Charles Carter/Barman/23/Southgate/Census
1891/Benjamin Scott/Barman/25/Bury St Edmunds/Census
1891/William Torrance/Barman/21/Hoxton/Census
1891/John Day/Potman/29/Southwark/Census

1895/Chas Deakin & Co/../../../Post Office Directory

1899/Edward John Arpthorp/../../../Post Office Directory

1901/Charles Poole/Publicans Manager/37/Paddington, London/Census
1901/Louisa Poole/Wife, Publicans Manageress/36/Paddington, London/Census
1901/Frank Poole/Son/10/Paddington, London/Census
1901/Harold Poole/Son/8/Bermondsey, London/Census
1901/Flora Poole/Daughter/5/Chelsea, London/Census
1901/Leonard Poole/Son/2/Holloway, London/Census
1901/Mary Gillingham/Domestic Servant/24/Westminster, London/Census
1901/Francis Gray/Domestic Servant/30/Weymouth, Dorset/Census
1901/Charles Henry /Barman/27/Stepney, London/Census
1901/Leonard Blanch/Barman/23/Devonport, Devon/Census
1901/Sidney Funnell/Barman/20/Rotherhithe, London/Census
1901/Charles Green/Barman/18/Isleworth, Middlesex/Census

1904/Edward Vines/../../../Post Office Directory **

1910/Edward Vines/../../../Post Office Directory **

1911/Charles Poole/Licensed Victuallers manager/47/Paddington, London/Census
1911/Louise Poole/Wife, Assistant/46/Paddington, London/Census
1911/Frank Poole/Son, Clerk/20/Paddington, London/Census
1911/Harold Poole/Son, Clerk/18/Bermondsey, London/Census
1911/Flora Poole/Daughter/15/Chelsea, London/Census
1911/Leonard Poole/Son/12/Hornsey, London/Census
1911/Roseanna Clerk/Cook/29/Liverpool/Census
1911/Theodora Pape/Housemaid/18/Brixton, London/Census
1911/James Rice/Barman/31/Selhouse, Norfolk/Census
1911/Robert James/Barman/19/New Cross, London/Census
1911/Oswald Hopkins/Potman/27/Peckham, London/Census
1911/Harry Tompkins/Barman/25/Bozeat, Northamptonshire/Census
1911/Henry Martin/Barman/25/Blackheath, Kent/Census
1911/John Rapley/Barman/21/Woolwich, Kent/Census
1911/Henry White/Barman/20/Homerton, London/Census

1915/Edward Vines/../../../Post Office Directory **

1921/Edward Vines/../../../Post Office Directory **

1922/Edward Vines/../../../Post Office Directory **

1938/Modern Inns & Taverns/../../../Post Office Directory **

In 1939 at the Cock, 45 Monument street are:
Sarah A Shepherd, a widowed cook, born 8th August 1891;
Mary Burke, later Joyce ny 1943, a Housemaid, and born 1st February 1911;
Christopher G P McCarthy, a barnab, born 21st August 1920;
Arthur J Barnard, a barman, born 23rd November 1912;
Leslie C Hayden, a barman, born 3rd July 1920
John W Harris, a License Victualler, born 8th March 1900, and
Alice E Harris, born 9th October 1901.

1940/Modern Inns & Taverns/../../../Post Office Directory **

1944/Modern Inns & Taverns/../../../Post Office Directory **



* Provided By Ewan

** Provided By Stephen Harris