Ye Olde Watling, 39 Bow lane EC4
St Mary le Bow pub history index
The first listing is in about 1944 when it is listed as Ye Watling, 39 Bow Lane EC4 with Thomas A Williams as the licensee.
Prior to this, a search of street directory listings suggest that in 1940, a Thomas A Williams has a restaurant at this address. It is on the East side of Bow lane (from Queen Victoria street) which is numbered from 38A to 54. The address is at the corner of Watling street.
In 1930, a Mrs Geraldine Green has a restaurant at this address.
In 1916, a John George Cathie has a restaurant at this address.
The same road numbering exists in 1870, 1900, 1910, and 1912, when the address is not listed.

In 1862, the address would have been at about 10 Bow lane, when the Crown was at 7 Bow lane.
A listing of historical London public houses, Taverns, Inns, Beer Houses and Hotels in St Mary le Bow parish, City of London.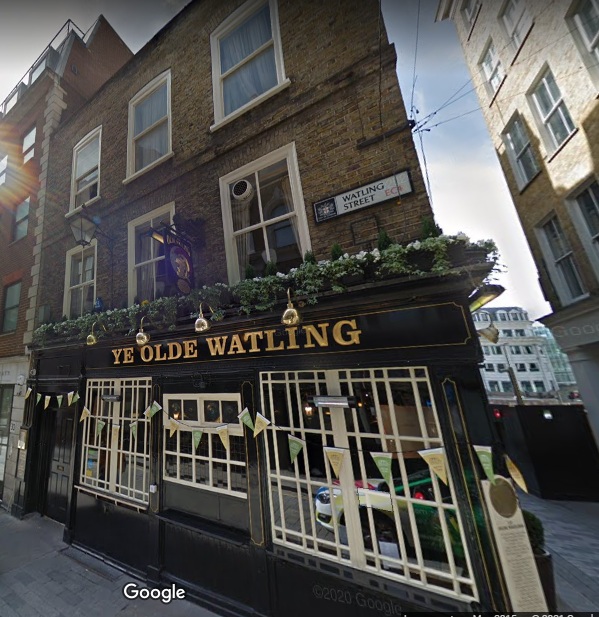 Ye Olde Watling, 39 Bow lane EC4
Google
Residents at this address
1983/YE OLDE WATLING: 29 Bow Lane EC4 . Bass Charrington. Reputedly built by Sir Christopher Wren, the pub has been restored but is unspoilt, with wooden panelling and interesting prints of Wren's churches.

1991/YE OLDE WATLING: 29 Bow Lane EC4. (A1/54) Bass Charrington.


The above references may be in reference to the Cock, but not this old restaurant which was open from 1916 onwards.