Saracens Head, 6 Friday street, St Matthew Friday street EC4M
St Matthew Friday street index
The Saracens Head is a very old coaching tavern which existed until about 1844. It gets regular mention as a busy coach stop, with daily coaches, and existed at least as early as 1722. Curiosities of London in 1855 states "Saracen's Head, Friday-street, Cheapside, adjoined St. Matthew's Church, and No. 5, said to have been the dwelling-house of Sir Christopher Wren. The inn consisted of three floors with open galleried fronts, besides the ground-floor: it was taken down in 1844; and upon its site, extending nearly to Old Change, large Manchester warehouses were erected."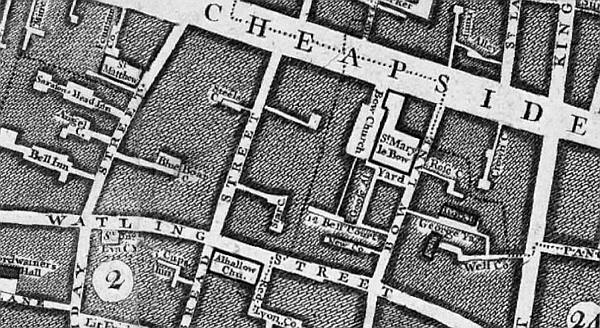 Mapping in 1746 of Cheapside and Friday street showing the Saracens Head Inn
From the 1746, 1869 and modern mapping, you will quickly discover the history of Friday street as it looks through the years. Now just a modern maze of offices ans shopping arcades.
A listing of historical London public houses, Taverns, Inns, Beer Houses and Hotels in St Matthew Friday street, City of London. The St Matthew Friday street, City of London listing uses information from census, Trade Directories and History to add licensees, bar staff, Lodgers and Visitors.
Residents at this address.
1805/John Guyer, inn keeper, Saracens Head, Friday street/../../Holdens Directory

1811/Cowdery & Co, Saracens Head Inn, Friday street, Cheapside/../../Holdens Directory

1814/James Hildyard, Wine merchant, Saracens Head, Friday street/../../Post Office Directory

Lion and Lamb Lodge Freemasons membership initiated February 5th 1818, James Hildyard, Victualler, Friday street, 1818 to 1820

1822/Benjamin Blake, Saracens Head Inn, Friday street/../../Pigots Directory

1833-34/Charles Smith, Saracens Head Inn, 6 Friday street, Cheapside/../../Pigots Directory

Friday street - Saracens Head - these entries from the 1841 census just list this as Friday street. No doubt the three concurrent entries relate to the Hotel and Tap, but this is a presumption.
1841/Thomas Angell/Hotel Keeper/40/../Census
1841/Charlotte Angell/../35/../Census
1841/Henry Angell/../12/Middlesex/Census
1841/Goulding Angell/../6/Middlesex/Census
1841/William Giblen/Male Servant/20/Middlesex/Census
1841/James Boyd/Male Servant/20/Middlesex/Census
1841/Josiah Robinson/Dry Salter/30/../Census
1841/Henry Frimpton/Manufacturer/30/../Census
1841/_ Watts/Independant/50/../Census
1841/Harriet Wiggen/Female Servant/25/../Census
1841/Sarah Ingram/Female Servant/45/../Census
1841/Mary Wilcox/Female Servant/25/Middlesex/Census
1841/Eliza Baker/Female Servant/25/../Census
1841/Sarah Millard/Female Servant/20/Middlesex/Census

1841/Thomas Jennings/Innholder/30/../Census

1841/Charles Bramhall/Publican/35/Middlesex/Census
1841/Fanny Bramhall/../25/Middlesex/Census
1841/Frederick Wood/Male Servant/20/Middlesex/Census
1841/James Pledger/Male Servant/30/Middlesex/Census
1841/Ann McDonald/Female Servant/20/Scotland/Census

1842/T C Angell, Saracens Head, 6 Friday street/../../Robsons Directory

1843/William Goff, Saracens Head tavern, 6 Friday street, Cheapside /../../Kellys Directory