Search London wiki and Pub wiki history sites
All public house, restaurants, bars etc closed for the forseeable future on 20th March 2020, but this is a history site. But how about the landlords give their tenants a break, no business, then please charge them no rent.
Cock & Woolpack, 6 Finch lane, St Michael Cornhill EC3
This pub was present before 1774. **
St Michael Cornhill index
A listing of historical London public houses, Taverns, Inns, Beer Houses and Hotels in St Michael Cornhill parish, City of London. The St Michael Cornhill, City of London Public House Trade Directory uses information from census, Trade Directories and History to add licensees, bar staff, Lodgers and Visitors.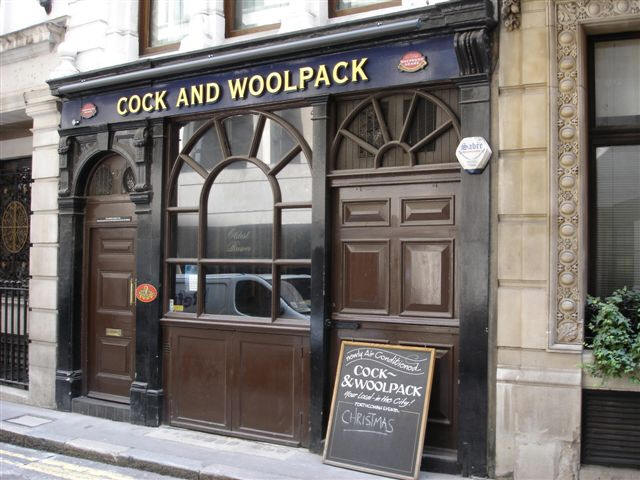 Cock & Woolpack, 6 Finch Lane - in August 2006
Kindly provided by Stephen Harris
Residents at this address
1804/Edward Rust / Waiter/../../Proceedings of the Old Bailey **

1818/Rebecca Denton/../../../Proceedings of the Old Bailey **
1818/Henry Webb / Waiter/../../Proceedings of the Old Bailey
1818/William Shafe / Waiter/../../Proceedings of the Old Bailey

1827/John Dyer / Eating House Keeper/../../Sun Fire Office records held at Guildhall Library **

1831/John White / Eating House Keeper/../../The Law Advertiser, Volume 9 **

1833-34/William Mounsey, Cock & Woolpack, 6 Finch Lane, Cornhill/../../Pigots Directory

1839/Grace Mounsey/../../../Pigots Directory

1841/Mrs Grace Mounsey/../../../P.O. Directory **

1851/George Hodges/../../../Kelly's Directory **

1851/George A Hodges/Victualler/27/London, Middlesex/Census
1851/Adelaide Sarah Elizth Hodges/Sister/20/Kingsland, Middlesex/Census
1851/Charles Wright/Visitor, Victualler/27/Sheerness, Kent/Census
1851/Edward Hibberd/Barman/17/Tisbury, Wiltshire/Census
1851/William Martin/Waiter/35/Bermondsey, Surrey/Census
1851/Nichola McCabe/Potman/18/Wapping, Middlesex/Census
1851/Maria Chapple/Cook/29/St Georges East, Middlesex/Census

1856/George Hodges/../../../Post Office Directory

1861/George A Hodges/Manager to Licensed Victualler/37/St Andrews, Holborn/Census
1861/Caroline Hodges/Wife/33/Shoreditch/Census
1861/Carrie Hodges/Daughter/10 months/St Michaels Cornhill/Census
1861/George H Hodges/Cousin, Barman/24/Teynham, Kent/Census
1861/Hezekiah Hodges/Cousin, Barman/21/Teynham, Kent/Census
1861/Ellen Ridout/Barmaid/21/Melton Abbas, Dorset/Census
1861/Ellen Gallovin/Cook/40/County Kerry, Ireland/Census
1861/George King/Potman/17/Windsor, Buckinghamshire/Census
1861/Sarah Jones/Nursemaid/16/Bermondsey/Census

February 1864/George Hodges/Outgoing Licensee/../../London City Press

February 1864/George Alfred Hodges/Incoming Licensee/../../London City Press

1867/Mr George Alfred Hodges/Son of Past Chairman/../../LV Directory

1867/George Hodges / Retired Licensed Victualler/../../Proceedings of the Old Bailey **
1867/George Hezekiah Hodges / Barman/../../Proceedings of the Old Bailey

1869/George Alfred Hodges/../../../Post Office Directory

1871/Eliza Partridge/Housekeeper, Widow/54/Holborn, Middlesex/Census
1871/George H Hodges/Cousin, Manager/34/Teynham, Kent/Census
1871/Henry Lonsdale/Barman/20/Bethnal Green/Census
1871/Elizabeth Cooper/Servant/26/St Brides, Middlesex/Census
1871/Susan Dixey/Servant/24/Greenwich, Kent/Census
1871/Mary Ann Bolton/Barmaid/19/Saffron Walden, Essex/Census
1871/Annie Grimwood/Barmaid/22/St Johns Wood, Middlesex/Census
1871/Martin Gardener/Potman/21/Lynn, Norfolk/Census

1872/George Alfred Hodges / Licensed Victualler, Deceased / Died 23 February 1872/../../London Gazette, 3 May 1872 **

1874/W Gilling/../../../H D Miles London & Suburban Licensed Victuallers Directory **

1881/Edward Hepworth / Manager/../../Proceedings of the Old Bailey **
1881/Margaret Kennedy / Barmaid/../../Proceedings of the Old Bailey

1881/Selenia Miles/Housekeeper, Widow/35/Bethnal Green, Middlesex/Census
1881/Charles Bull/Barman/35/Waltham, Essex/Census
1881/Jane Bengenfield/Kitchenmaid/25/Hackney, Middlesex/Census
1881/Emily Delatere/Barmaid/22/Waterloo Rd, Surrey/Census
1881/Elizabeth Muskett/Barmaid/24/London City, Middlesex/Census
1881/Emily Haslop/Barmaid/24/London City, Middlesex/Census
1881/Mary Ann Emerson/Barmaid/31/Kent Rd, Surrey/Census

1882/Walter Gilling/../../../Post Office Directory

1884/Walter Gilling/../../../Business Directory of London **

1891/Kate Turner/Licensed Victuallers Assistant, Widow/37/Holborn, London/Census
1891/Celia Biggs/General Servant/51/Colchester, Essex/Census

1895/Robert Callingham/../../../Post Office Directory *

1899/Robert Callingham/../../../Post Office Directory

He is a Wine Merchant in Sloane Street, Chelsea by 1901

1901/Robert Callingham / Licensed Victualler, Deceased / Died 21 July 1901/../../London Gazette, 10 July 1903 **

1910/Isaac Levy/../../../Post Office Directory

1911/Walter Bowyer/Licensed Victuallers Manager/34/Islington, London/Census
1911/Maud Emmie Bowyer/Wife, Manageress/29/Dulwich, London/Census
1911/Percy Richmond/Barman/24/Great Yarmouth/Census
1911/William Lapham/Barman/20/Hackney, London/Census

1915/Levy & Franks Ltd/../../../Post Office Directory

1921/Levy & Franks Ltd/../../../Post Office Directory

1938/Modern Inns & Taverns Ltd/../../../Post Office Directory

1944/Modern Inns & Taverns Ltd/../../../Post Office Directory

1971/../Cock & Woolpack/../../Post Office Directory



* Provided By Ewan

** Provided By Stephen Harris