Search London wiki and Pub wiki history sites
All public house, restaurants, bars etc closed for the forseeable future on 20th March 2020, but this is a history site. But how about the landlords give their tenants a break, no business, then please charge them no rent.
Hatchet, 20 Little Trinity lane, St Michael Queenhithe EC4
St Michael Queenhithe index
This pub was present by 1773 and in 1938 the licence and name was transferred to the property at 28 Garlick Hill which is shown in the photograph. **
A listing of historical London public houses, Taverns, Inns, Beer Houses and Hotels in St Michael Queenhithe parish, City of London.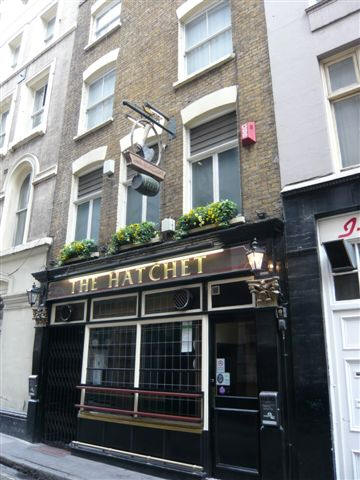 Hatchet, 28 Garlick Hill, EC4 - in April 2008
Kindly provided by Stephen Harris
Residents at this address
1811/William Houltston, Hatchet, 20 Little Trinity lane/../../Holdens Directory

1814/James Wright / Victualler /../../Sun Fire Office records held by Guildhall Library **

1835/Andrew Hart/../../../Robsonís Directory **

1836/William Evans / Public House Keeper /../../Proceedings of the Old Bailey **

1839/William Evans/../../../Pigots Directory

1841/William Evans/../../../Post Office Directory

1841/William Evans/Publican/30/../Census
1841/Ann Evans/../30/../Census
1841/Ann Evans/../25/../Census
1841/William Evans/../7/Middlesex/Census
1841/George Evans/../5/Middlesex/Census
1841/David Evans/../2/Middlesex/Census
1841/Susan Evans/../9/Middlesex/Census
1841/Mary Evans/../4/Middlesex/Census

1842/William Evans/../../../Robsonís Directory **

1848/William Evans/../../../Post Office Directory

1851/William Evans/../../../Kellyís Directory **

1851/William Evans/Victualler/46/Montgomery, Wales/Census
1851/Ann Evans/Wife/47/Montgomery, Wales/Census
1851/Susannah Evans/Daughter/19/City/Census
1851/George Evans/Son/15/City/Census
1851/Jane Evans/Daughter/9/City/Census
1851/William Gray/Lodger, Carpenter/34/Stanstead, Essex/Census
1851/Samuel Gibbons/Lodger, Bargeman/44/Oxford/Census
1851/Mary Sawyer/General Servaqnt/13/City/Census

1856/W Evans/../../../Post Office Directory

1862/William Evans/../../../Post Office Directory **

1865/Mr Ephraim J North, Hatchet, Little Trinity lane, Bread street /../../Licensed Victuallers Association

1869/James M Howe/../../../Post Office Directory

1874/James M Howe/../../../H.D. Miles London & Suburban Licensed Victuallers' Directory **

1880/Mrs Hannah Maria Lee/../../../Post Office Directory **

1881/Walter Bond/Licensed Victualler/39/Colchester, Essex/Census
1881/Eliza Bond/Wife/36/Colchester, Essex/Census
1881/Emma Roberts/Servant/36/London, Middlesex/Census

1882/Walter Bond/../../../Post Office Directory

1884/Walter Bond/../../../Post Office Directory

1891/William E King/../../../Post Office Directory

1891/William Ed King/Licensed Victualler/28/Oxford Street, London/Census
1891/Emma L King/Wife/24/Milborne Port, Somerset/Census
1891/Geo Stevens/Barman/20/Southwark/Census
1891/Walter Toole/Servant/14/City, London/Census
1891/Charles Shales/Visitor, Manager/31/Southwark/Census
1891/Jane S Shales/Visitor/23/Lambeth/Census
1891/Evelyn L King/Daughter/2/City, London/Census
1891/William C King/Son/3 months/City, London/Census

1895/William E King/../../../Post Office Directory

1899/Edward Robert Barrow/../../../Post Office Directory

1900/Richard Hough/../../../Post Office Directory **

1901/Ernest James Suckling/Licensed Victualler/21/Wethersfield, Essex/Census
1901/Ethel Beatrice Suckling/Wife/16/Walworth, London/Census
1901/Thos Barrell/Relative, Tram Driver/29/Walworth, London/Census
1901/Alice Mary Barrell/Relative/31/Dunmow, Essex/Census
1901/Sidney James Barrell/Son/6 months/Tottenham/Census

1906/William Stanley Webb/../../../Post Office Directory

1910/Mrs Alice M White/../../../Post Office Directory

1911/Thomas Alfred White/Licensed Victualler/42/London/Census
1911/Alice Mary White/Wife, Assistant/40/Norwich/Census
1911/Marian Maby/Cook, Widow/49/London/Census
1911/Violey Maby/Servant/15/London/Census

1921/Alfred White & Thomas Harper/../../../Hughes Directory

1927/Alfred John Cope/../../../Post Office Directory

1938/Alfred John Cope/../../../Post Office Directory

1944/Mrs Frances Sarah Marks/../../../Post Office Directory



** Provided By Stephen Harris