Pub history and pub wiki
Kings Head & Lamb, 49 Upper Thames Street, St Michael Queenhithe, London EC4
St Michael Queenhithe index
This pub closed and was demolished in the early 1970s. ** The Kings Head and Lamb was damaged by enemy action and closed on the 16th April 1941 but reopened on the 3rd November 1941.
A listing of historical London public houses, Taverns, Inns, Beer Houses and Hotels in St Michael Queenhithe parish, City of London. The St Michael Queenhithe, City of London Public House Trade Directory uses information from census, Trade Directories and History to add licensees, bar staff, Lodgers and Visitors.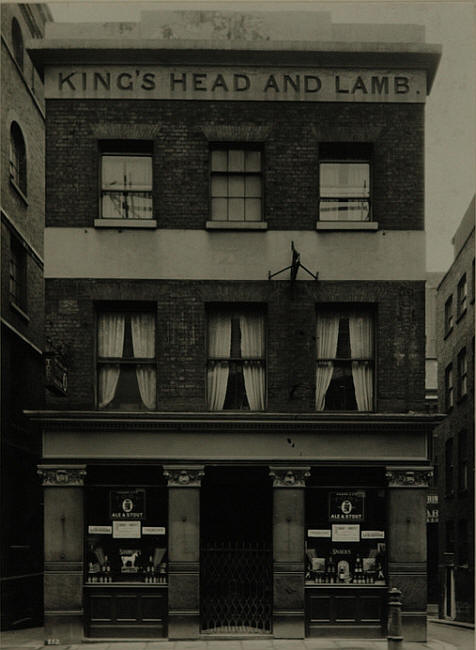 Kings Head & Lamb, 49 Upper Thames Street, St Michael Queenhithe, London EC4
The following entries are in this format:
Year/Publican or other Resident/Relationship to Head and or Occupation/Age/Where Born/Source.
1809/Barret / Victualler /../../Sun Fire Office records held at Guildhall Library **

1815/Maitland/../../../Sun Fire Office records held at Guildhall Library **

1835/Maitland / Victualler /../../Sun Fire Office records held at Guildhall Library **

1842/J Eayres/../../../Robsonís Directory **

1848/Henry Dewey/../../../Post Office Directory

September 1849/Henry Dewey/ Outgoing Licensee /../../The Era

September 1849/Benjamin Oliver/ Incoming Licensee /../../The Era

May 1850/Benjamin Oliver/Outgoing Licensee/../../Era

May 1850/Thomas Rack/Incoming Licensee/../../Era

1851/Thos Rack/51 Upper Thames Street/../../Kellys Directory

1851/Thomas Pook/Victualler/43/Reading, Berkshire/Census
1851/Ann Pook/Wife/36/Devizes, Wiltshire/Census
1851/Martha Pook/Daughter/16/Reading, Berkshire/Census
1851/Ellen Plank/Visitor, Dressmaker/25/Devizes, Wiltshire/Census
1851/John Knock/Potman/54/Suffolk/Census

May 1853/Benjamin Lambert Aird/Outgoing Licensee/../../Era

May 1853/Richard Goodwin/Incoming Licensee/../../Era

1856/R Goodwin/51 Upper Thames Street/../../Post Office Directory

October 1859/Michael O'Neill/Outgoing Licensee/../../Era

October 1859/Anastasia O'Neill/Incoming Licensee/../../Era

1867/Mrs Hannah Knight/../../../Licensed Victuallers Association

1869/H Knight/../../../Post Office Directory

September 1870/Hannah Knight, J F Buccleugh and A Hudson, executors of H Knight, deceased/Outgoing Licensee/../../London City Press

September 1870/Hannah Knight/Incoming Licensee/../../London City Press

1881/Edmund H Tyrrell/Licensed Victualler/39/London, Middlesex/Census
1881/Hannah Tyrrell/Wife/41/Kent Ash/Census
1881/Henry Knight/Stepson, Sailor/18/London, Middlesex/Census
1881/Harriet Knight/Stepdaur/13/London, Middlesex/Census
1881/Francis Knight/Stepson/10/London, Middlesex/Census
1881/Lucy Lee/Cook/35/Steventon, Hampshire/Census
1881/Edmund E Tyrrell/Son/2/London, Middlesex/Census

1882/E H Tyrrell/../../../Post Office Directory

1884/Edm H Tyrrell/../../../Post Office Directory

1887/E H Tyrell/../../../P.O. Directory **

1891/Mrs Hannah Tyrrell/../../../Post Office Directory

1891/Hannah Tyrrell/Licensed Victualler/53/Ash, Kent/Census
1891/Francis H Knight/Barman/20/City, London/Census
1891/Emmeline Clark/Barmaid/17/Canterbury, Kent/Census
1891/Eliz Bruce/Cook/27/Chelsea/Census
1891/Robt Gibson/Barman/17/Newmarket/Census
1891/Harry Hoill/Potman/17/Sandwich, Kent/Census

1895/Mrs Ellen Wheeler/../../../Post Office Directory

1899/Thomas Oxley Wydell/../../../Post Office Directory

1901/Frederick William Nunny/Public House Manager, widow/39/St Lukes, London/Census
1901/Maud Simpson/Barmaid/21/Southwark, London/Census
1901/Maud Cave/Barmaid/23/All Saints, Northampton/Census
1901/Archibald Walters/Barman/18/Mile End Old Town/Census

1910/Thomas Oxley Wydell/../../../Post Office Directory

1911/Mary Simpson/Manager (Public House)/25/Sidmouth, Devon/Census
1911/Laura Ridley/Barmaid/25/Bromley, Kent/Census
1911/Ida Conington/Barmaid/21/Old Ford, Bow/Census
1911/William Harris/Barman/18/Northamptonshire/Census

1915/Daniel Barnett/../../../Post Office Directory

1934 - 1950/F L Isaacs/../../../Freehold

1938/Frederick L Isaacs/../../../Post Office Directory

1944/Frederick L Isaacs/../../../Post Office Directory

1951 - 1952/M J Byrne/../../../Freehold

1953 - 1955/J B Mullens/../../../Freehold

1956 - 1963/T W E Browning/../../../Freehold

1964/E V Vickery/../../../Freehold



** Provided By Stephen Harris

Search for a pub, an address or person
And Last updated on: Wednesday, 03-Jul-2019 01:20:15 BST