Search London wiki and Pub wiki history sites
All public house, restaurants, bars etc closed for the forseeable future on 20th March 2020, but this is a history site. But how about the landlords give their tenants a break, no business, then please charge them no rent.
Royal Mail, 17 Noble street, St Olave Silver street EC2
St Olave Silver Street index
This pub was present by 1768 as the Coachmakers Arms. It was renamed the Royal Mail Coach by 1829, the name later abbreviated to Royal Mail, and was rebuilt in 1898 in the form shown in the postcard. **
Historical London public houses, Taverns, Inns, Beer Houses and Hotels.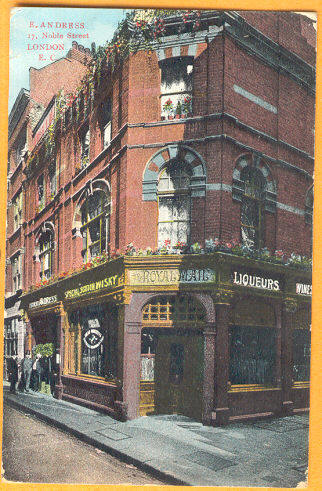 Royal Mail, 17 Noble Street - in Edwardian Times
Kindly provided by Colleen
Residents at this address.
1811/J Neate, Coachmakers Arms, Noble street, Falcon square/../../Holdens Directory

1829/Joseph Bills / Licensed Victualler/../../London Gazette, 17 November 1829 **

1839/Ann Dobbs/../../../Pigots Directory

1841/Mrs A Dobbs/../../../Post Office Directory

1842/S B Simonds/../../../Robsons Directory

1843/Samuel B Simonds/../../../Post Office Directory

1848/Charles Smith/../../../Post Office Directory **

1851/Charles Smith/../../../Kellys Directory

May 1852/Charles Smith/Outgoing Licensee/../../Era

May 1852/Thomas White/Incoming Licensee/../../Era

1856/Thomas White/../../../Post Office Directory

October 1859/Christopher Payne/Outgoing Licensee/../../Era

October 1859/Thomas James Marrable/Incoming Licensee/../../Era

1863/Thomas James Marrable / Tavern Keeper/../../Proceedings of the Old Bailey **

1864/Thomas James Marrable / Licensed Victualler, Deceased / Died, 18 April 1864/../../London Gazette, 24 January 1865 **

1869/H G Warner/../../../Post Office Directory

1874/Harry G Marner/../../../Licensed Victualler & Hoteliers Directory

1881/John Gale/Publican/47/London, Middlesex/Census
1881/Clara Gale/Wife/40/London, Middlesex/Census
1881/Fanny Gale/Daughter/22/London, Middlesex/Census
1881/Mary Gale/Daughter/19/London, Middlesex/Census
1881/Arthur Gale/Son/13/London, Middlesex/Census
1881/Walter Gale/Son/8/London, Middlesex/Census
1881/Jane Smith/General Servant/37/London, Middlesex/Census

1882/John Gale/../../../Post Office Directory

1884/John Gale/../../../Post Office Directory

1891/John Blake/../../../Post Office Directory

1895/Miss Caroline Young/../../../Post Office Directory

1899/Frederick Henry Harnor/../../../Post Office Directory

1905/Clara Hulda Hedwig Andress / Licensed Victualler/../../London Gazette, 23 July 1907 **

1910/Ernst Andress/../../../Post Office Directory

1911/Ernst Andress/Publican/57/Berlin,Germany/Census
1911/Hedwig Andress/Wife, Assistant/53/Deutsch Crone/Census

1921/Mendel Hart/../../../Post Office Directory

1938/Albert Ernest Berry/../../../Post Office Directory



** Provided By Stephen Harris