Search London wiki and Pub wiki history sites
All public house, restaurants, bars etc closed for the forseeable future from 20th March 2020, but this is a history site.
Adams Arms, 4 Conway Street, Fitzrovia W1T 6BB
St Pancras index
The address is at 11 Lower Southampton Street in 1842 and earlier. At 11 Hampstead Street until at least 1884; and at 4 Southampton Street by 1891. The address changes again between 1938 and 1944 to 4 Conway Street. * In the 1990s this became an O'Neills and in 2008 changed to The Lukin. **
Historical London public houses, Taverns, Inns, Beer Houses and Hotels.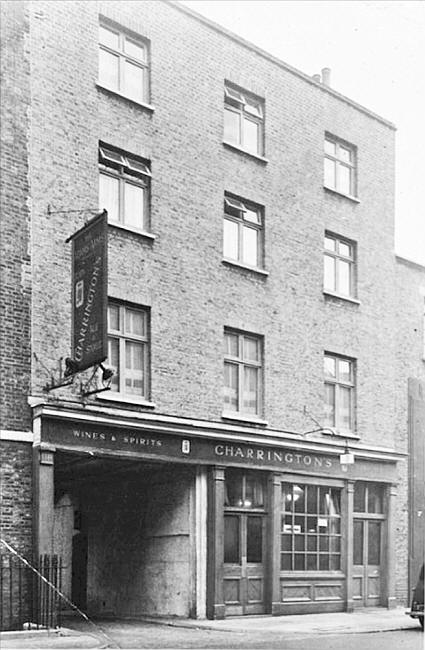 Adams Arms, 4 Conway Street, Fitzrovia - in 1959
The alley running beside the pub is Conway Mews.
Kindly provided by Vincent O'Loughlin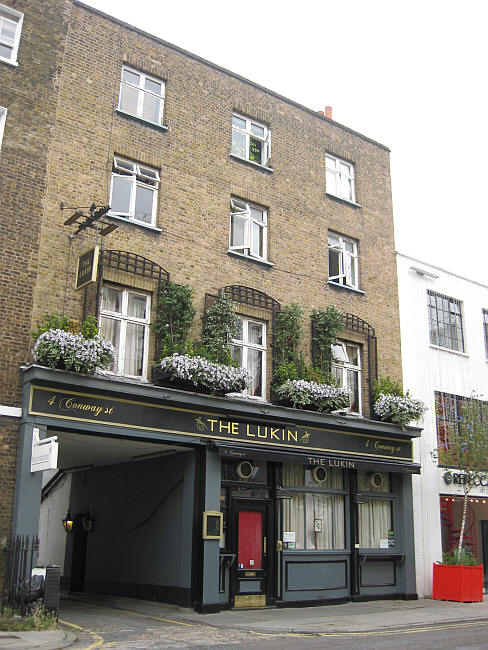 Adams Arms, 4, Southampton Street, (now 4, Conway Street) - in August 2013
Kindly provided by Dolores Dilley
Residents at this address.
1829/Thomas Downing/victualler/../../Sun Fire Office records held at the London Metropolitan Archives *

1829/W Archer, Adams Arms, 11 Lower Southampton street, Fitzroy Square/../../Robsons Directory

1832/John Taylor, Adams Arms, Lower Southampton Street, Fitzroy Square/../../Robsons Directory

1833-34/John Taylor, Adams Arms, 11 Lower Southampton Street, Fitzroy Square/../../Pigots Directory

1838/Edward William Grimwood/victualler/../../Sun Fire Office records held at the London Metropolitan Archives *

1839/William Henry Richardson/../../../Pigot's Directory *

1841/William Henry Richardson/../../../Post Office Directory *

1842/W H Richardson, Adams Arms, Lower Southampton Street, Fitzroy Square/../../Robsons Directory

1848/George T. Street/../../../Post Office Directory *

1851/James Palmer/../../../Post Office Directory *

1856/James Phillips/../../../Post Office Directory *

April 1861/Thomas Quinlan/Outgoing Licensee/../../Era

April 1861/Robert Price/Incoming Licensee/../../Era

1862/J L Price/../../../Post Office Directory

November 1862/William Davies, trade assignee of Robert Price, late occupier/Outgoing Licensee/../../Era

November 1862/Charles Williams/Incoming Licensee/../../Era

1869/J Whiting/../../../Post Office Directory

1881/James Caplin/Licensed Victualler/49/Pancras/Census
1881/Ann Caplin/Wife/47/Pancras/Census
1881/Lucy Sanderson/Niece, Barmaid/17/Marylebone/Census
1881/Margaret Housage/Domestic Servant/19/Marylebone/Census
1881/William Roberts/Potboy/10/Marylebone/Census

1882/James Copalin/../../../Post Office Directory

1884/John Groom/../../../Post Office Directory

1891/Dominic Evento/../../../Post Office Directory

1895/Frederick Coucher/../../../Post Office Directory *

1899/Curtis Mond/../../../Post Office Directory

1910/Mrs Sarah Annie Fowler/../../../Post Office Directory *

1915/Miss Sarah Annie Fowler/../../../Post Office Directory *

1921/Sarah Fowler/../../../Hughes Directory

1934/Horace Defries/../../../Post Office Directory

1938/Edward Frederick Lemon/../../../Post Office Directory

1940/Edward Frederick Lemon/../../../Post Office Directory

1944/George Benjamin/../../../Post Office Directory

1966/T N Fitzgerald, Adams Arms, 4 Conway Street W1/../../Licensed Victuallers Association



* Provided By Ewan

** Provided By Vincent O'Loughlin