Search London wiki and Pub wiki history sites
All public house, restaurants, bars etc closed for the forseeable future from 20th March 2020, but this is a pub history site.
Admiral Mann, 9 Hampshire street N7
St Pancras index
At 5 James Street, Brecknock Road before 1891. 9 Hampshire Street is at the junction with Hargrave Place, and the modern address is 7 - 9 Hargrave Place N7 by at least 1966. The pub closed in August 2014 and it was sold to a property developer. ***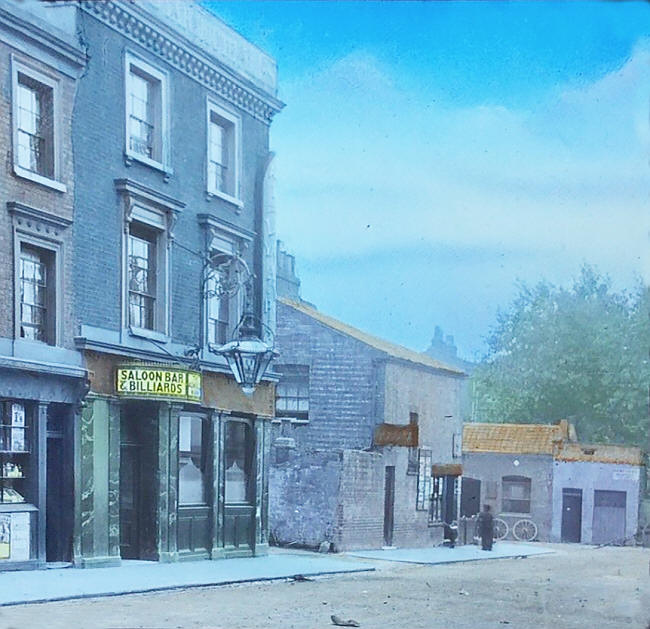 Admiral Mann, 9 Hampshire Street, Brecknock Road NW5 - circa 1900
Kindly provided by Vincent O'Loughlin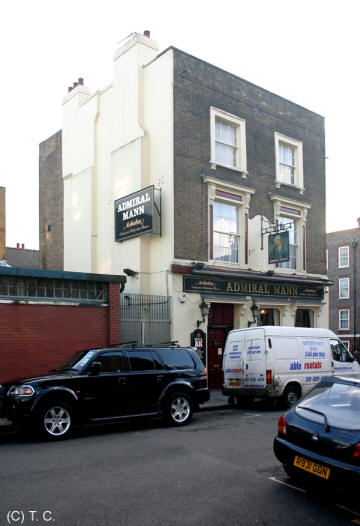 Admiral Mann, 7-9 Hargrave Place, N7 - 10th February 2010
Kindly provided by Tris
Historical London public houses, Taverns, Inns, Beer Houses and Hotels.
Residents at this address.
1861/George Watmough/Publican/61/Tuxford, Nottingham/Census
1861/M Watmough/Wife/52/Tuxford, Nottingham/Census
1861/J Watmough/Son, Joiner/22/St Pancras, Middlesex/Census
1861/E Watmough/Son, Organ Builder/16/St Pancras, Middlesex/Census
1861/J Watmough/Son/11/St Pancras, Middlesex/Census
1861/W Goodson/Lodger, Plasterer/26/Spalding, Lincolnshire/Census
1861/W Copp/Lodger, Cab Driver/40/Spalding, Lincolnshire/Census
1861/J Clark/Lodger, Cab Driver/26//Census
1861/L Russell/Servant/28/St Pancras, Middlesex/Census
1861/H Hicks/Servant/19/St Pancras, Middlesex/Census

1874/H. Carter/../../../Licensed Victuallers and Hotel Keepers Directory *

1881/Henry Wright/Licensed Victualler/40/Worchard Bishop, Devon/Census
1881/Eliza R Wright/Wife/46/London, Middlesex/Census
1881/Charlotte Wright/Daughter/13/Highgate, Middlesex/Census
1881/Eliza Wright/Daughter/11/Highgate, Middlesex/Census
1881/Frances Wright/Daughter/10/Highgate, Middlesex/Census
1881/Emily Wright/Daughter/9/Highgate, Middlesex/Census
1881/Mary A Wright/Daughter/5/Highgate, Middlesex/Census

1882/Henry Wright/../../../Post Office Directory

1891/Edward James Mcgregor/../../../Post Office Directory

1895/Edward James Mcgregor/../../../Post Office Directory

1899/Edward Charles Fleming/../../../Post Office Directory *

1901/Frederick H Trendler/Licensed Victualler/27/Finsbury, London/Census
1901/Alice Trendler/Wife/24/Wood Green, Middlesex/Census
1901/Gertrude Mabey/Sister in Law, Barmaid/19/Wood Green, Middlesex/Census
1901/Herbert H Trendler/Step Brother/18/Finsbury, London/Census
1901/Christopher Burrows/Potman/26/Hampstead, London/Census

1906/Mrs Annie Eade/../../../Post Office Directory

1910/Albert Eades/../../../Post Office Directory

1914/William John Mann/../../../Post Office Directory

1915/William John Mann/../../../Post Office Directory

1921/William John Mann/../../../Post Office Directory *

1927/William John Mann/../../../Post Office Directory

1934/Charles William Butler/../../../Post Office Directory *

1938/James Knight/../../../Post Office Directory

1940/Harold Macbeth/../../../Post Office Directory

1942/Harold Macbeth/../../../Post Office Directory

1944/Harold Macbeth/../../../Post Office Directory

1966/Frederick A Harding, Admiral Mann, 9 Hargrave place N7/../../Licensed Victuallers Association



* Provided By Ewan

*** Provided By Tris