Apollo, 191 Tottenham Court Road W1T
St Pancras index
This pub was demolished in 1961. **
Historical London public houses, Taverns, Inns, Beer Houses and Hotels.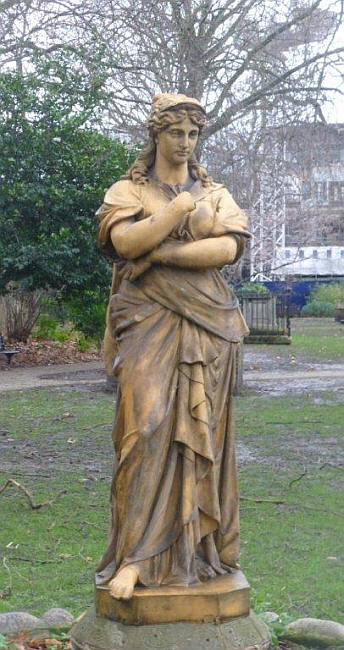 The façade of the pub featured large terracotta figures of the nine muses. One, Euterpe, the Muse of Instrumental Music, survives and can be seen in St George's Gardens, near Kings Cross railway station - in 2014
Kindly provided by Stephen Harris
The following entries are in this format:
Residents at this address.
1792/William Stephenson/victualler/../../Sun Fire Office records held at the London Metropolitan Archives *

1811/James Popoff, the Apollo, 191 Tottenham Court road/../../Holdens Directory

1827/Harriott Lawrance, Apollo, 191 Tottenham court road/../../Pigots Directory

1829/Harriot Lawrence, Apollo, 191 Tottenham Court road/../../Robsons Directory

1833-34/Thomas Adams, Apollo, 191 Tottenham Court road/../../Pigots Directory

1839/Thomas Adams/../../../Pigot's Directory *

1841/Thomas Adams/../../../Post Office Directory *

1843/Thomas Adams/Apollo P.H. 191 Tottenham court road/../../Post Office Directory

1846/Christopher Jobson/../../../Post Office Directory

1848/Christopher Jobson/../../../Post Office Directory *

April 1854/Christopher Jobson/Outgoing Licensee/../../Era Newspaper

April 1854/Christopher Jobson jun/Incoming Licensee/../../Era Newspaper

1856/Christopher Jobson/../../../Post Office Directory *

1862/Christopher Jobson/../../../Post Office Directory *

December 1862/Christopher Jobson/Outgoing Licensee/../../Era

December 1862/Richard Frost Hodges/Incoming Licensee/../../Era

1869/Richard Frost Hodges/../../../Post Office Directory

1881/Ellen Hodges/Licensed Victuallers Wife/40/Hesketon, Suffolk/Census
1881/Caroline Lock/General Servant/24/Chaffcombe, Somerset/Census
1881/John Lock/Potman/20/Chaffcombe, Somerset/Census

1882/Richard Frost Hodges/../../../Post Office Directory

1884/Richard Evans/../../../Post Office Directory

1891/George Bailey/../../../Post Office Directory

1895/Mrs Amelia Barnes/../../../Post Office Directory *

1899/Edwin Jn Bromley/../../../Post Office Directory

1901/Richard H Osborne/Licensed Victuallers Manager/27/Edmonton, Middlesex/Census
1901/Kathleen Osborne/Wife/25/Charlton, Kent/Census
1901/Albert W Butcher/Barman/22/Ipswich, Suffolk/Census
1901/John B Urquhart/Barman/16/Marylebone, London/Census
1901/Thomas Gullick/Barman/18/Kentish Town, London/Census
1901/James A Cook/Barman/19/Marylebone, London/Census
1901/Florence E Lees/General Servant/20/Greenwich, London/Census



* Provided By Ewan