Search London wiki and Pub wiki history sites
All public house, restaurants, bars etc closed for the forseeable future from 20th March 2020, but this is a pub history site.
Delancy, 99 Arlington Road, Camden Town NW1
St Pancras index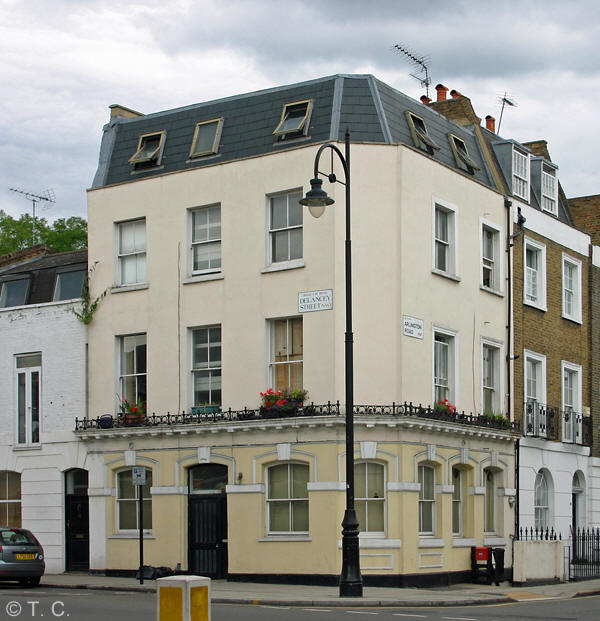 Delancey, 99 Arlington Road, NW1 - in July 2010
Kindly provided by Tris
My wife's gt grandfather was Alois Zugelter who was the tenant(?) of 99 Arlington Road. I have a copy of a mortgage he had with the Camden Brewery where the property is shown as 'The Delancy'. The wording is: All the messuage Beer Shop and tenement called 'The Delancy' number 99 Arlington Road; formerly known as number 158 Grove Street, Camden Town. **
I think this is the right building; it's in residential use, and is out of place compared to the surrounding architecture and there's what looks like a bricked up door on the Arlington Road (right) side. If it was bricked up, it would once have had the numerals '99' emblazoned on it. Also, I'm not sure if it's a typo or a change of name, but this is Delancey Street with an 'e'. The functional address is now 18 Delancey Street. This address was the Fun Cinematograph Theatre in 1915, and billiard rooms in 1921, ***
Historical London public houses, Taverns, Inns, Beer Houses and Hotels.
Residents at this address.
In 1869, Delancey Street intersects between 10 & 11 Grove Street, Camden Street

1881/William Sage/Bar Seller/53/East Bagshott, Suffolk/Census
1881/Theresa Sage/Wife/36/Bath, Somerset/Census
1881/Amy J Sage/Daughter/15/Lambeth, Surrey/Census
1881/William Sage/Son/13/Lambeth, Surrey/Census
1881/Winifred Sage/Daughter/6/St Pancras, Middlesex/Census
1881/Arthur R Sage/Son/1/St Pancras, Middlesex/Census

1882/William Sage/Beer Retailer/../../Post Office Directory

1891/Alois Zugelter/Beer Retailer/../../Post Office Directory **

1895/Alois Zugelter/beer retailer/../../Post Office Directory *

1899/Alois Zugelter/Beer Retailer/../../Post Office Directory **

1910/Alois Zugelter/Beer Retailer/../../Post Office Directory **



* Provided By Ewan

** Provided By John Carmichael

*** Provided By Tris