Bagnigge Wells Tavern, 39 Kings Cross Road WC1
St Pancras index
In 1862 and earlier the address is at Bagnigge Wells terrace, and Bagnigge Wells road in the 1858 license transfer; by 1942 there is an engineers listed at 39a Kings Cross road, and at the junction with Pakenham street. A Cannon Brewery public house in its time.
Historical London public houses, Taverns, Inns, Beer Houses and Hotels.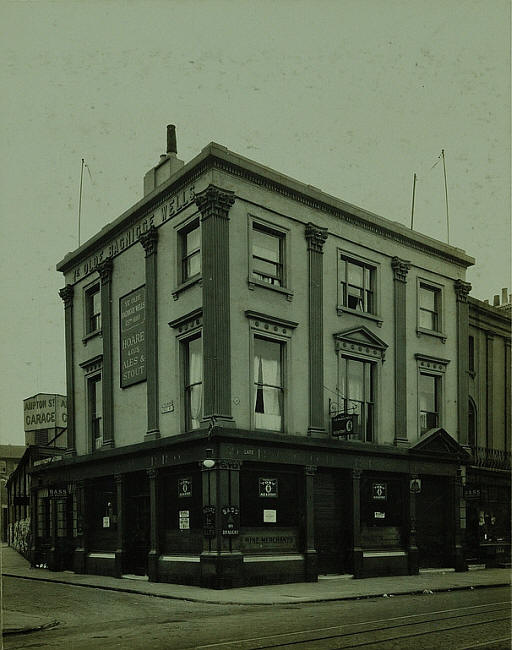 Bagnigge Wells Tavern, 39 Kings Cross Road WC1
Residents at this address.
1825/Mr & Mrs Thorogood, Bagnigge Wells Tavern/../../Licensed Victuallers Association

1833-34/John Monkhouse, Bagnigge Wells, Bagnigge Wells road/../../Pigots Directory

1839/Jno Hamilton, Bagnigge Wells, Clarks Place/../../Pigots Directory

1842/John Hamilton/../../../Robsons Directory

1848/William Negus/../../../Post Office Directory

1851/William Negus/../../../Kellys Directory

1856/George Jackson/../../../Post Office Directory

January 1858/George Jackson/Outgoing Licensee/../../London Daily News

January 1858/Martin St Ledger/Incoming Licensee/../../London Daily News

1862/George Alfred Wyatt & Co/../../../Post Office Directory

1869/George Davis Hall/../../../Post Office Directory

October 1870/George David Hall/Outgoing Licensee/../../Clerkenwell News

October 1870/Nathaniel Webb Willmore/Incoming Licensee/../../Clerkenwell News

February 1872/Nathaniel Webb Willmore/Outgoing Licensee/../../Era

February 1872/Henry Hell/Incoming Licensee/../../Era

1881/Thomas Hattemore/Licensed Victualler/64/Bethnal Green, Middlesex/Census
1881/Elizabeth Hattemore/Wife/61/Bethnal Green, Middlesex/Census
1881/John Hattemore/Son/19/Bethnal Green, Middlesex/Census
1881/Thomas Hattemore/Grandson/12 months/Bethnal Green, Middlesex/Census

1882/Thomas Hattemore sen/../../../Post Office Directory

1884/Thomas Hattemore/../../../Post Office Directory

1891/Henry Bacon/../../../Post Office Directory

1899/Henry Bacon/../../../Post Office Directory

1901/Henry Bacon/Licensed Victualler/45/Dunmw, Essex/Census
1901/Annie Munday/Manageress/30/Ditchit, Somerset/Census
1901/Louisa Goody/Barmaid/23/Kennington, London/Census
1901/Thomas Wheatcroft/Barman/20//Census
1901/John Davis/Barman/21/Fulham, London/Census
1901/William Barton/Barman/22/Stratford, Essex/Census
1901/George Hunt/Manager/27/Streatham, Surrey/Census

1910/Caterers Ltd/../../../Post Office Directory

1914/Stanley Chambers/../../../Post Office Directory

1915/Stanley Chambers/../../../Post Office Directory

1921/Caterers Ltd/../../../Hughes Directory

1927/George Isaac Free/../../../Post Office Directory

1935/Rolles Bros/../../../BT Telephone Directory

1938/Rolles Bros/../../../Post Office Directory

1939/Rolles Bros/../../../BT Telephone Directory

1940/Rolles Bros/../../../Post Office Directory