Search London wiki and Pub wiki history sites
All public house, restaurants, bars etc closed for the forseeable future from 20th March 2020, but this is a pub history site.
Bedford Arms & Music Hall, 80 Arlington Road NW1
St Pancras index
This pub is listed as 1 Grove Street in 1839, 1841, 1843 and in all three censuses of 1851-1871. It is named as The Bedford Arms in both 1861 and 1871. *
Historical London public houses, Taverns, Inns, Beer Houses and Hotels.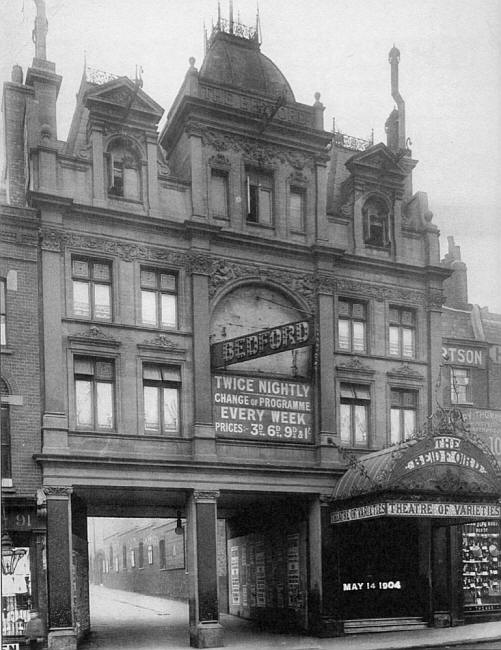 Bedford Music Hall main entrance at 93-95 Camden High Street. The passage running under the building is Mary Terrace, in 1904
Kindly provided By Vincent O'Loughlin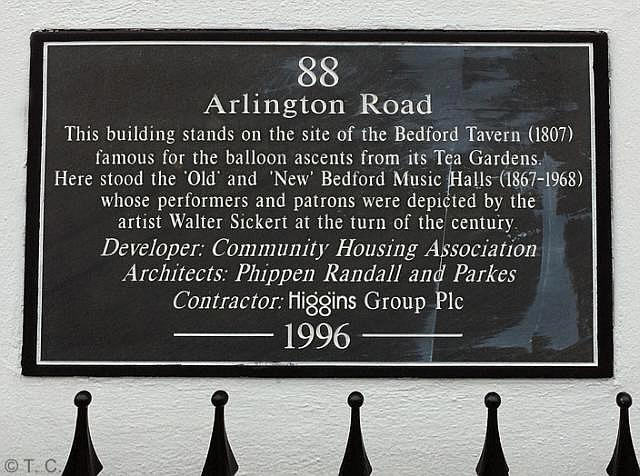 Plaque to 88 Arlington Road reads 'This building stands on the site of the Bedford Tavern (1807) famous for the balloon ascents from its Tea Gardens. Here stood the old and new Bedford Music Halls (1867 - 1968) whose performers and patrons were depicted by the artist Walter Sicket at the turn of the century.'
Kindly provided by Tris
Residents at this address.
1826/John James/../../../Post Office Directory

1833-34/Frederick James, Bedford Arms, 1 Grove Street, Camden Town/../../Pigots Directory

1836/John James, Bedford Arms, Grove street, Camden Town/../../Pigot's Directory

1837/John Frederick James/victualler/../../Sun Fire Office records held at the London Metropolitan Archives *

1838/John Frederick James/victualler/../../Sun Fire Office records held at the London Metropolitan Archives *

1839/Jno Frederick James/../../../Pigots Directory

1841/J F James/../../../Post Office Directory

1843/John Fred James/../../../Post Office Directory

1846/J. F. James/../../../Post Office Directory *

1848/Henry Willard/../../../Post Office Directory

1851/Henry Willard/../../../Post Office Directory

1851/Henry Willard/Licensed Victualler/48/Hailsham, Sussex/Census *
1851/Martha Willard/Wife/50/Middleton, Northamptonshire/Census
1851/Henry Tause/Barman/21/Heath, Bedfordshire/Census
1851/John Tasker/Potman/19/London/Census
1851/Bridget Hearne/House Servant/40/Ireland/Census
1851/Alexander Douglas/Visitor, Clerk (Admiralty)/34/Scotland/Census
1851/James Douglas/Visitor, Banker/37/Scotland/Census

1856/Daniel Lovett/../../../Post Office Directory

September 1855/Daniel Lovett/ Outgoing Licensee /../../The Era

September 1855/James Bliss/ Incoming Licensee /../../The Era

1861/George J. Thornton/Licensed Victualler/24/Marylebone/Census *
1861/Catharine Thornton/Wife/21/Warwickshire/Census
1861/George Roberts/Potman/22/Worthing, Sussex/Census
1861/Anne Wanman/Servant/23/Buckinghamshire/Census
1861/Mary An Palmer/Barmaid/17/Camberwell/Census

1862/J H Thornton/../../../Post Office Directory

May 1862/Robert C Thornton, Trustee/Licensed Victualler Association, Trustee/../../Era

1865/Mr Robert C Thornton, Bedford Music Hall, Camden Town /../../Licensed Victuallers Association

1867/Mr Robert Clint Thornton/Past Trustee; late of Bedford Music Hall/../../Era

1869/Edward Weston/../../../Post Office Directory

October 1870/George Forbes, Edward Alfred Chaston and Herbert Kelly, trade assignees of Edward Weston, a bankrupt/Outgoing Licensee/../../Clerkenwell News

October 1870/Alfred Trotman, for music and dancing/Incoming Licensee/../../Clerkenwell News

1871/Alfred Trotman/Licensed Victualler/29/Hoxton/Census *
1871/Thomas Jeeves/Manager/26/Hitchin, Hertfordshire/Census
1871/Frederick James/Barman/29/Moorgate Street/Census
1871/John Bentley/Painter/18/Camden Town/Census
1871/Marie King/Housekeeper/24/Croydon/Census
1871/Ellen Wright/Barmaid/21/Kennington/Census
1871/Mary Ann Appleby/Cook/22/Bath/Census

1874/A Trotman/../../../Licensed Victualler & Hoteliers Directory

1881/George H Fredericks/Licensed Victualler/34/Boro St Georges/Census
1881/Caroline Fredericks/Wife/29/Southwark, Surrey/Census
1881/George H Fredericks/Son/3/St Pancras, Middlesex/Census
1881/Maggie Byers/Niece, Barmaid/17/Hackney, Middlesex/Census
1881/Kattie Byers/Niece, Barmaid/20/Hackney, Middlesex/Census
1881/Emma Elkins/Cook/29/Bath, Somerset/Census
1881/Susan Westley/Nursemaid/15/Bow, Middlesex/Census
1881/George James/Barman/24/Mile End, Middlesex/Census

1882/George H Fredericks/../../../Post Office Directory

1884/George H Fredericks/../../../Post Office Directory

1891/Henry Hart/../../../Post Office Directory

1895/Henry Hart/../../../Post Office Directory *

1906/Benjamin Pearce Lucas/../../../Post Office Directory *

1910/Benjamin Pearce Lucas jun/../../../Post Office Directory

1914/Benjamin Pearce Lucas jun/../../../Post Office Directory

1915/Benjamin Pearce Lucas/../../../Post Office Directory

1921/Day & Goodson/../../../Post Office Directory *

1927/Day & Goodson/../../../Post Office Directory *

1934/Mrs D. C. Dickson/../../../Post Office Directory *

1938/Leslie F R Smale/../../../Post Office Directory

1940/Leslie F. R. Smale/../../../Post Office Directory *

1942/Mrs M. E. P. Smale/../../../Post Office Directory *

1944/Mrs M. E. P. Smale/../../../Post Office Directory *

1952/Mr & Mrs F W T Grinham/../../../Black Eagle Journal ***

1966/F M Monaghan, Bedford Arms, 80 Arlington Road NW1/../../Licensed Victuallers Association



* Provided By Ewan

*** Provided By Alex Wilkinson