Search London wiki and Pub wiki history sites
All public house, restaurants, bars etc closed for the forseeable future on 20th March 2020, but this is a history site. But how about the landlords give their tenants a break, no business, then please charge them no rent.
Blue Lion, 133 Grays Inn Road WC1
St Pancras index
In 1856 the address is at 26 Upper North place, Grays Inn road. This pub was rebuilt in the 1930s. ** It is still open for business and no longer tied to Green King.
Historical London public houses, Taverns, Inns, Beer Houses and Hotels.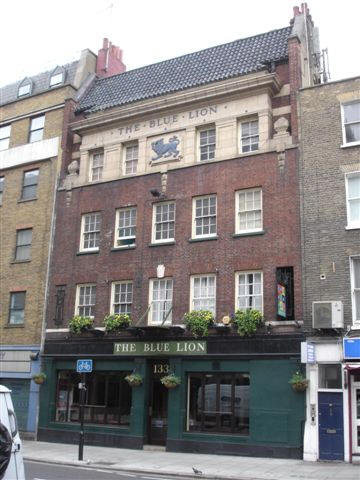 Blue Lion, 133 Grays Inn Road, WC1 - in May 2007
Kindly provided by Stephen Harris
Residents at this address.
1805/Rich Alvin, Blue Lion, Grays inn lane/../../Holdens Directory

1811/Ann Alvin, Blue Lion, Grays inn road/../../Holdens Directory

1833-34/George Howse, Blue Lion, Upper North place, Grays Inn/../../Pigots Directory

1841/T Griffiths, Blue Lion, 26 Upper North place, Grays Inn road/../../Post Office Directory

1848/John Brown, Blue Lion, 26 Upper North place, Grays Inn road/../../Post Office Directory

1856/J Brown/../../../Post Office Directory

April 1861/James Haines Gideon/Outgoing Licensee/../../Era

April 1861/James Coppin/Incoming Licensee/../../Era

May 1862/James Coppin/Licensed Victuallers Association/../../Era

1862/James Alderson, Blue Lion, 26 Upper North place, Grays Inn road/../../Post Office Directory

1869/James Alderson/../../../Post Office Directory

1871/William S Keats/Licensed Victualler/44/Portsmouth, Hampshire/Census
1871/Margaret J Keats/Wife/38/Westminster, Middlesex/Census
1871/William F Keats/Son/10/Pimlico, Middlesex/Census
1871/Ada F Keats/Daughter/2/Islington, Middlesex/Census
1871/Frances Jones/Barmaid/31/Middlesex/Census
1871/Ellen McCarthy/Domestic Servant/30/Ireland/Census
1871/Kate Hinton/Nursemaid/16/Middlesex/Census
1871/Thomas Dymock/Potman/22/Ringwood, Hampshire/Census

1874/W S Keats/../../../Licensed Victualler & Hotelier Directory

1880/James Aldie Chilvers/../../../Post Office Directory **

1881/James A Chilvers/Licensed Victualler/36/Islington, Middlesex/Census
1881/Lucy Chilvers/Wife/38/Oxford, Oxford/Census
1881/Thomas Leaver/Nephew, Short Hand Writer/20/Oxford, Oxford/Census
1881/Harry Leaver/Nephew, Short Hand Writer/18/Oxford, Oxford/Census
1881/Elizabeth Baylis/Barmaid/22/Birmingham, Warwick/Census
1881/Ellen Wright/General Servant/18/Waltham Abbey, Essex/Census

1882/James Aldie Chilvers/../../../Post Office Directory

1884/James A Chilvers/../../../Post Office Directory

1891/Mrs Lucy Chilvers/../../../Post Office Directory

1899/Edward Haywood Raven/../../../Post Office Directory

1901/Edward H Raven/Licensed Victualler/45/Islington, London/Census
1901/George Carter/Barman/23/London/Census
1901/Frederick W Lovejoy/Barman/29/barnsbury, London/Census
1901/Lucy Harfitt/Barmaid/29/Whitchurch, Hereford/Census
1901/Rosa Goode/Barmaid/22/Whitchurch, Hereford/Census
1901/Lizzie Wilson/Domestic Servant/26/Belfast, Ireland/Census

1910/Charles William Whitmore Hanbridge/../../../Post Office Directory

1914/Charles William Whitmore Hanbridge/../../../Post Office Directory

1915/Charles William Whitmore Hanbridge/../../../Post Office Directory

1927/Sidney Brooks/../../../Black eagle Quarterly Journal

1934/Sidney Brooks/../../../Kellys Directory

1938/Sidney Brooks/../../../Post Office Directory

1944/Sidney Brooks/../../../Post Office Directory

S Brooks, died October 31st 1957, licensee since August 1927. Previously the joint licensee of the Globe, Euston for nearly three years - Black Eagle Quarterly Journal ***

1957/Sidney Brooks/../../../Black eagle Quarterly Journal

1966/Elizabeth Willard, Blue Lion, 133 Grays Inn Road WC1/../../Licensed Victuallers Association



** Provided By Stephen Harris

*** Provided By Alex Wilkinson