Search London wiki and Pub wiki history sites
All public house, restaurants, bars etc closed for the forseeable future from 20th March 2020, but this is a pub history site.
Brecknock Arms, 227 Camden road NW1
St Pancras index
The Brecknock Arms, 50 Camden road villas in the 1861 census. Currently known as the Unicorn (2010) ***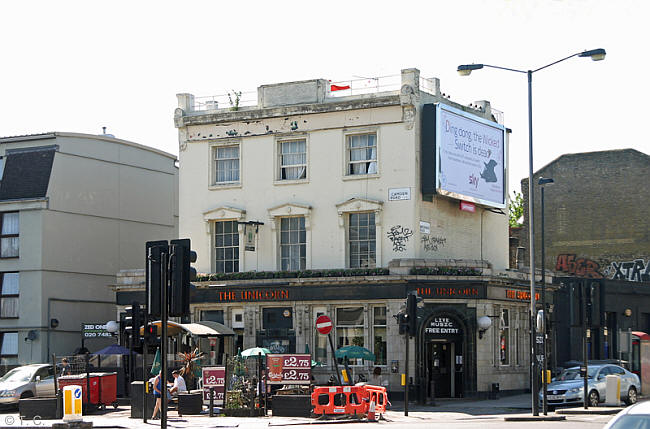 Brecknock Arms, 227 Camden Road, NW1 - in 2013
Kindly provided by Tris
Historical London public houses, Taverns, Inns, Beer Houses and Hotels.
Residents at this address.
1839/James Stones/../../../Pigot's Directory *

1842/James Stones/../../../Robson's Directory *

1843/James Stones/../../../Post Office Directory *

Bruce & Gibson are at the Dark House, Newgate Market in 1843 and earlier

1848/Bruce & Gibson/../../../Post Office Directory

1851/Bruce & Gibson/../../../Post Office Directory *

1856/Frederick Butcher/../../../Post Office Directory *

1861/George Carter/Licensed Victualler/22/Hoxton, Middlesex/Census
1861/John Richard Carter/Brother/11/Whitechapel, Middlesex/Census
1861/Annie Eldridge/Housekeeper/40/St Pancras, Middlesex/Census
1861/Sarah Mordy/Housemaid/23/Cosey, Norfolk/Census
1861/William Ashpool/Barman/21/Leighton, Bedfordshire/Census
1861/George Aris/Barman/24/Sidford, Oxfordshire/Census
1861/William Yates/Potman/22/Marylebone, Middlesex/Census
1861/William Holland/Visitor, Drapers Son/23/Newington, Surrey/Census

1862/George Carter/../../../Post Office Directory *

May 1862/George Carter/Licensed Victuallers Association/../../Era

1869/Carter & Messer/../../../Post Office Directory

1881/Edwin Rice/Licensed Victualler/54/London, Middlesex/Census
1881/Elizabeth Rice/Wife/41/York/Census
1881/Edwin Rice/Son, Assistant/26/Sussex/Census
1881/Walter E Rice/Son, Assistant/20/Sussex/Census
1881/Rowland Rice/Son, Assistant/21/London, Middlesex/Census
1881/Ann Robins/Barmaid/23/Gloucester/Census
1881/Ann Newcombe/Cook/22/Essex/Census
1881/Jane Richards/Housemaid/17/Buckingham/Census

1882/Edwin Rice/../../../Post Office Directory

1884/Edwin Rice/../../../Post Office Directory

1891/Henry Beasley/../../../Post Office Directory

1895/William Dawson/../../../Post Office Directory *

1899/Charles Macarthy/../../../Post Office Directory

1901/Charles Macarthy/Licensed Victualler/46/Stepney, Middlesex/Census
1901/Annie E Macarthy/Wife/44/Southampton/Census
1901/Arthur D Macarthy/Son, Commercial Clerk/20/Southampton/Census
1901/William J Jacques/Brother in Law, Public House Manager/37/Ullersthorpe, Leicestershire/Census
1901/George Lupton/Barman/24/Stepney, Middlesex/Census
1901/Alfred Moore/Barman/28/Osney, Oxfordshire/Census
1901/Florence Quiner/Barmaid/24/Portobello, Scotland/Census
1901/Annie Rayner/Barmaid/28/Stepney, Middlesex/Census
1901/Emily Gearing/Cook/27/Farnborough, Kent/Census
1901/May Bothwick/Housemaid/17/St Pancras, Middlesex/Census

1906/Charles Macarthy/../../../Post Office Directory *

1910/Charles Macarthy/../../../Post Office Directory

1915/Samuel Heritage Lewance/../../../Post Office Directory

1921/S. H. Lewance/../../../Post Office Directory *

1927/Samuel Heritage Lewance/../../../Post Office Directory *

1934/Benjamin Redfern Ortom/../../../Post Office Directory *

1938/Benjamin Redfern Ortom/../../../Post Office Directory *

1942/Benjamin Redfern Orton/../../../Post Office Directory *

1944/Benj Redfern Orton/../../../Post Office Directory

1966/Benjamin R Orton, Brecknock Arms, 227 Camden road NW1/../../Licensed Victuallers Association



* Provided By Ewan

*** Provided By Tris