Bucks Head, 202 Camden High Street, Camden Town NW1
St Pancras index
The Bucks Head, 5 Stuckley terrace in the 1861 census and earlier (and in 1864). At, or near, the junction with Buck street in the 1856 directory, and also in 1869.
Historical London public houses, Taverns, Inns, Beer Houses and Hotels.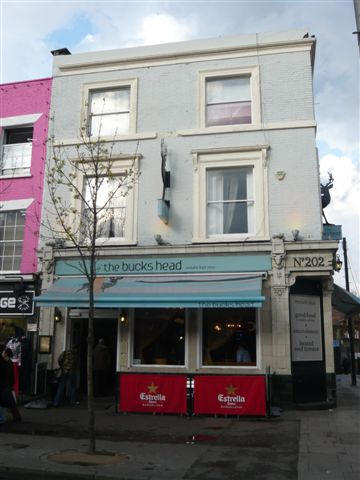 Bucks Head, 202 High Street, Camden, NW1 - in April 2008
Kindly provided by Stephen Harris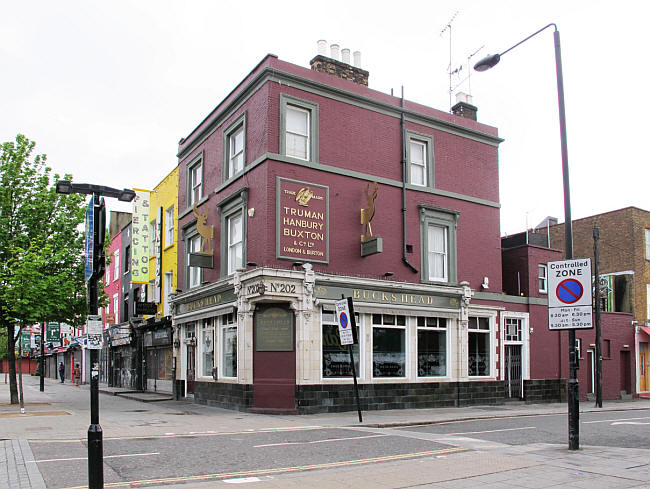 Bucks Head, 202 Camden High Street and Buck street, Camden, NW1 - in 2013
Kindly provided By Vincent O'Loughlin
Residents at this address.
1848/Edward Hobday/Beer Retailer/../../Post Office Directory

1851/James Oliff/Beer Retailer/../../Post Office Directory

Morning Advertiser 22 March 1852 - Aplications for New Licenses. :
Bucks Head, corner of Buck street and Stuckley terrace. Jonas Bailey applied in this case, and was opposed by Mr Wire, for Benjamin James Sugden, of the Oxford Arms; Levi Cottrell, of the Britannia, and others. License refused.

1856/James Bailey/../../../Post Office Directory

1858/Jonas Bailey/../../../Post Office Directory

1861/William Belchamber/Licensed Victualler/42/Horsham, Surrey/Census
1861/Frances Belchamber/Wife/41/Rotherhithe, Surrey/Census
1861/Henry Turner/Barman/21/Aylesbury, Buckinghamshire/Census
1861/Alfred Poggot/Potman/28/Langley, Buckinghamshire/Census
1861/Ann Winson/House Servant/42/Dover, Kent/Census

1864/Edward George Chapman/../../../Post Office Directory

1866/Joseph James Eley/../../../Post Office Directory

1869/William Barrow/../../../Post Office Directory

September 1870/William Thomas Barrow/Outgoing Licensee/../../Era Newspaper

September 1870/Edwin Rice/Incoming Licensee/../../Era Newspaper

1871/Edwin Rice/Licensed Victualler/43/London, Middlesex/Census
1871/Ann Rice/Wife/40/Eastbourne, Sussex/Census
1871/Ellen Rice/Daughter, Barmaid/18/Eastbourne, Sussex/Census
1871/Edwin Leonard Rice/Son, Barman/16/Hastings, Sussex/Census
1871/Agnes Rice/Daughter/15/Hastings, Sussex/Census
1871/Walter Robert Rice/Son/13/Hastings, Sussex/Census
1871/Lucy Stock/General Servant/38/St Pancras, Middlesex/Census

1873/Edwin Rice/../../../Post Office Directory

1876-77/Alfred Stace/../../../Post Office Directory

1880/William Rt Aug Lloyd/../../../Post Office Directory **

1881/William R A Lloyd/Licensed Victualler/49/Middlesex/Census
1881/A M Lloyd/Wife/47/Rathbone Place, Middlesex/Census
1881/A J C Lloyd/Daughter, Assistant (Inn)/23//Census
1881/W J C Lloyd/Son, Assistant (Inn)/21/Bayswater, Middlesex/Census
1881/C F Lloyd/Daughter, Assistant (Inn)/19/Bayswater, Middlesex/Census
1881/A C Lloyd/Daughter, Assistant (Inn)/17/Bayswater, Middlesex/Census
1881/H A Lloyd/Son, Assistant (Inn)/13/Bayswater, Middlesex/Census
1881/Louisa Sanders/General Servant/17/St Pancras, Middlesex/Census

1882/William Rt Aug Lloyd/../../../Post Office Directory

1884/William R A Lloyd/../../../Post Office Directory

1888-89/William Surridge/../../../Post Office Directory

1891/Albert German/../../../Post Office Directory

1895/Edward Morgan/../../../Post Office Directory *

1899/Nicholas Bower/../../../Post Office Directory

1900/Chas G Collins/../../../Post Office Directory **

1901/Charles G Collins/Licensed Victualler/39/Brixton, Surrey/Census
1901/Alice Collins/Wife/39/Stockwell/Census
1901/Charles G Collins/Son, Clerk/16/Camberwell/Census
1901/Lillian Sewell/Barmaid/19/Highnury, Middlesex/Census
1901/Ethel Hudson/Barmaid/18/St Pancras, Camden Town/Census
1901/Norah Hall/Domestic Servant/22/Croydon, Surrey/Census
1901/John Mitchell/Barman/21/Kentish Town, London/Census

1906/John Hand/../../../Post Office Directory *

1910/Edward Hayward Raven/../../../Post Office Directory

1915/Edward Hayward Raven/../../../Post Office Directory

1921/Edward Haywood Raven/../../../Post Office Directory *

1927/Edward Haywood Raven/../../../Post Office Directory *

1934/Jack Fuller/../../../Post Office Directory *

1938/Jack Fuller/../../../Post Office Directory

1940/Albert John Barnett/../../../Post Office Directory *

1942/Roy Harry Overall/../../../Post Office Directory *

1944/Roy Harry Overall/../../../Post Office Directory

1950/Mr & Mrs McCarthy/../../../Black Eagle Journal ***

1966/C W J Chandler, Bucks Head, 202 Camden High Street NW1/../../Licensed Victuallers Association



* Provided By Ewan

** Provided By Stephen Harris

*** Provided By Alex Wilkinson