Search London wiki and Pub wiki history sites
All public house, restaurants, bars etc closed for the forseeable future from 20th March 2020, but this is a pub history site.
Constitution, 42 Kings Road, St Pancras NW1
St Pancras index
Historical London public houses, Taverns, Inns, Beer Houses and Hotels.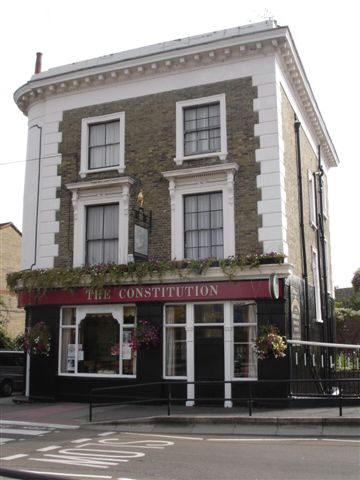 Constitution, 42 St Pancras Way, NW1 - in September 2007
Kindly provided by Stephen Harris
Residents at this address.
February 1859/Constitution, Kings road, John Russell to James Harland/../../Morning Advertiser

1861/Glen Russell/Licensed Victualler, Widow/41/Caldecott, Monmouthshire/Census
1861/Susan Russell/Daughter/14/London, Middlesex/Census
1861/John Russell/Son/11/London, Middlesex/Census
1861/Elizabeth Russell/Step Mother, Widow/70/Cliff, Wiltshire/Census
1861/Eliza A Davis/Visitor/59/London, Middlesex/Census
1861/Jane East/Servant/19/London, Middlesex/Census
1861/George Stephens/Barman/23/Missenden, Buckinghamshire/Census
1861/John Smyth/Barman/22/London, Middlesex/Census

1869/F Forbes/../../../Post Office Directory

The wonderfully named Alphonso Sigismund Redrup died at the Shakespeare Head in 1874, aged 33. He was a licensed victualler in the 1871 census, living at 10 Upper Freeling Street, Islington (the Marquis of Salisbury). He died of Bright's Disease. ***

His brother John Jesse Redrup and sister Emma Sarah Redrup were also at the Shakespeares Head at the time of Alphonso's death (according to probate and death certificate) but in 1871 they were at the Constitution Tavern in the Kings Road, John Jesse being a licensed victualler. ***

John Jesse Redrup, having spent many years as a farmer in rural Buckinghamshire, died in 1915 as the publican of the Queens Head, Sawston, Cambridgeshire. You have his wife Evangeline Patty Redrup noted there from the 1916 Kelly's directory. John Jesse was listed in the 1911 census in Sawston as licensed victualler but perhaps wasn't living at the pub. The address was just High Street. ***

You have another brother already noted at the Marquis of Salisbury, Freeling Street, Islington, in 1866 and 1869 (Albert Robert Redrup). He also died young, only 33, in 1869. Alphonso took over after his brother's death, as his address in 1871 is 10 Upper Freeling Street, as noted above. ***

1871/John Jesse Redrup/Licensed Victualler/28/Prestwood, Buckinghamshire/Census ***
1871/Emma Sarah Redrup/Sister/26/Prestwood, Buckinghamshire/Census
1871/Elizabeth Lendon/Visitor/22/Boxmoor, Hertfordshire/Census
1871/Annie Pretty/General Servant/21/Chard, Somerset/Census
1871/Charles Dickenson/Barman/25/Sheerness, Kent/Census
1871/Frederick Hewett/Barman/16/Kennington, Surrey/Census

1881/Richard Titcombe/Licensed Victualler/37/Savonike, Wiltshire/Census
1881/Mary Ann Titcombe/Wife/37/Hackney, Middlesex/Census
1881/Henry Rd Wm Titcombe/Son/6/Hampstead, Middlesex/Census
1881/Alfred James Titcombe/Son/3/Hampstead, Middlesex/Census
1881/Edith Mary Trevathom Litcombe/Daughter/2/Camden Town, Middlesex/Census
1881/Albert Charles Titcombe/Son/1/Camden Town, Middlesex/Census
1881/William Harris/Barman/18/Bethnel Green, Middlesex/Census
1881/Helen Godbold/General Servant/21/Barking, Essex/Census
1881/Susan Elizabeth Keith/Nurse Maid/16/Dundee, Scotland/Census

1882/Richard Titcombe/../../../Post Office Directory *

1884/Richard Titcombe/../../../Post Office Directory

1891/Arthur Samuel Hayward/../../../Post Office Directory

1895/James Eggleton/../../../Post Office Directory

1899/James Anderson/../../../Post Office Directory

1901/William Anderson/Publican/32/Scotland/Census
1901/Mary Ann Anderson/Wife/28/Camberwell/Census
1901/John William Anderson/Son/2/St Pancras, London/Census
1901/Constance L V Anderson/Daughter/1 month/St Pancras, London/Census
1901/Alice Tanner/Barmaid/22/Canning Town/Census
1901/Rose Dobbey/Barmaid/19/Hampstead/Census
1901/Rose Dickson/Cook/25/St Pancras/Census
1901/Ellen Ellford/General Servant/15/Pimlico/Census

1910/Arthur George Peckham/../../../Post Office Directory

1915/George Liddiment/../../../Post Office Directory

1921/George Liddiment/../../../Hughes Directory

1927/George Liddiment/../../../Post Office Directory *

1934/Robert Allen King/../../../Post Office Directory *

1938/John Conning/../../../Post Office Directory *

1940/John Conning/../../../Post Office Directory *

1942/William Watson/../../../Post Office Directory *

1944/George Hy Leer/../../../Post Office Directory

1966/, Constitution, 42 St Pancras way NW1/../../Licensed Victuallers Association



* Provided By Ewan

*** Provided By Ruth Webb