Search London wiki and Pub wiki history sites
All public house, restaurants, bars etc closed for the forseeable future from 20th March 2020, but this is a history site.
Crimea Tavern, 36 Inkerman Road NW5
St Pancras index
Historical London public houses, Taverns, Inns, Beer Houses and Hotels.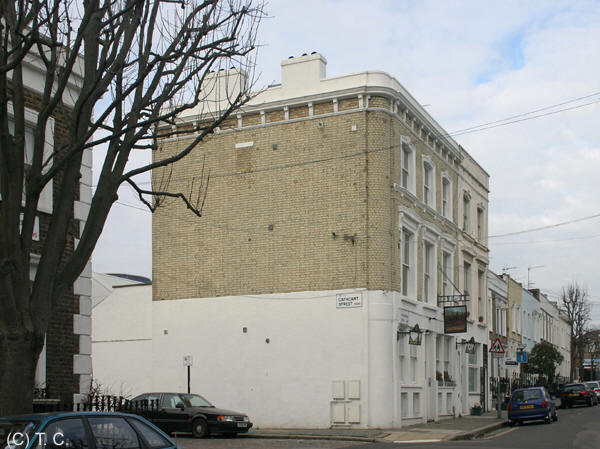 Crimea, 36 Inkerman Road, NW5 - 8th March 2010
Kindly provided by Tris
Residents at this address.
1861/Thomas Probyn/Licensed Victualler/68/Lenbury, Worcester/Census
1861/Charlotte Probyn/Wife/59/London, Middlesex/Census
1861/Samuel Kirby/Servant/23/London, Middlesex/Census
1861/Margaret Waterhouse/Servant/32/Scotland/Census
1861/Eliza Bell/Servant/25/London, Middlesex/Census

1869/James Miller/../../../Post Office Directory

1877/John Miller, Crimea, 36 Inkerman Road/../../Post Office Directory

1880/Mrs Ann Collet, Crimea, 36 Inkerman Road/../../Post Office Directory

1881/Charlotte E Page/Licensed Victualler, Widow/45/Plumpstead, Kent/Census
1881/Frederick R Page/Son/18/St Pancras, Middlesex/Census
1881/Albert E Page/Son/12/St Pancras, Middlesex/Census
1881/Alice E Page/Daughter/11/St Pancras, Middlesex/Census
1881/Winifred E Mitchel/General Servant/23/St Pancras, Middlesex/Census
1881/Frank Lund/Barman/32/Malton, York/Census

1882/Mrs C E Page/../../../Post Office Directory

1891/Percival Robert Bush/../../../Post Office Directory

1901/Ernest G Chapman/Licensed Victualler/35/Norfolk/Census
1901/Minnie L Chapman/Wife/25/Stratford, Essex/Census
1901/Ernest G Chapman/Son/4/Paddington, London/Census
1901/Jessie Fiddy/Relative, Housemaid/17/Norfolk/Census
1901/Sophie Reader/Barmaid/33/New Cross, London/Census
1901/George Perkins/Potman/42/Stepney, London/Census

1910/William Perkins/../../../Post Office Directory

1915/Arthur Lewis Alford/../../../Post Office Directory

1921/Arthur Alford/../../../Post Office Directory

1944/Edward T Graham/../../../Post Office Directory

1966/J Mulroy, Crimea Tavern, 36 Inkerman road NW5/../../Licensed Victuallers Association