Search London wiki and Pub wiki history sites
All public house, restaurants, bars etc closed for the forseeable future from 20th March 2020, but this is a history site.
Boot, 116 Cromer Street WC1
St Pancras index
The earlier address before 1869 is slightly different at 117 Cromer street. Still open for business.
Historical London public houses, Taverns, Inns, Beer Houses and Hotels.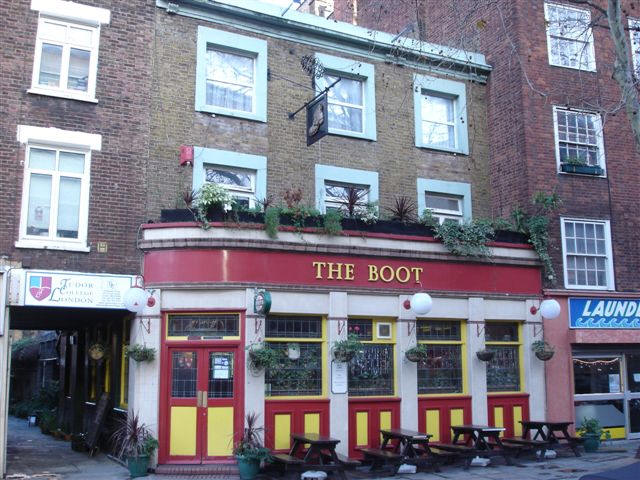 Boot, 116 Cromer Street - January 1st 2007
Kindly provided by Stephen Harris
Residents at this address.
1825/Mr Speedy/../../../Licensed Victuallers Association

1827/Mrs Speedy/../../../Licensed Victuallers Association

1833-34/Dorothy Speedy/../../../Pigots Directory

1841/Henry Speedy/../../../Post Office Directory

1842/D Speedy/../../../Robsons Directory

1848/Henry Speedy/../../../Post Office Directory

1856/Henry Speedy/../../../Post Office Directory

1861/Henry Speedy/Victualler/57/London/Census
1861/Jean Speedy/Wife/50/London/Census
1861/Henry Speedy/Son, Servant/22/London/Census
1861/Frederick Speedy/Son, Apprentice to a Brewer/16/London/Census
1861/Edward Speedy/Son/14/London/Census
1861/Wilhemnina Speedy/Daughter/12/London/Census
1861/Emily Speedy/Daughter/8/London/Census
1861/Wilhelmina Good/Niece, Teacher/35/London/Census
1861/John Jones/Barman/24/Wales/Census
1861/Reuben Rooks/Potman/19/Devon/Census
1861/Mary Ann Cronin/Cook/26/Ireland/Census
1861/Mary Ann Newland/Nursemaid/23/London/Census

1869/Henry Speedy../../../Post Office Directory

1871/Edward Speedy/Son, Licensed Victualler/24/St Pancras, Middlesex/Census
1871/Williamena G S Good/Niece, Housekeeper/44/St Pancras, Middlesex/Census
1871/Joseph Darking/Barman/21/Kedington, Suffolk/Census
1871/George Baker/Barman/26/Thorpe, Essex/Census
1871/Elizabeth Ensom/Domestic Servant/50/Hatfield, Hertfordshire/Census

1874/E Speedy../../../Licensed Victualler & Hotelier Directory

1881/Edward Speedy/Licensed Victualler/34/St Pancras/Census
1881/Sarah Speedy/Wife/30/St Pancras/Census
1881/Edward Crofton Speedy/Son, Deaf/8/St Pancras/Census
1881/Frederick Reginald Speedy/Son/7/St Pancras/Census
1881/Percy Speedy/Son/5/St Pancras/Census
1881/Sarah Beautrice Speedy/Daughter/1/St Pancras/Census
1881/Kate French/Visitor/28/Hitchin, Hertford/Census
1881/Hester Peverall/General Servant, Widow/53/Harrow, Middlesex/Census
1881/Fred Atkins/Barman/21/Portsmouth, Hampshire/Census
1881/George Bloomfield/Barman/19/St Pauls, Middlesex/Census
1881/Philip Roberts/Lad/18/Penalt, Monmouth/Census
1881/Mary Letchford/Nurse/21/Harrow, Middlesex/Census

1882/Edward Speedy/../../../Post Office Directory

1884/Edward Speedy/../../../Post Office Directory

1891/Edward Speedy/../../../Post Office Directory

1899/Edward Speedy/../../../Post Office Directory

1901/Percy Speedy/Licensed Victualler/26/St Pancras, London/Census
1901/Sarah B Speedy/Sister/21/St Pancras, London/Census
1901/Edward Chapman/Barman, Manager/42/St Pancras, London/Census
1901/Mary M Chapman/Barmaid/40/Jersey, Channel Isles/Census
1901/Christopher Flinn/Barman/20/Hendon, Middlesex/Census
1901/Ben Bloomer/Barman/24/Manchester, Lancashire/Census
1901/Ann M Albon/Cook/15/Stanton, Suffolk/Census
1901/Lizzie Knight/Housemaid/16/St Pancras, London/Census
1901/Fanny Marshall/Visitor/15/Blaxton, Yorkshire/Census

1910/Edward Speedy (exors of)/../../../Post Office Directory

1915/Frederick Speedy/../../../Post Office Directory

1921/Frederick Speedy/../../../Post Office Directory

1927/Charles Walter Garner/../../../Post Office Directory

1934/David Wright/../../../Kellys Directory

1938/David Wright/../../../Post Office Directory

1944/Horace Markin/../../../Post Office Directory

1966/Herbert A Williams, 116 Cromer Street WC1/../../Licensed Victuallers Association