Search London wiki and Pub wiki history sites
All public house, restaurants, bars etc closed for the forseeable future from 20th March 2020, but this is a pub history site.
Crown, 100 Arlington Road NW1
This is listed as "The Crown beer shop" at 11 Grove Street in the 1871 census, though it's not clear who is running it. There are four separate families listed at the address, and I've given all four below (the last two are just listed as "granddaughter" but are presumably not the granddaughter of anyone listed at this address). * Closed in 2014 and demolished in March 2014. *+
St Pancras index
Historical London public houses, Taverns, Inns, Beer Houses and Hotels.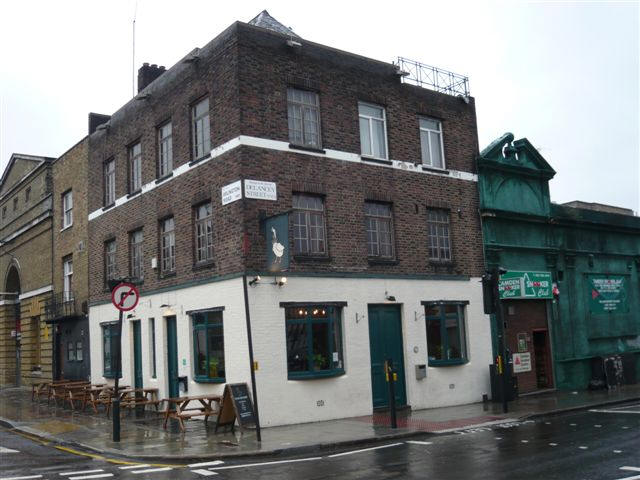 Crown & Goose, 100 Arlington Road, NW1 - in March 2008
Kindly provided by Stephen Harris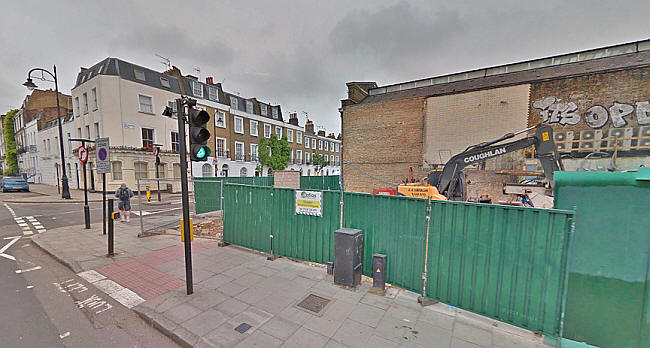 Crown & Goose, 100 Arlington Road, NW1 - now demolished (in 2014)
Kindly provided by John Carnaby
Residents at this address.
1871/Elizabeth Bromley/Head, Dressmaker/44/Blackheath/Census *
1871/Emily Bromley/Daughter, Dressmaker/19/St Pancras/Census
1871/George Parish/Head, Waiter/37/Strand/Census
1871/Henrietta Parish/Wife/33/Windsor, Buckinghamshire/Census
1871/Ernest G. Parish/Son/3/Holborn/Census
1871/Jane Geazey/Head, Dressmaker/49/Coddenham, Suffolk/Census
1871/Ellen Geazey/Niece, Dressmaker/18/Croydon/Census
1871/Elizabeth Parsons/Granddaughter, Barmaid & Housekeeper/23/Lambeth/Census
1871/Jane Waugh/Granddaughter, Photographic Assistant/16/St Pancras/Census

1881/J Thos H Rowe/Beer Retailer/28/Harlinger, Suffolk/Census
1881/Emily Rowe/Wife/27/Whimple, Devon/Census

1882/J Thos Henry Rowe/Beer Retailer/../../Post Office Directory

1891/John Cornall/beer retailer/../../Post Office Directory *

1895/John Cornall/Beer Retailer/../../Post Office Directory

1899/Henry Johnson Nicholls/beer retailer/../../Post Office Directory *

1910/Hy Johnson Nicholls/Beer Retailer/../../Post Office Directory

1914/Henry Johnson Nicholls/beer retailer/../../Post Office Directory *

1915/Henry Johnson Nicholls/beer retailer/../../Post Office Directory *

1921/Henry Johnson Nicholls/beer retailer/../../Post Office Directory *

1934/Henry Johnson Nicholls/beer retailer/../../Post Office Directory *

1938/Henry Johnson Nicholls/beer retailer/../../Post Office Directory *

1942/Henry Dunlop Butler & Walter Edmund Ponting/beer retailer/../../Post Office Directory *

1944/Henry Dunlop Butler & Walter Edmund Ponting/beer retailer/../../Post Office Directory *

1966/A R Tucker, Crown, 100 Arlington road NW1/../../Licensed Victuallers Association



* Provided By Ewan

*+ Provided By Tris

** Provided By Stephen Harris