Duke of Cambridge, 64 Lawford Road NW5
St Pancras index
The earliest address is at 62 Bartholomew road north, Kentish town in about 1865, and renamed to Lawford road in about 1868. It was still open in 1987, but now closed and converted to flats.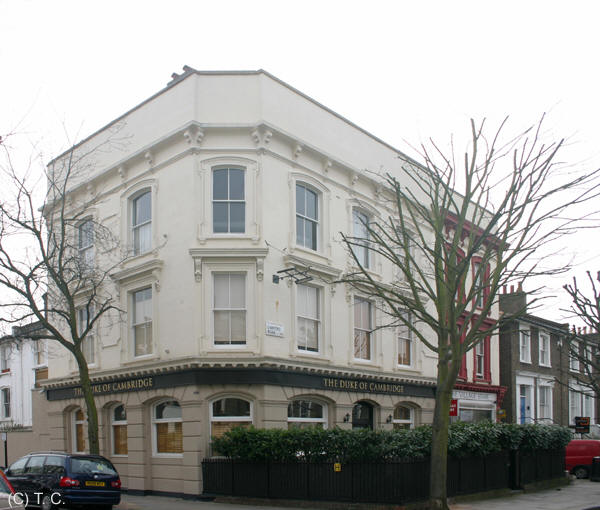 Duke of Cambridge, 64 Lawford Road, NW5 - 18th March 2010
Kindly provided by Tris
Historical London public houses, Taverns, Inns, Beer Houses and Hotels.
Residents at this address.
1865/George King/Duke of Cambridge, Bartholomew road north, Kentish town/../../Post Office Directory

1866/Mrs Elizabeth King/Duke of Cambridge, 62 Bartholomew road north, Kentish town/../../Post Office Directory

1867/Mrs Elizabeth King/Duke of Cambridge, 62 Bartholomew road north, Kentish town/../../Post Office Directory

1869/John Wilson/Duke of Cambridge, 62 Lawford road/../../Post Office Directory

1871/John Wilson/../../../Post Office Directory

1873/Henry Carrington/../../../Post Office Directory

1877/George Hayward Perman/../../../Post Office Directory

1880/Henry Serle Rocke/../../../Post Office Directory

1883/George Drury/../../../Post Office Directory

1885/Harry Milward Wright/../../../Post Office Directory

1886/Harry Milward Wright/../../../Post Office Directory

1888/Harry Milward Wright/../../../Post Office Directory

1891/Mrs Florence Marquess/../../../Post Office Directory

1893/James Wilson/../../../Post Office Directory

1899/Mrs Augustus Alexandra Wilson/../../../Post Office Directory

1901/George A Cooper/Licensed Victualler/35/St Martins, London/Census
1901/Emma J Cooper/Wife/34/Walworth, London/Census
1901/Alfred J Cooper/Son/10/Knightsbridge, London/Census
1901/Ernest H Cooper/Son/8/Hackney, London/Census
1901/Annie Preece/Boarder, Widow/83/St Pancras, London/Census
1901/Elizabeth Cawley/Cook, Widow/52/Winslow, Buckinghamshire/Census

1903/George Alfred Cooper/../../../Post Office Directory

1906/Robert Kennett/../../../Post Office Directory

1910/Robert Kennett/../../../Post Office Directory

Mrs Clara Scanes is at the Gladstone prior to this, with her husband Thomas, between about 1899 and 1910.

1911/Clara Scanes/Licensed Victualler, Widow/44/Poplar, Middlesex/Census
1911/Clara Elsie Scanes/Daughter/19/Liverpool/Census
1911/Thomas Bertie Scanes/Son/13/Upton Park, Essex/Census
1911/William Scanes/Son/10/Sussex/Census
1911/Ada Maria Morgan/Sister, Assistant, Widow/40/Poplar, Middlesex/Census
1911/Harold Thomas Morgan/Nephew/9/Cardiff/Census
1911/Henry John Fielder/Manager/44/Limehouse, Middlesex/Census
1911/Ethel Austin/Servant/30/Brighton/Census

1912/Mrs Clara Scanes/../../../Post Office Directory

1916/Mrs Clara Scanes/../../../Post Office Directory

1921/Mrs Clara Scanes/../../../Post Office Directory

1923/Mrs Clara Scanes/../../../Post Office Directory

1925/Mrs Clara Scanes/../../../Post Office Directory

1927/Mrs Clara Scanes/../../../Post Office Directory

Rolles family :

1928/Rolles Bros/../../../BT Telephone Directory

1930/Rolles Bros/../../../BT Telephone Directory

1935/Rolles Bros/../../../BT Telephone Directory

1938/Rolles Bros/../../../Post Office Directory

1944/Rolles Bros/../../../Post Office Directory

1948/Rolles Brothers/../../../BT Telephone Directory

1952/Rolles Brothers/../../../BT Telephone Directory

1955/Rolles Brothers/../../../BT Telephone Directory

1966/William M Cox & P G Norwood, Duke of Cambridge, 64 Lawford road NW5/../../Licensed Victuallers Association