Search London wiki and Pub wiki history sites
All public house, restaurants, bars etc closed for the forseeable future from 20th March 2020, but this is a pub history site.
Eagle Tavern, 102 - 104 Camden Road NW1 9EA
St Pancras index
The Eagle Tavern, 2 Cambridge terrace in the 1861 census and earlier. At 85 Great College street in 1862. At 104 Camden Road in 1869. In 2018, the Draft House exists at 102-106 Camden road ; This is also listed as 217 Great College Street by 1869, and as 217 Royal College Street by 1934, as the pub has entrances on both sides. It's at 12 Brecknock Place in 1848 and earlier. New Eagle, transfer of Eagle, at corner of Brecknock place to these new premises on other side of way (in 1849) *
This is now a branch of the Grand Union chain (2010) ***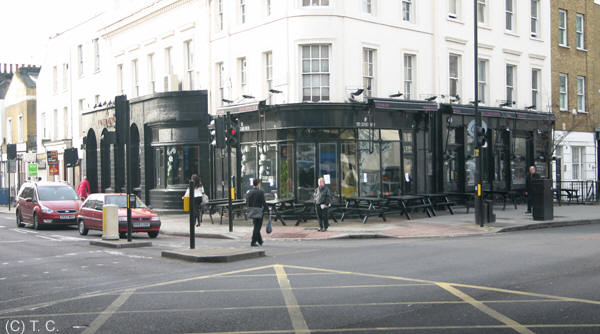 Eagle, 102-104 Camden Road, NW1 - March 2010
Kindly provided by Tris
Historical London public houses, Taverns, Inns, Beer Houses and Hotels.
Residents at this address.
1836/William Henry Duff, Eagle, 12 Brecknock place/../../Pigot's Directory

1839/Frederick Kimble/[Eagle]/../../Pigot's Directory *

1843/Frederick Kimble/[Eagle]/../../Post Office Directory *

1848/Henry Grimsdell/[Eagle]/../../Post Office Directory *

October 1849/Eagle, Camden Town, Henry Grimsdell to Arthur Gurney and Edward Boyle/../../Era

New Eagle, transfer of Eagle, at corner of Brecknock place to these new premises on other side of way

1851/Gurney & Boyle/../../../Post Office Directory *

1856/Gurney & Boyle/../../../Post Office Directory

September 1856/Edward Boyle/Outgoing Licensee/../../London Daily News

September 1856/William Mays/Incoming Licensee/../../London Daily News

1861/William Mays/Licensed Victualler/47/Witney, Oxfordshire/Census
1861/Elizabeth Mays/Wife/49/Sodbury, Gloucestershire/Census
1861/Mary Rogers/Sister/52/Sodbury, Gloucestershire/Census
1861/Henrietta Rogers/Niece/29/Bristol, Gloucestershire/Census
1861/Catherine Buckley/Housemaid/26/Ireland/Census
1861/John Hough/Barman/23/Hamptonbury, Warwickshire/Census
1861/William Packer/Barman/15/Aylesbury, Buckinghamshire/Census

1862/William Mayo/../../../Post Office Directory *

May 1862/William Mays/LV Association, Governor/../../Era

1869/Hy Nottingham/../../../Post Office Directory

1881/John Howell/Licensed Victualler/39/Aylburton, Gloucester/Census
1881/George Howell/Brother/45/Aylburton, Gloucester/Census
1881/Elizabeth Howell/Sister/42/Aylburton, Gloucester/Census
1881/John T Webb/Visitor, Clerk Of Exchequer/33/Marston, Bedford/Census
1881/William Price/Manager junior level/26/Hampstead, Middlesex/Census
1881/Esther Warrington/Assistant Inn/26/Oxford Street, Middlesex/Census
1881/Francis Horwood/Assistant Inn/21/London, Middlesex/Census
1881/Susan Collins/Domestic/28/Highgate, Middlesex/Census
1881/Julia Callaghan/Cook/32/Limerick, Ireland/Census
1881/Edward J Livermoor/Barman/17/London, Middlesex/Census
1881/Hazel Barnes/Barman/19/Brightlingsea, Essex/Census

1882/John Howell/../../../Post Office Directory

1884/John Howell/../../../Post Office Directory

1891/Henry Sams/../../../Post Office Directory

1895/Henry Sams/../../../Post Office Directory

1899/Frank Jn Sullivan/../../../Post Office Directory

1906/Edwin Warden/../../../Post Office Directory *

1910/Edwin Warden/../../../Post Office Directory

1915/Edwin Warden/../../../Post Office Directory

1921/Edwin Warden/../../../Hughes Directory

1927/Edwin Warden/../../../Post Office Directory *

1934/Brown & Horner/../../../Post Office Directory *

1938/Brown & Horner/../../../Post Office Directory *

1940/Brown & Horner/../../../Post Office Directory *

1942/Benjamin R. Orton & Alfred W. Harrington/../../../Post Office Directory *

1944/Benjamin R. Orton & Alfred W. Harrington/../../../Post Office Directory *

1966/T W Guest (Camden) Town Ltd & F Colley, Eagle, 217 Royal College street and 102 - 104 Camden road NW1/../../Licensed Victuallers Association



* Provided By Ewan

*** Provided By Tris