Search London wiki and Pub wiki history sites
All public house, restaurants, bars etc closed for the forseeable future from 20th March 2020, but this is a pub history site.
Falcon, 234 Royal College street, Camden Town NW1
St Pancras index
At 1 Sussex Place in 1881 census and earlier, and at 234 Great College Street by 1884. It is known at the time of closure as the Camden Falcon, it has just recently been converted to residential usage, i.e. mid-2010. *** The street name changed from Great College Street after the Veterinary College was granted a Royal Charter in 1875. There is a Sussex Arms on Sussex Place in the 1848 and 1851 directories, which is presumably an earlier name for the same premises. It is numbered as 2 Sussex Place in 1856 and 1862 directories. The address is at 234 Royal College Street by 1934, following street renaming. *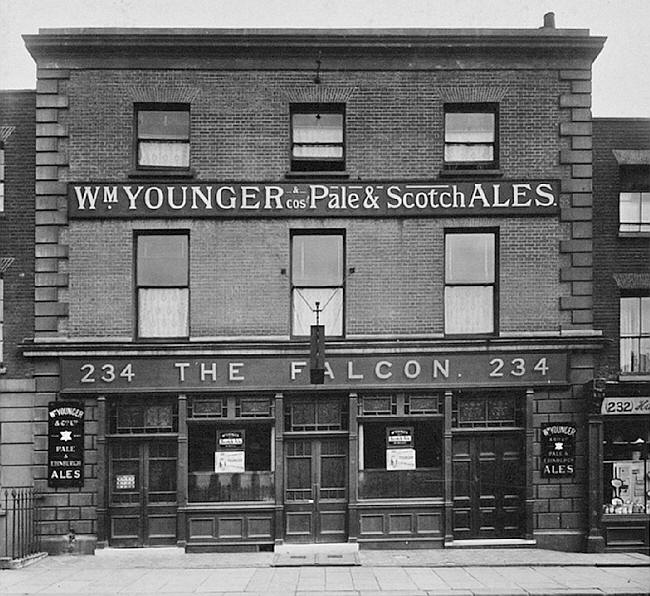 The Falcon, 234 Royal College Street - from June 1924
Kindly provided by Vincent O'Loughlin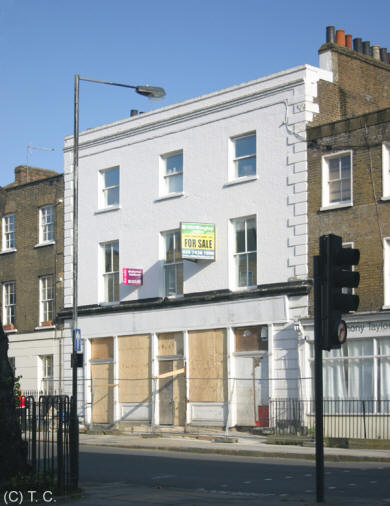 Falcon, 234 Royal College Street, NW1 - April 2010
Kindly provided by Tris
Historical London public houses, Taverns, Inns, Beer Houses and Hotels.
Residents at this address.
1848/John Alford/../../../Post Office Directory *

1851/Mrs Sarah Alford/../../../Post Office Directory *

September 1856/Eliza Healey/Outgoing Licensee/../../London Daily News

September 1856/Thomas Moore/Incoming Licensee/../../London Daily News

1856/Thomas Moore/../../../Post Office Directory

1861/Thomas Moore/Licensed Victualler/33/Reading, Berkshire/Census
1861/Georgiana Moore/Wife/31/Shoreditch, Middlesex/Census
1861/Henry Thomas Moore/Son/9/St Pancras, Middlesex/Census
1861/Frances G Moore/Daughter/7/St Pancras, Middlesex/Census
1861/Louisa Agusta Moore/Daughter/6/St Pancras, Middlesex/Census
1861/Eliza Cumberland Moore/Daughter/4/St Pancras, Middlesex/Census
1861/Charlotte Isabella Moore/Daughter/2/St Pancras, Middlesex/Census
1861/Henry Gathercoll/Barman/20/Direham, Norfolk/Census
1861/Jane Quittenden/House Servant/23/Tunbridge, Kent/Census
1861/Ellen Clay/Nursemaid/16/Tame, Oxfordshire/Census

1862/Thomas Moore/../../../Post Office Directory *

1869/Thomas Moore/../../../Post Office Directory

1881/William F Pickering/Publican/34/St Lukes, Middlesex/Census
1881/Elizabeth Pickering/Wife/34/Middlesex/Census
1881/Ethel M Pickering/Daughter/3/Middlesex/Census
1881/Percy C Pickering/Son/2/Middlesex/Census
1881/William S Short/Servant/22/Middlesex/Census
1881/Annie Chick/General Servant/13/Middlesex/Census

1882/Francis Pickering/../../../Post Office Directory *

1884/William F Pickering/../../../Post Office Directory

1891/William Joseph Henry Sims/../../../Post Office Directory

1895/Joseph Henry Sims/../../../Post Office Directory *

1899/Geo Frederick Rennell/Beer Retailer/../../Post Office Directory

1901/Henry Buggs/Publian/52/Newington, London/Census
1901/Rose Waterford/Barmaid/22/Petworth, Sussex/Census
1901/Jane Spencer/Cook/43/London/Census
1901/Thos Meaden/Barman/17/Rotherhithe/Census

1906/Henry Briggs/../../../Post Office Directory *

1910/Carment & Mennie/../../../Post Office Directory *

1915/John Russell/../../../Post Office Directory *

1921/Walter Hurley Trew/../../../Post Office Directory *

1927/W. G. Whitby/../../../Post Office Directory *

1934/Mrs Lydia J. Tilt/../../../Post Office Directory *

1938/Albert Vivian Cakebread & Frank L. Grubb/../../../Post Office Directory *

1940/Joseph J. Fleming/../../../Post Office Directory *

1942/Mrs Mary J. Hammond/../../../Post Office Directory *

1944/Mrs Mary J. Hammond/../../../Post Office Directory *

1966/Terrence O'Sullivan, Falcon, 234 Royal College Street NW1/../../Licensed Victuallers Association



* Provided By Ewan

** Provided By Stephen Harris

*** Provided By Tris

Provided By Vincent O'Loughlin