Search London wiki and Pub wiki history sites
All public house, restaurants, bars etc closed for the forseeable future from 20th March 2020, but this is a pub history site.
Jolly Butchers, 10 Ferdinand Street NW1
St Pancras index
Named in 1871 census, at corner of Ferdinand Place in 1882 Directory and at 1 Ferdinand Street before 1891. (To be precise it is at 1a Ferdinand Street, as the Monarch is at 1 Ferdinand Street in 1856). At the time of conversion to residential use around 2006, this pub was known as the Crowndale with the address of 10 Ferdinand Street, the same name as back in 1966. ***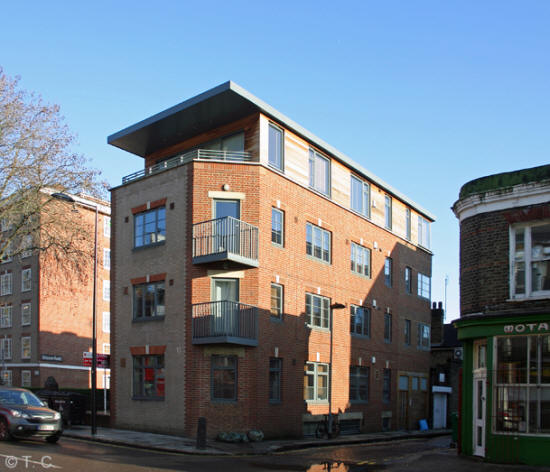 Jolly Butchers, 10 Ferdinand Street, NW1 - January 2011
Kindly provided by Tris
Historical London public houses, Taverns, Inns, Beer Houses and Hotels.
Residents at this address.
1848/William Wilkins/../../../Post Office Directory

1856/Henry Marsden/Beer Retailer/../../Post Office Directory

1861/Thomas Walkden/Beer House Keeper/31/Coventry, Warwickshire/Census
1861/Emma Walkden/Wife/23/Wimbledon, Surrey/Census

My great x3 grandfather James Holcomb (sometimes spelt Holcombe) was the keeper here; some time after the 1861 census which has him elsewhere and in railway service. However, he died on 1867, and the death certificate records his address as 1 Ferdinand Street Camden Town and gives his occupation as Beer House Keeper. *

He left a will, and the Probate Calendar for 1867 (volume 10, pages 25 - 26) has the following entry:
19 August. The Will of James Holcombe late of the "Jolly Butcher" Ferdinand Street Camden Town in the County of Middlesex deceased who died 4 July 1867 at the "Jolly Butcher" aforesaid was proved at the Principal Registry by the oath of Louisa Holcombe of the "Jolly Butcher" aforesaid Widow the Relict the sole Executrix. Effects under £450 *

Of further note is that the widow Louisa Holcombe was born Lucy Frost, the daughter of Ambrose and Sarah Frost of the Swan Inn, in Exning, Cambridgeshire. This is the only time I have seen her referred to as Louisa not Lucy. *

1869/Mrs Louisa Holcombe/Beer Retailer/../../Post Office Directory

1871/James Dods/Book Seller/54/Scotland/Census **
1871/Mary A Dods/Wife/56/Holborn, Middlesex/Census
1871/James Dods/Son, Beer Retailer/25/Holborn, Middlesex/Census
1871/Jane Dods/Daughter, Sempstress/21/Hoxton, Middlesex/Census
1871/John Dods/Son, Book Binder/18/Holborn, Middlesex/Census
1871/Mary Smith/Lodger, Upholsterer, Widow/67/Holborn, Middlesex/Census

1881/John Dyson/Beer Retailer/43/Huddersfield, York/Census
1881/Annie Dyson/Wife/36/(City), Middlesex/Census
1881/Annie Dyson/Daughter/8/Windsor, Berkshire/Census
1881/Alice Dyson/Daughter/6/Camden Town, Middlesex/Census
1881/Florence Dyson/Daughter/4/Camden Town, Middlesex/Census
1881/John Dyson/Son/1/Camden Town, Middlesex/Census

1882/John Dyson/Beer Retailer/../../Post Office Directory

1891/Mrs Ellen Ayres/Beer Retailer/../../Post Office Directory

1895/William Gleed/beer retailer/../../Post Office Directory

1899/Charles Clarke/Beer Retailer/../../Post Office Directory

1910/Thomas Philip Higgens/Beer Retailer/../../Post Office Directory

1914/George Edwin Moore/Beer Retailer/../../Post Office Directory

1915/Frank Chas Griffin/Beer Retailer/../../Post Office Directory

1921/John Charles Greatorex/Beer Retailer/../../Post Office Directory

1934/Fredk Wm Emms/Beer Retailer/../../Kellys Directory

1938/Fredk Wm Emms/Beer Retailer/../../Post Office Directory

1942/George William Balsom/beer retailer/../../Post Office Directory

1944/Herbert W Driscoll/Beer Retailer/../../Post Office Directory

1966/W J Roach, Crowndale, 10 Ferdinand Street NW1/../../Licensed Victuallers Association



* Provided By Jeremy Burrows

** Provided By Louise

*** Provided By Tris

Provided By Ewan