Search London wiki and Pub wiki history sites
All public house, restaurants, bars etc closed for the forseeable future from 20th March 2020, but this is a history site.
Globe, 15 Maple Street, Tottenham Court Road W1
St Pancras index
At 53a Whitfield Street up until 1884; 15 London Street by 1891. The road sign in the picture of 1911 shows Whitfield Street. The address is also given in 1851, 1856 and 1861 as 48 Upper John Street (the intersecting street, later renamed as Whitfield Street). It is also sometimes given as 53 London Street, but should not be confused with the beer retailer at this address (on the other side of the intersection with Whitfield Street). *
Historical London public houses, Taverns, Inns, Beer Houses and Hotels.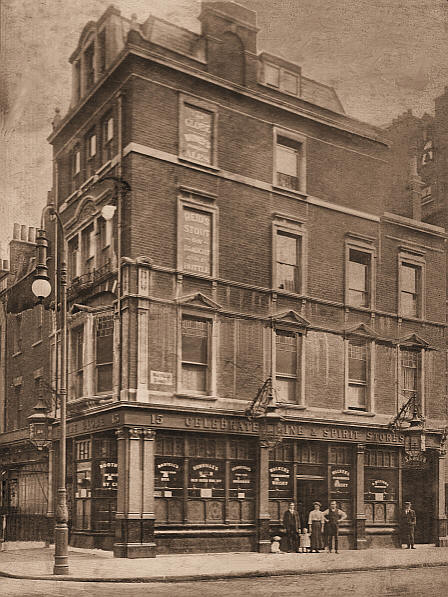 The Globe, 15 Maple Street, Tottenham Court Road - circa 1911
Kindly provided by Dave Williams
Residents at this address.
1790/Matthew/Burgess/victualler/../../Sun Fire Office records held at the London Metropolitan Archives *

1833/Mr Claridge/victualler/../../Sun Fire Office records held at the London Metropolitan Archives *

1835/Mr Massey/victualler/../../Sun Fire Office records held at the London Metropolitan Archives *

1838/Joseph Cheesewright/victualler/../../Sun Fire Office records held at the London Metropolitan Archives *

1839/J. Cheesewright/../../../Pigot's Directory *

1839/John Herbert/victualler/../../Sun Fire Office records held at the London Metropolitan Archives *

1841/John Herbert/../../../Post Office Directory *

1848/John Herbert/../../../Post Office Directory *

1851/John Herbert/../../../Post Office Directory *

1856/Mrs Mary Maria Walker/../../../Post Office Directory *

1861/John Dickins/Licensed Victualler/60/St Giles, Northamptonshire/Census *
1861/Lucy C. Dickins/Daughter/12/All Saints, Northamptonshire/Census
1861/Edward W. Dickins/Son/6/Islington, Middlesex/Census
1861/Lewis Dickins/Son/2/Marylebone, Middlesex/Census
1861/M. A. Collingwood/Niece, Housekeeper/20/Holloway, Middlesex/Census
1861/Emily Cooper/Visitor, Dress Maker/21/East Hookey, Berkshire/Census
1861/Joseph Keep/Barman/22/Southwark/Census
1861/George Osborn/Potman/26/Putney/Census
1861/Ann Samson/Servant/19/Marylebone, Middlesex/Census

1869/Edward Corish/../../../Post Office Directory

1881/Henry Good/Licensed Victualler/45/City of London, Middlesex/Census
1881/Mary Good/Wife/34/Birmingham/Census
1881/Albert Good/Son/4/St Pancras, Middlesex/Census
1881/Lillie M Good/Daughter/2/St Pancras, Middlesex/Census
1881/Sarah Ambler/Barmaid/19/Pimlico/Census
1881/Jane Stead/General Servant/30/Holborn/Census
1881/Annie White/Nursemaid/20/Westhmirick/Census
1881/William Book/Potman/19/Lambeth/Census

1882/Henry Good/../../../Post Office Directory

1884/Henry Pike/../../../Post Office Directory

15 London Street :

1891/John R Bamford/../../../Post Office Directory

1891/George Mansfield/Beer Seller/40/Camberwell/Census *
1891/Jane Mansfield/Wife/38/Flimwell, Sussex/Census
1891/Edith Mansfield/Daughter/12/Flimwell, Sussex/Census
1891/Lydia Mansfield/Daughter/10/East Greenwich, Kent/Census

1895/Fredk Pullen/../../../Post Office Directory

1899/Robert Garbutt Robinson/../../../Post Office Directory

1901/Henry T. Hollington/Licensed Victualler/39/Lambeth/Census *
1901/Agnes Hollington/Wife/37/Mile End/Census
1901/Henry W. Hollington/Son/11/Islington/Census
1901/Robert H. Hollington/Son/9/Bethnal Green/Census
1901/Albert S. Hollington/Son/7/Hackney/Census
1901/Victor E. Hollington/Son/6/Bromley by Bow/Census
1901/Agnes G. A. Hollington/Daughter/4/Mile End/Census
1901/Nina Ell/Barmaid/21/Clerkenwell/Census
1901/Mary Morgan/Domestic Servant/17/North Kensington/Census
1901/Frederick Wolsky/Potman/17/Marylebone/Census

15 Maple Street :

1910/Joseph Reading/../../../Post Office Directory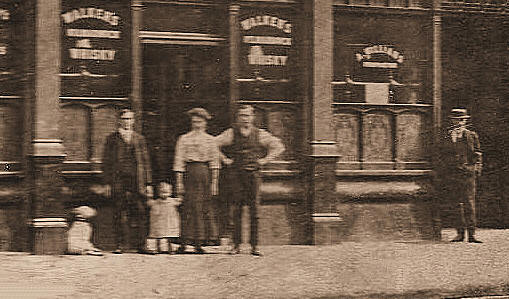 The Globe circa 1911 (the couple with a child between them are my paternal grandparents) ***
1911/A Williams/Publican/31/London S E/Census ***
1911/E Williams/Wife/28/London S E/Census
1911/E Williams/Daughter/2/London S E/Census
1911/Wag Cobwell/Barman/38/Lee, Kent/Census
1911/L Shorme/General Servant/19/London S E/Census

1915/Leonard Lujie Slater/../../../Post Office Directory

1921/Leonard Lujie Slater/../../../Post Office Directory

1934/Sidney Cohen/../../../Kellys Directory

1938/Sidney Cohen/../../../Post Office Directory

1944/Sidney Cohen/../../../Post Office Directory



* Provided By Ewan

*** Provided By Dave Williams