Search London wiki and Pub wiki history sites
All public house, restaurants, bars etc closed for the forseeable future from 20th March 2020, but this is a history site.
Two Brewers, 32 Gough Street WC1
A listing of historical London public houses, Taverns, Inns, Beer Houses and Hotels in St Pancras parish, City of London. The St Pancras parish includes a large number of areas that include Camden Town, large parts of Grays Inn Road, Tottenham Court Road, Kentish Town, Euston Road, Regents Park etc , London Pubs, information from census, Trade Directories and History to add Victuallers, Publicans, Pub staff, Lodgers and Visitors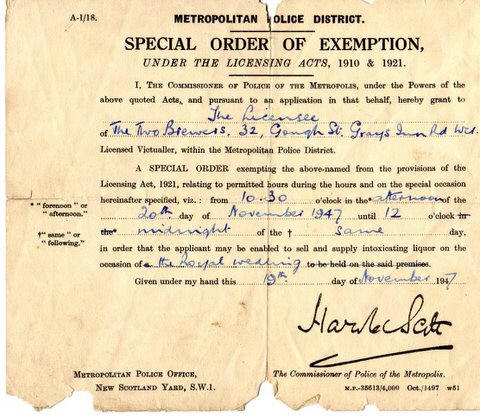 This is a special licence in 1947 at the time of the Royal Wedding of Elizabeth & Philip - for the Two Brewers, 32 Gough Street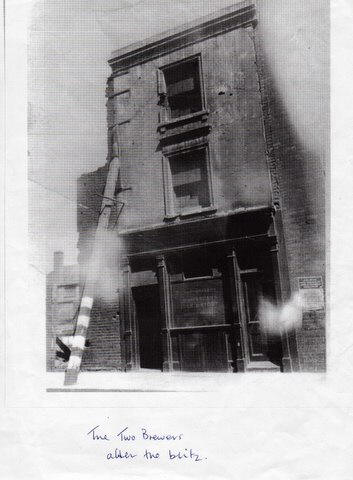 The Two Brewers, 32 Gough Street - after the blitz
Kindly provided by Hazel Duxon
Residents at this address.
My 3rd Great Grandfather George Tomkins was the licensee of this public house - he died 16th August 1872 at 32 Gough Street of "Liver Disease". *

At least 4 of his 6 children were born above the Two Brewers, Emily Alice (15/08/65) , Ernest Noah (07/06/67), Fanny Isabella (My GG Grandmother (25/03/69) & Edith Gertrude (1870). *

1861/George Tomkins/Beer Retailer/25/Goldington, Beds/Census *
1861/Arnold Gates/Servant/11/York Street, Pentonville/Census

1869/George Tomkins/Beer Retailer/../../Post Office Directory

1871/George Tomkins/Beer Retailer/35/Goldington, Beds//Census *
1871/Eliza Tomkins/Wife/30/Chesham, Bucks/Census
1871/George J A Tomkins/Son/9/St Pancras, Middlesex/Census
1871/Eliza J Tomkins/Daughter/10/St Pancras, Middlesex/Census
1871/Emily A Tomkins/Daughter/5/St Pancras, Middlesex/Census
1871/Ernest A Tomkins/Son/3/St Pancras, Middlesex/Census
1871/Fanny S Tomkins/Daughter/2/St Pancras, Middlesex/Census
1871/Edith G Tomkins/Daughter/5 months/St Pancras, Middlesex/Census
1871/Caroline Smith/General Servant/18/Ireland/Census
1871/Heba King/Niece/17/Chesham, Bucks/Census
1871/John Smith/Potboy/16/Holborn, Middlesex/Census

1881/Thomas Meredith/Beer House Keeper/38/Bicker, Lincoln/Census
1881/Margaret Meredith/Wife/35/England/Census
1881/John T Meredith/Son, Office Boy/15/London, Middlesex/Census
1881/Alice Hughes/General Servant/20/Holborn/Census

1882/Edwin Holder/Beer Retailer/../../Post Office Directory

The Tillcock family

1895/Edward Tillcock/Beer Retailer/../../Post Office Directory

1899/Edward Tillcock/Beer Retailer/../../Post Office Directory

1901/Edward Tillcock/Beer Retailer/37/City of London, Middlesex/Census
1901/Annie Tillcock/Wife/36/Clapham, Surrey/Census
1901/Reginald Tillcock/Son/7/Lambeth, Surrey/Census
1901/Richard Tillcock/Son/6/St Pancras, Middlesex/Census
1901/Dorothy Tillcock/Daughter/5/St Pancras, Middlesex/Census

1910/Mrs Annie Elizabeth Tillcock/Beer Retailer/../../Post Office Directory **

1915/Mrs Annie Elizabeth Tillcock/Beer Retailer/../../Post Office Directory

On the 1910 listing Mrs. Annie Elizabeth Tillcock at 32 Gough Street was Richard Bernard Tillcock's mother. His [Richards] parents ran the Two Brewers for a very long time and Richard [or Dick as he was called, and his wife Florence] took it over from his father Edward. He was later, also, at the Two Blue Posts **
Opposite the Two Brewers the Sunday Graphic was printed so most of the people that used the pub were obviously locals, journalists and photographers and also post office workers from the Mount Pleasant Depot. **

1934/Richard Bernard Tillcock/Beer Retailer/../../Post Office Directory

1938/Richard Bernard Tillcock/Beer Retailer/../../Post Office Directory

See the The Licensing World and Licensed Trade Review - February 7, 1948. for Richard B Tillcock - obituary :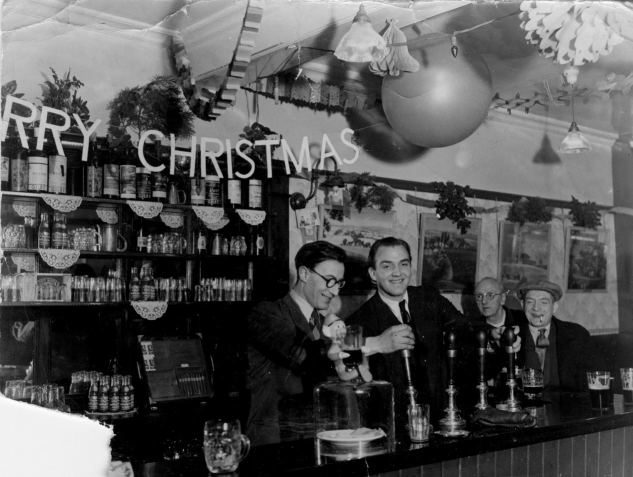 The public bar of the Two Brewers with my father, Clifford Fenn who married Eileen Vera Tillcock
Kindly provided by Hazel Duxon
Two Brewers Photo - Bar scene:

My father, Clifford Fenn, was the husband of Eileen Vera Tillcock, the daughter of Richard Bernard Tillcock. She was born at 32 Gough Street. The other man behind the bar is Ronnie (Ronald Stanley Tillcock) son of Richard Bernard Tillcock, who was also born at 32 Gough Street; and my Uncle Ronnie. **
There are more Two Brewer group photographs, probably around 1948 here **

1966/I P H Co & B T Cullen, Two Brewers, 32 Gough street WC1/../../Licensed Victuallers Association

* Provided by Robin Beard

** Provided by Hazel Duxon

*** Provided by Robin Beard