Search London wiki and Pub wiki history sites
All public house, restaurants, bars etc closed for the forseeable future from 20th March 2020, but this is a pub history site.
Hope & Anchor , 74 Crowndale Road, Camden Town NW1
St Pancras index
The address is 8 Gloucester Place (or sometimes 9 Gloucester Place) in 1856 and earlier, prior to street renaming. *
The entries in the 1861 license transfer and earlier are for the Hope and Anchor, Gloucester place, Camden Town. Closed in late 2013 with the intention of residential conversion or demolition. ***
Historical London public houses, Taverns, Inns, Beer Houses and Hotels.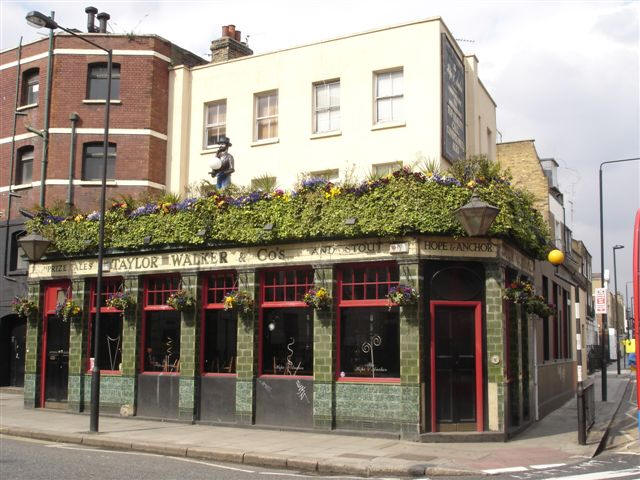 Hope & Anchor, 74 Crowndale Road, NW1 - in March 2007
Kindly provided by Stephen Harris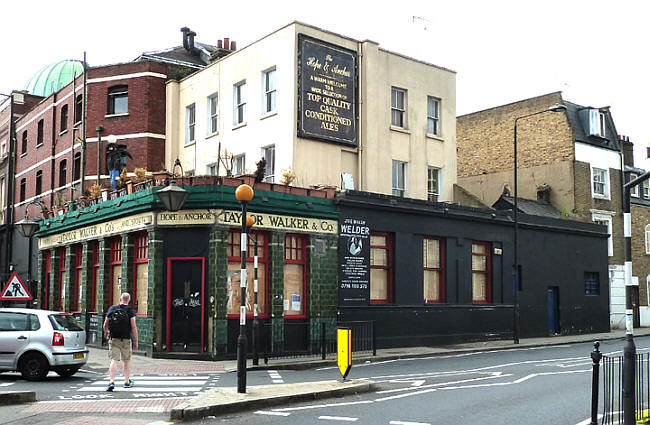 Hope & Anchor, 74 Crowndale Road, NW1 - on 17th August 2015
Kindly provided by John Carnaby
Residents at this address.
1798/Richard Jeffreys/victualler/../../Sun Fire Office records held at the London Metropolitan Archives *

1805/William Desborow, Hope and Anchor, Gloucester place, Camden town/../../Holdens Directory

1826/Daniel Lunn/../../../London Directory

1833-34/George Maynard/../../../Pigot's Directory *

1836/Hugh Hughes/victualler/../../Sun Fire Office records held at the London Metropolitan Archives *

1836/Hugh Hughes, Hope & Anchor, Gloucester place, Camden town/../../Pigot's Directory

1839/Hugh Hughes/../../../Pigots Directory

1841/Hugh Hughes/../../../Post Office Directory *

1842/Hugh Hughes/../../../Robsons Directory

1848/Hugh Hughes/../../../Post Office Directory

April 1849/Robert Hook/Outgoing Licensee/../../Era

April 1849/Hugh Hughes/Incoming Licensee/../../Era

1851/Hugh Hughes/../../../Post Office Directory *

1856/Chas Fisher/../../../Post Office Directory

September 1861/Charles Henry Fisher/Outgoing Licensee/../../Era

September 1861/Joseph George Brett/Incoming Licensee/../../Era

1869/William James Edwards/../../../Post Office Directory

September 1870/Charles Tilley/Outgoing Licensee/../../Era Newspaper

September 1870/Charles Collier Barker/Incoming Licensee/../../Era Newspaper

1871/Charles C Barker/Publican/24/Beaumaris, Anglesey, Wales/Census
1871/Mary Barker/Wife/25/Manchester/Census
1871/Louisa Draper/Barmaid/19/Chelsea/Census
1871/Robert Hill/Potman/20/st Pancras/Census
1871/Anne Bailey/Servant/17/Arlstown, Northampton/Census

1881/Ely Perry/Publican/31/Walton, Somerset/Census
1881/Elizabeth Perry/Wife/31/London, Middlesex/Census
1881/Arthur Perry/Brother, Barman/26/Walton, Somerset/Census
1881/William R Perry/Son/8/London, Middlesex/Census
1881/Josiah Perry/Son/5/London, Middlesex/Census
1881/Elizabeth Perry/Daughter/3/London, Middlesex/Census
1881/Robert Perry/Son/10 months/London, Middlesex/Census
1881/Joseph Manning/Potman/25/London, Middlesex/Census
1881/Jane Sharping/General Servant/25/London, Middlesex/Census
1881/Flora Austin/Nurse/14/London, Middlesex/Census

1882/Eli Perry/../../../Post Office Directory

1884/Eli Perry/../../../Post Office Directory

1891/George Hy Cox/../../../Post Office Directory

1895/Mrs Alice Maria Pond/../../../Post Office Directory

1899/William Edgington/../../../Post Office Directory

1901/William Edgington/Licensed Victualler/34/Bermondsey, London/Census
1901/Nelly Edgington/Wife/29/Middlesex/Census
1901/William Edgington/Son/6/London/Census
1901/Harold Edgington/Son/1/London/Census
1901/Alice Hill/Barmaid/25/Hertfordshire/Census
1901/Florrie Sargent/Barmaid/20/Colchester, Essex/Census
1901/Elizabeth Holdom/Nurse for Children, Widow/60/Kent/Census
1901/Nellie Morton/Cook/23/London/Census

1906/William Edgington/../../../Post Office Directory *

1910/William Edgington/../../../Post Office Directory

1915/William Edgington/../../../Post Office Directory

1921/Wm Edgington/../../../Post Office Directory

1927/Mrs Nelly Edgington/../../../Post Office Directory *

1934/Mrs Nelly Edgington/../../../Kellys Directory

1938/Mrs Nelly Edgington/../../../Post Office Directory

1940/Mrs Nelly Edgington/../../../Post Office Directory *

1942/Mrs Nelly Edgington/../../../Post Office Directory *

1944/Fras Leonard Sprossen/../../../Post Office Directory

1966/Payne's Restaurants Ltd & R E Griffin, Hope & Anchor , 74 Crowndale Road NW1/../../Licensed Victuallers Association

1971/../Hope & Anchor , 74 Crowndale Road NW1/../../Pub Directory



* Provided By Ewan

*** Provided By Tris