Search London wiki and Pub wiki history sites
All public house, restaurants, bars etc closed for the forseeable future from 20th March 2020, but this is a history site.
Hope, 15 Tottenham Street, St Pancras W1
St Pancras index
Renamed the Hope Fitzrovia in 2012. *
Historical London public houses, Taverns, Inns, Beer Houses and Hotels.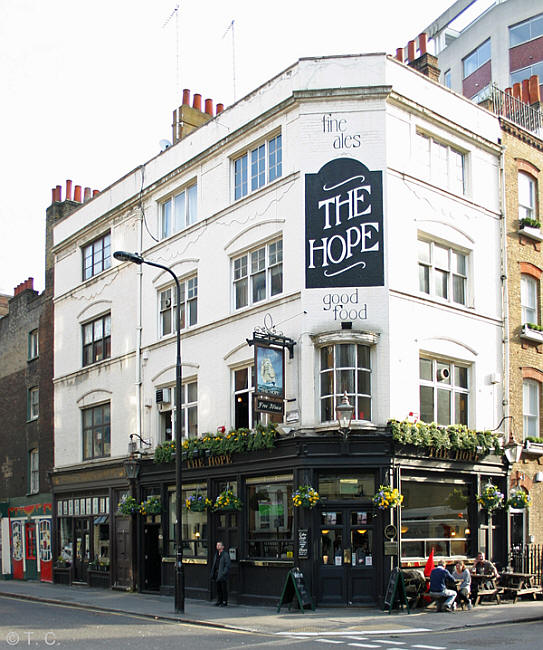 Hope, 15 Tottenham Street W1 - in April 2010
Kindly provided by Tris
Residents at this address.
1791/Thomas Jenkens Salledine/victualler/../../Sun Fire Office records held at the London Metropolitan Archives *+

1825/Mr Perkin, Hope, Tottenham court road/../../Licensed Victuallers Association

April 1827/Thomas Perkin/../../../Licensed Victuallers Association

1839/Thomas Perkins/../../../Post Office Directory *+

1841/Thomas Perkin/../../../Post Office Directory *+

1848/Mrs Margaret Perkin/../../../Post Office Directory *+

1851/Mrs Margaret Perkin/../../../Post Office Directory *+

September 1853/Margaret Perkin/Outgoing Licensee/../../Era Newspaper

September 1853/John Capon/Incoming Licensee/../../Era Newspaper

1856/John Capon/../../../Post Office Directory *+

1861/Mark King/Licensed Victualler/41/Peterborough, Northamptonshire/Census *+
1861/Mary King/Wife/38/Borough/Census
1861/Louisa King/Daughter/14/Borough/Census
1861/Alfonse King/Son/8/Bethnal Green/Census
1861/Ellen Hurley/Mother-in-Law/59/Ireland/Census
1861/William Wilmot/Barman/21/Berkshire/Census
1861/Edward Patemain/Porter/17/Chelsea, Middlesex/Census
1861/Charlotte Butler/Servant/23/Peterborough, Northamptonshire/Census

February 1864/George King/Outgoing Licensee/../../Era

February 1864/Thomas William Hamilton/Incoming Licensee/../../Era

April 1864/Thomas William Hamilton/Outgoing Licensee/../../Era Newspaper

April 1864/Frank Baker/Incoming Licensee/../../Era Newspaper

1869/James Kinsey/../../../Post Office Directory *+

September 1870/James Kinsey/Outgoing Licensee/../../Era Newspaper

September 1870/Frederick Turner/Incoming Licensee/../../Era Newspaper

1884/George Webster/../../../Post Office Directory

1893, Thomas Patrick of the "Hope" public house Tottenham street Tottenham court road Middlesex gentleman died 9 September 1893 Probate London 3 October to Martha Ann Patrick spinster and Richard Patrick licensed victualler, Effects £320

1895/Richard Patrick/../../../Post Office Directory *+

1899/Richard Patrick/../../../Post Office Directory

1910/Philip Davis/../../../Post Office Directory

1915/Mrs Frances Ann Davis/../../../Post Office Directory *+

1921/Francis A Gandor/../../../Hughes Directory

1938/Mrs Agnes Mary Barnes/../../../Post Office Directory

1944/J W N Peters/../../../Post Office Directory

1966/Patrick O'Donnell, Hope, 15 Tottenham Street, St Pancras W1/../../Licensed Victuallers Association



* Provided By Tris

*+ Provided By Ewan