Jolly Gardeners, 69 Cobourg Street, Euston Square NW1
St Pancras index
The earlier address is at 14 Cobourg street until at least 1911. This pub has been recently renamed the Bree Louise ** Closed January 28th 2018 to be demolished as part of the HS2 project. *
Historical London public houses, Taverns, Inns, Beer Houses and Hotels.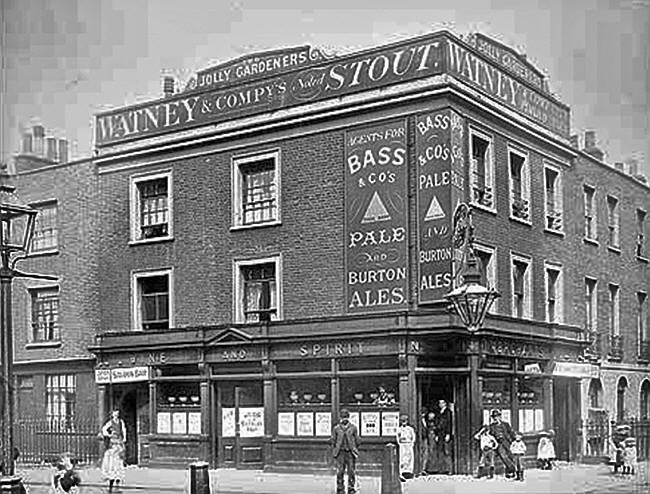 Jolly Gardeners at the corner of Cobourg Street (left) and Euston Street (right), in 1880
Kindly provided By Vincent O'Loughlin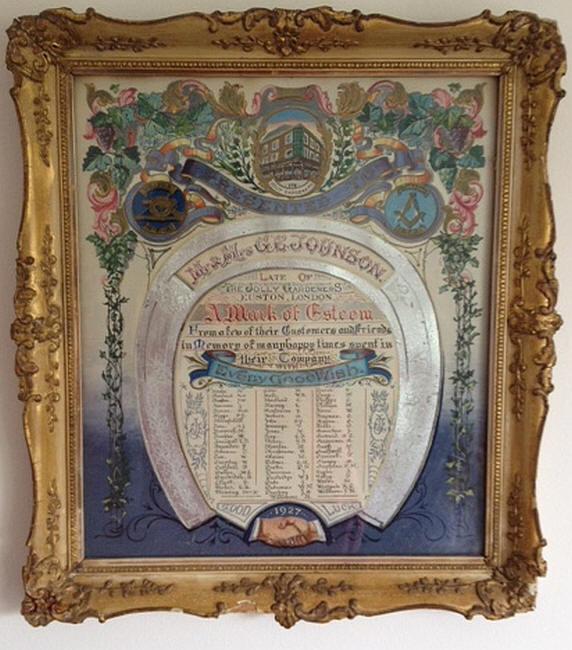 Presented to Mr & Mrs G E Johnson, Late of the Jolly Gardeners, Euston. From a few of their Customers and Friends in Memory of may happy hours spent in their company - 1927
Kindly provided by Veronica Peers, Grand Daughter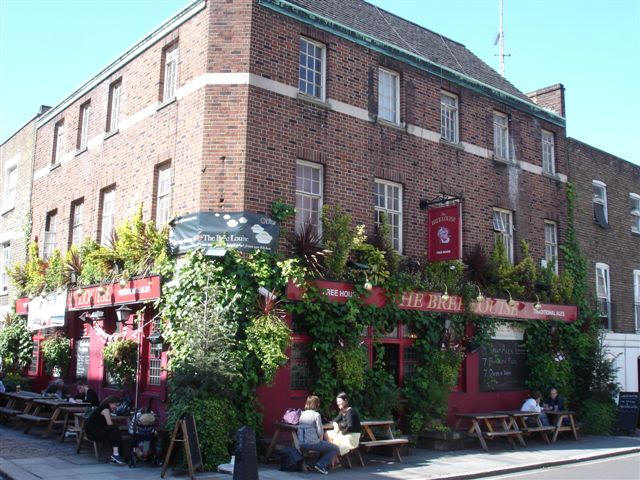 Jolly Gardeners, 69 Cobourg Street, NW1 - in May 2007
Kindly provided by Stephen Harris
Residents at this address.
April 1827/James Seaward/../../../Licensed Victuallers Association

1833-34/James Seaward/../../../Pigot's Directory *

1834/Mr James Seaward/../../../Licensed Victuallers Association

1839/Jas Seaward/../../../Pigots Directory

1842/J Seaward/../../../Robsons Directory

1848/Robert Crane/../../../Post Office Directory

1851/Robert Crane/../../../Kellys Directory

1856/John Grist/../../../Post Office Directory

1869/J Newport/../../../Post Office Directory

On the night of the census there were two Potmen, one of whom was my ancestor Henry Flatman aged 18. Henry married and set sail later in 1871 for New Zealand. ***

1871/Joseph Newport/Licensed Victualler/38/Frome, Somerset/Census ***
1871/Louisa Newport/Wife/37/London, Middlesex/Census
1871/Maria Heberlein/Sister in Law/37/London, Middlesex/Census
1871/Louisa Newport/Daughter/12/London, Middlesex/Census
1871/Harriett Newport/Daughter/9/London, Middlesex/Census
1871/Alice Newport/Daughter/5/London, Middlesex/Census
1871/Joseph Newport/Son/2/London, Middlesex/Census
1871/Frances Newport/Daughter/5 months/London, Middlesex/Census
1871/Caroline Hovis/Niece, Barmaid/14/London, Middlesex/Census
1871/Richard Master/Barman/26/Upton, Cornwall/Census
1871/Henry Banting/Potman/24/Ostham, Oxford/Census
1871/Henry Flatman/Potman/18/Norfolk/Census

1874/Joseph Newport/../../../Licensed Victuallers and Hotel Keepers Directory *

1881/Henry Sams/Licensed Victualler/23/Hampstead/Census
1881/Ellen F P Sams/Wife/26/London, Middlesex/Census
1881/Henry Sams/Son/1/London, Middlesex/Census
1881/Charles J Lawley/Barman/26/London, Middlesex/Census
1881/William J Newport/Barman/19/London, Middlesex/Census
1881/Sophia Matthews/Barmaid/22/Ramsgate, Kent/Census
1881/Jane Pearl/Domestic Servant/24/London, Middlesex/Census
1881/Alice Downs/Nursemaid/15/Thompson, Norfolk/Census

1882/Henry Sams/../../../Post Office Directory

1884/Henry Sams/../../../Post Office Directory

[At 477 Fulham Road in 1891 - Alfred Janes]

1891/Alfred Frederick Janes/../../../Post Office Directory

1895/Alfred Frederick Janes/../../../Post Office Directory

1899/Andrew William Pearce/../../../Post Office Directory

1902/Andrew William Pearce, aged 39, publican marries Eliza Greedy aged 26 at Camden Town/../../../Marriage & Banns

1906/Andrew William Pearce/../../../Post Office Directory *

1910/Andrew William Pearce/../../../Post Office Directory

1911/Andrew William Pearce/Licensed Victualler/48/Long Crendon, Buckinghamshire/Census
1911/Eliza Pearce/Wife/34/Fitzhead, Somerset/Census
1911/Harold William Pearce/Son/9/Euston, London/Census
1911/Winifred Irene Pearce/Daughter/7/Euston, London/Census
1911/Douglas Frank Pearce/Son/7 months/Euston, London/Census
1911/Annie Seagle/Servant/25/St Pancras, London/Census
1911/Henry George Hacker/Barman/32/Euston, London/Census
1911/William Barnett/Barman/20/Windsor/Census
1911/Alfred Duffield/Visitor, Assistant Chemist/45/Birmingham/Census

1915/John Marshall/../../../Post Office Directory

1921/Jno E Marshall/../../../Post Office Directory

1934/Edward Jn Gravett/../../../Post Office Directory

1938/Edward Jn Gravett/../../../Post Office Directory

1940/Edward John Gravett/../../../Post Office Directory *

1942/William Edward Hands/../../../Post Office Directory *

1944/William Edward Hands/../../../Post Office Directory

1966/John F McGrath, Jolly Gardeners, 69 Cobourg Street NW1/../../Licensed Victuallers Association

1971/../Jolly Gardeners, 69 Cobourg Street NW1/../../Pub Directory



* Provided By Ewan

** Provided By Tris

*** Provided By Beverley Bolland