Search London wiki and Pub wiki history sites
All public house, restaurants, bars etc closed for the forseeable future from 20th March 2020, but this is a pub history site.
Lord Nelson, 48 Stanhope Street, Euston Road NW1
The address of this pub is listed as 100 Mary Street until the 1861 census (the street was renamed and renumbered sometime during the 1860s). *
St Pancras index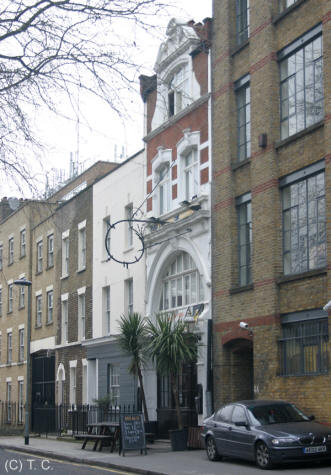 Lord Nelson, 48 Stanhope Street, NW1 - March 2010
Kindly provided by Tris
Historical London public houses, Taverns, Inns, Beer Houses and Hotels.
Residents at this address.
1821/Mary Raper/victualler/../../Sun Fire Office records held at the London Metropolitan Archives *

1827/Nash, Lord Nelson, Mary street, Hampstead road/../../Licensed Victuallers Association

1839/Jas Smith/../../../Pigots Directory *

1842/John Salmon/../../../Robson's Directory *

1848/William Bail/../../../Post Office Directory *

1851/William Hallifax sen/../../../Kellys Directory *

1851/Harry Price/Cellarman/22/Bratton, Wiltshire/Census *
1851/Sarah Johnson/Housekeeper/58/St Lukes/Census
1851/Ann Hopkins/House Servant/55/Exeter, Devon/Census
1851/William Davidge/Barman/17/St James, Middlesex/Census

September 1853/William Halifax/Outgoing Licensee/../../Era Newspaper

September 1853/Harry price/Incoming Licensee/../../Era Newspaper

1856/Hy Price/../../../Post Office Directory

September 1860/John Richardson/Outgoing Licensee/../../Era

September 1860/Henry Messenger/Incoming Licensee/../../Era

1861/Henry Messenger/Licensed Victualler/34/Dartford, Kent/Census *
1861/Emma E. Messenger/Wife/32/Dartford, Kent/Census
1861/Mildred Messenger/Daughter/9/Dartford, Kent/Census
1861/Eliza Messenger/Daughter/7/Dartford, Kent/Census
1861/Clara Messenger/Daughter/6/Dartford, Kent/Census
1861/Henry Messenger/Son/5/Dartford, Kent/Census
1861/Cleanora M. Messenger/Daughter/4/Dartford, Kent/Census
1861/Frederick Messenger/Son/9 months/Dartford, Kent/Census
1861/Emily S. Skinner/Governess/26/Malling, Kent/Census
1861/Sarah Barsentt/Housemaid/22/Crayford, Kent/Census
1861/Ellen Kearn/Cook/20/Minstead, Kent/Census
1861/Henry W. Bingham/Potman/30/Clerkenwell/Census

April 1864/Henry Messenger/Outgoing Licensee/../../Era Newspaper

April 1864/Elijah Sadler/Incoming Licensee/../../Era Newspaper

1869/William Carman/../../../Post Office Directory

September 1870/Robert Thomas Barnes/Outgoing Licensee/../../Era Newspaper

September 1870/William Reppen/Incoming Licensee/../../Era Newspaper

1871/William Rippon/Publican/29/Radford, Nottinghamshire/Census *
1871/Jane J. Rippon/Sister, Housekeeper/30/Radford, Nottinghamshire/Census

1881/Charles Stanford/Licensed Victualler/44/Bushey, Hertford/Census
1881/Louisa E Stanford/Wife/34/Richmond, Surrey/Census
1881/Charles J Stanford/Son/4 months/St Pancras/Census
1881/Ann Westerham/Inn Servant/54/Hook/Census
1881/James Gobey/Inn Servant/23/St Pancras/Census

1882/Charles Stanford/../../../Post Office Directory

1884/Charles Stanford/../../../Post Office Directory

1891/John Thomas Hembrey/../../../Post Office Directory

1895/Albert Kagi/../../../Post Office Directory

1899/James Frederick Hucks/../../../Post Office Directory

1906/George Mitchell/../../../Post Office Directory *

1910/Joseph Isaacs/../../../Post Office Directory

1915/William Hy Warner/../../../Post Office Directory

1921/William Henry Warner/../../../Post Office Directory *

1927/William Henry Warner/../../../Post Office Directory *

1934/George Henry Verlander/../../../Post Office Directory *

1938/James Marshall Overstall/../../../Post Office Directory

1940/James Marshall Overstall/../../../Post Office Directory *

1944/Edward Jas Acres/../../../Post Office Directory

1966/Arthur Coleman, Lord Nelson, 48 Stanhope Street NW1/../../Licensed Victuallers Association



* Provided By Ewan