Search London wiki and Pub wiki history sites
All public house, restaurants, bars etc closed for the forseeable future from 20th March 2020, but this is a history site.
Mother Shipton, 1 Malden Road NW5
St Pancras index
at 1 Malden Road in 1899 and 1901 census; This pub stands at the junction of Malden Road and Prince of Wales Road. This pub has traded as the Fiddler's Elbow since around 1990. **
Historical London public houses, Taverns, Inns, Beer Houses and Hotels.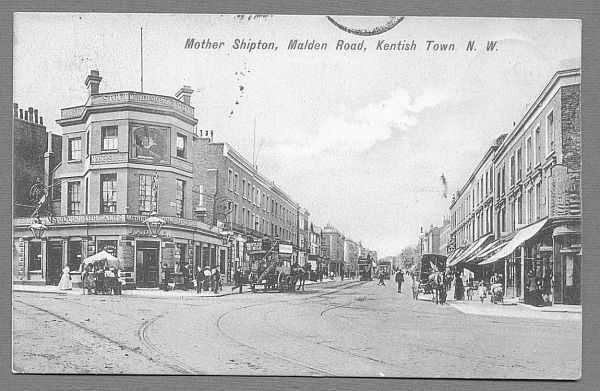 Mother Shipton, Malden Road, Kentish Town
Kindly provided by Colleen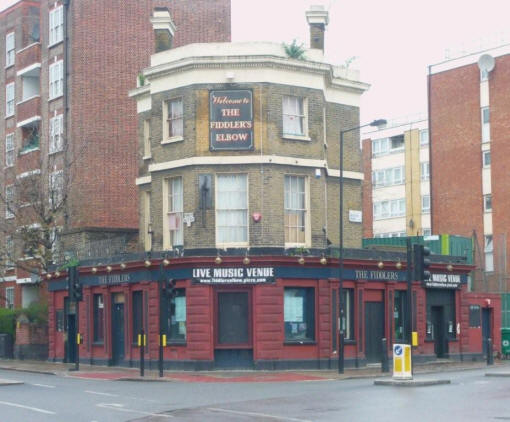 Mother Shipton, 1 Malden Road, NW5 - in March 2009
Kindly provided by Stephen Harris
Residents at this address.
1856/R Wilby/../../../Post Office Directory

February 1859/Mother Shipton, Prince of Wales road, Thomas Marsden to Frederick Cole/../../Morning Advertiser

1861/James Robinson/Licensed Victualler/30/Covent Garden, Middlesex/Census
1861/Eliza Robinson/Wife/29/Islington, Middlesex/Census
1861/James Robinson/Son/9/Islington, Middlesex/Census
1861/Thomas Robinson/Son/8/Islington, Middlesex/Census
1861/Edward Robinson/Son/6/Islington, Middlesex/Census
1861/Emma James/Sister in Law/27/Islington, Middlesex/Census
1861/Jane Nicholls/Sister in Law/22/Islington, Middlesex/Census
1861/Susan Crowich/Servant/25/Brighton/Census

1866/Emery & Collins/../../../Post Office Directory **

1869/Charles Smith/../../../Post Office Directory

1881/Henry J Nind/Licensed Victualler/37/London City, Middlesex/Census
1881/Lucy L Nind/Wife/34/London City, Middlesex/Census
1881/Jessie Nind/Daughter/7/Chelsea, Middlesex/Census
1881/Herbert M Nind/Son/5/Bermondsey, Surrey/Census
1881/Lillian Nind/Daughter/4/Kentish Town/Census
1881/Francis Nind/Son/2 months/Kentish Town/Census
1881/Amelia Rogers/Barmaid/20/Pimlico/Census
1881/Maria A Bosnoll/Barmaid/18/Islington/Census
1881/Edwin Andesson/Barman/18/Stepney/Census
1881/Eliza Rust/Servant, Widow/46/St Pancras, Middlesex/Census
1881/Louisa M M Wotton/Servant/17/St Pancras, Middlesex/Census

1882/Henry J Nind/../../../Post Office Directory

1884/Henry J Nind/../../../Post Office Directory

1885/Henry Jn Nind/../../../Post Office Directory **

1891/Henry Bradshaw/../../../Post Office Directory

1895/Mrs Emily Bradshaw/../../../Post Office Directory

1899/Percy Lloyd/../../../Post Office Directory

1901/Percy Lloyd/Publican/27/Victoria Park, London/Census
1901/Jane L Lloyd/Wife/22/Hampstead/Census
1901/Doris G Lloyd/Daughter/5 months/St Pancras/Census
1901/Gertrude L Lloyd/Barmaid/19/Clapton, London/Census
1901/William Jillalvern/Barman/28/Camden Town/Census
1901/Elsie M Starling/Barmaid/19/Holloway/Census
1901/Sarah George/Domestic Servant/16/St Pancras/Census

1910/John Trew/../../../Post Office Directory

1915/David Davies/../../../Post Office Directory

1921/Arthur Jones/../../../Hughes Directory

1934/Hy Dever Widdicombe & Harry Bowers/../../../Kellys Directory

1938/Hy Dever Widdicombe & Harold C Brake/../../../Post Office Directory

1966/E Cusack, Mother Shipton, 1 Malden road NW5/../../Licensed Victuallers Association



** Provided By Stephen Harris