Search London wiki and Pub wiki history sites
All public house, restaurants, bars etc closed for the forseeable future from 20th March 2020, but this is a pub history site.
Murray Arms, 23 St Pauls Road, Camden Square NW1
St Pancras index
The Murray Arms, 1 Murray street in the 1861 census and earlier. The address alters to 25 Agar Grove between 1938 and 1944 through road renaming. Closed in 2011 and converted into a mini-mart. ***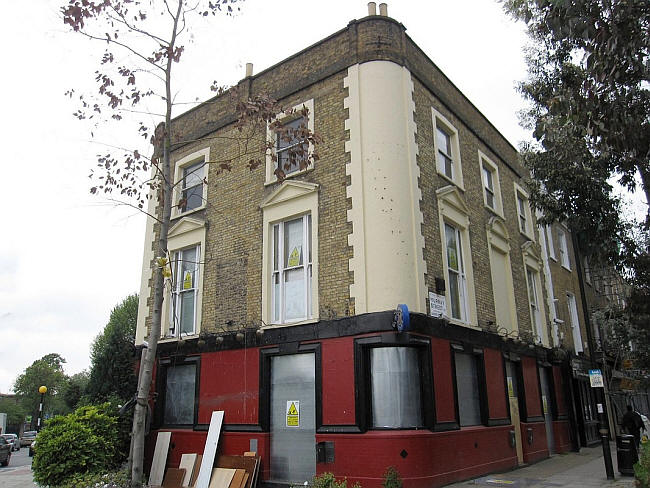 The Murray Arms, Camden
Kindly provided by John Carnaby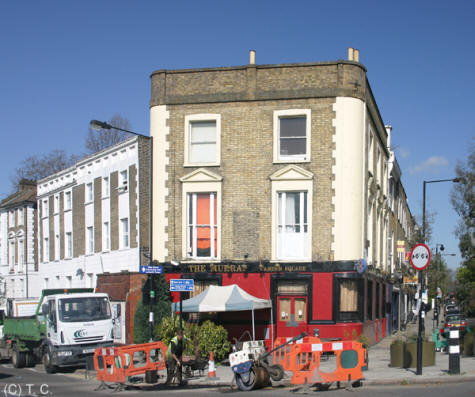 Murray Arms, 25 Agar Grove, NW1 - April 2010
Kindly provided by Tris
Historical London public houses, Taverns, Inns, Beer Houses and Hotels.
Residents at this address.
May 1852/Robert Woodward/Outgoing Licensee/../../Era Newspaper

May1852/Richard Richardson/Incoming Licensee/../../Era Newspaper

1856/J Morgan/../../../Post Office Directory

1861/John Morgan/Licensed Victualler/52/Olney, Buckinghamshire/Census
1861/Elizabeth Morgan/Wife/37/Islington, Middlesex/Census
1861/Kate Morgan/Daughter/15/Islington, Middlesex/Census
1861/Harry Morgan/Son/14/Islington, Middlesex/Census
1861/Nathaniel Morgan/Son/11/Islington, Middlesex/Census
1861/John Morgan/Son/9/Islington, Middlesex/Census
1861/James Morgan/Son/7/Islington, Middlesex/Census
1861/Elizabeth Morgan/Daughter/1/St Pancras, Middlesex/Census
1861/Flora Heath/Barmaid/20/City, Middlesex/Census
1861/Julia Rackler/Barmaid/19/Hackney, Middlesex/Census
1861/Ann Flawn/Nursemaid/22/Northamptonshire/Census
1861/Harriett Ayling/General Servant/26/Petworth, sussex/Census

1869/J Morgan/../../../Post Office Directory

1881/John Morgan/Licensed Victualler/28/Islington, Middlesex/Census
1881/Mary L Morgan/Wife/26/St Johns Wood, Middlesex/Census
1881/Mary Morgan/Daughter/1/St Pancras, Middlesex/Census
1881/Walter Morgan/Barman/19/Islington, Middlesex/Census
1881/Robert Carter/Barman/17/Stoke, Buckingham/Census
1881/Emma Rice/General Servant/17/Old Newton, Suffolk/Census
1881/Helen Morgan/Nurse/15/West Bourne Park, Middlesex/Census

1882/John Morgan/../../../Post Office Directory

1884/J Morgan/../../../Post Office Directory

1891/Mrs Mary Louisa Morgan/../../../Post Office Directory

1895/Mrs Mary Louisa Morgan/../../../Post Office Directory

1899/Mrs Mary Louisa Morgan/../../../Post Office Directory

1901/Mary L Morgan/Licensed Victualler, Widow/46/London/Census
1901/Mary Morgan/Daughter/21/London/Census
1901/John Morgan/Son, Assistant/18/London/Census
1901/Robert Morgan/Son, Assistant/16/London/Census
1901/Thomas Morgan/Son/14/London/Census
1901/Rose Center/Housemaid/32/London/Census
1901/Annie Hatwell/Cook/30/Northampton/Census
1901/Frederick Brooknell/Cellarman/30/Bristol, Gloucester/Census
1901/Alex Silver/Barman/25/London/Census

1910/Lewis Griffiths/../../../Post Office Directory

1915/Lewis Griffiths/../../../Post Office Directory

1921/J. T. Davies & Son Ltd/../../../Post Office Directory *

1927/J. T. Davies & Son Ltd/../../../Post Office Directory *

1934/J. T. Davies & Son Ltd/../../../Post Office Directory *

1938/J T Davies & Sons Ltd/../../../Post Office Directory

1944/J T Davies & Sons Ltd/../../../Post Office Directory

1966/J T Davies & R G Amos, Murray Arms, 25 Agar grove NW1/../../Licensed Victuallers Association



* Provided By Ewan

*** Provided By Tris