One Tun, 58-60 Goodge Street, Fitzrovia, London, W1T 4ND
St Pancras index
The address is 27 & 28 Goodge Street in 1869 and earlier, prior to street renumbering. *+ This is a Youngs pub in 2017.

Historical London public houses, Taverns, Inns, Beer Houses and Hotels.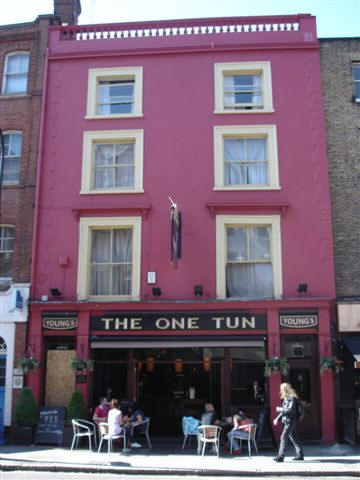 One Tun, 58 & 60 Goodge Street, W1 - in May 2007
Kindly provided by Stephen Harris
The following entries are in this format:
Residents at this address.
1839/James Whisson & Co/../../../Pigot's Directory *+

1841/James Whisson/../../../Post Office Directory *+

1848/Thomas Ivatts/../../../Post Office Directory *+

October 1849/One Tun, Goodge street, Thomas Ivatt to Robert Hart/../../Era

1851-2 Robert Hart listed in Kelly's Directories at the One Tun pub, 27-8 Goodge Street, London. *

1852 Robert Hart at the One Tun pub, Goodge Street and the Victory pub, 167 Oxford Street. *

1856/William Piper/../../../Post Office Directory *+

June 1856/William Piper/ Outgoing Licensee /../../The Era

June 1856/George Hart/ Incoming Licensee /../../The Era

1857-61 George Hart is at The One Tun, Goodge Street. *

1861/George Hart/Publican, Widow/61/St Martins/Census *
1861/Emma Hart/Daughter/26/London/Census
1861/Martha Hart/Daughter/18/Marylebone/Census
1861/Catherine Howell/Servant/22/Monmouth, Wales/Census
1861/Eliza Moore/Servant/34/Ireland/Census
1861/James Hodges/Inn Servant/23/St Albans, Hertfordshire/Census

September 1861/George Hart/Outgoing Licensee/../../Era

September 1861/Richard Branscombe/Incoming Licensee/../../Era

1869/Frederick Watson/../../../Post Office Directory

1881/Emily Smithcombe/Manageress Public House, Widow/33/Farnborough, Kent/Census
1881/Sidney Edwards/Barman/21/St Albans, Hertford/Census
1881/Thomas H Bell/Barman/17/Ealing, Middlesex/Census
1881/Thomas H Jack/Barman/18/London, Middlesex/Census
1881/John Knight/Potman/24/Soulbury, Buckingham/Census
1881/Jane Seymour/House Servant/23/Hitchin, Hertford/Census

1882/George Taylor/../../../Post Office Directory

1884/Geo Taylor/../../../Post Office Directory

1888/Sinclair & Sinclair/../../../Post Office Directory **

1888/Sinclair & Sinclair/../../../Post Office Directory **

1895/Reuben Denman/../../../Post Office Directory *+

1899/Henry Hobson Finch/../../../Post Office Directory

1910/Henry Hobson Finch/../../../Post Office Directory

1915/Henry Hobson Finch/../../../Post Office Directory

1921/Henry Finch/../../../Hughes Directory *+

1938/H. H. Finch Ltd/../../../Post Office Directory *+

1944/H. H. Finch Ltd/../../../Post Office Directory *+

1966/Mr O'Driscoll, One Tun, 58-60 Goodge Street W1/../../Licensed Victuallers Association

2017/../One Tun, 58-60 Goodge Street, Fitzrovia, London, W1T 4ND : Youngs../../../pub directory ***



* Provided By Mary Brodbin

*+ Provided By Ewan

** Provided By Stephen Harris