Search London wiki and Pub wiki history sites
All public house, restaurants, bars etc closed for the forseeable future from 20th March 2020, but this is a pub history site.
Prince Alfred, 13 Crowndale Road, Oakley Square NW1
St Pancras index
The pub constitutes the south-east wing of a residential block known as Crowndale Court, probably built in the 1930s on the site of an earlier Prince Alfred incarnation. The current address is 17 Goldington Crescent, NW1, about 30 yards south of Crowndale Road, opposite Royal College Street. The pub has been closed since the mid/late 2000s and as of March 2011 remains boarded up. ***
The address is also sometimes given as 94 Charrington Street in 1884 and earlier (the intersecting street), and at 1 Charrington Street in 1848 prior to street renumbering. It's also at 1 Wansford Place in 1856 and earlier. *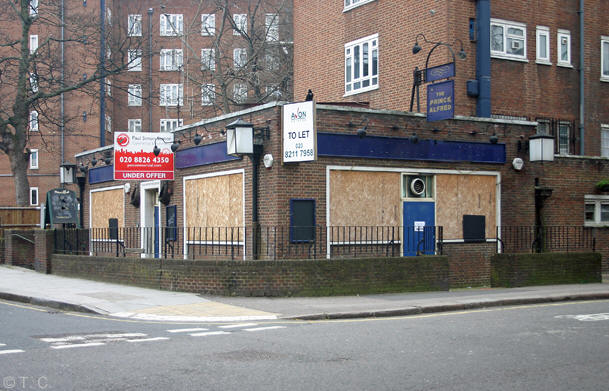 Prince Alfred, 17 Goldington Crescent, NW1 - in March 2010
Kindly provided by Tris
Historical London public houses, Taverns, Inns, Beer Houses and Hotels.
Residents at this address.
1848/Joseph Morey/beer retailer/../../Post Office Directory *

1851/Joseph Morey/Licensed Victualler/53/Isle of Wight/Census *
1851/Maria Morey/Wife/54/Gloucestershire/Census
1851/Louisa Morey/Daughter/21/London, Middlesex/Census
1851/Owen Morey/Son/18/London, Middlesex/Census
1851/Maria E. Morey/Niece/1/Surrey/Census
1851/Mary Hollingsworth/House Servant/50/London, Middlesex/Census
1851/James Hannam/Waiter/40/Isle of Wight/Census
1851/Abraham Anderson/Potman/31/London, Middlesex/Census

1856/William Venn, Prince Alfred, 1 Wansford place, St Pancras NW/../../Post Office Directory

1862/R Peck, Prince Alfred, 94 Charrington street, Somers Town NW & 1 Wansford place, St Pancras NW/../../Post Office Directory

1869/Hen Frederick Harner, Prince Alfred, 94 Charrington street, Somers Town NW & 13 Crowndale road NW/../../Post Office Directory

1881/Frederick W Wardroper/Licensed Victualler/38/Middlesex/Census
1881/Emma Wardroper/Wife/33/Surrey/Census
1881/Edith M Wardroper/Daughter/9/Surrey/Census
1881/Florence Wardroper/Daughter/8/Surrey/Census
1881/Frederick G Wardroper/Son/7/Surrey/Census
1881/Gertrude E Wardroper/Daughter/5/Middlesex/Census
1881/Laura Wardroper/Daughter/3/Middlesex/Census
1881/Mary Ann Kelly/Barmaid/17/Middlesex/Census
1881/Isabella Wright/Barmaid/25/Scotland/Census
1881/Mary Ann Gash/Servant Domestic/21/Surrey/Census
1881/Maria Bunyeon/Servant Domestic/22/Middlesex/Census

1882/F W Wardroper/../../../Post Office Directory

1884/Frederick Wardroper/../../../Post Office Directory

1891/Thomas Crane/../../../Post Office Directory

1895/Thomas Crane/../../../Post Office Directory

1899/Mrs Emma Jane Minter/../../../Post Office Directory

1906/James Garbutt/../../../Post Office Directory *

1910/James Edward B Garbutt/../../../Post Office Directory

1915/Mrs Mary Jane Carr/../../../Post Office Directory

1921/Mrs Mary Jane Carr/../../../Post Office Directory *

1927/Herbert Simmons/../../../Post Office Directory *

1934/Sidney W. A. Wilkins/../../../Post Office Directory *

1938/George Henry Spackman/../../../Post Office Directory

1940/George Henry Spackman/../../../Post Office Directory *

1944/George Henry Spackman/../../../Post Office Directory

1966/Pioneer Catering Co & K A Sharp, Prince Alfred, 17-18 Goldington crescent NW1/../../Licensed Victuallers Association



* Provided By Ewan

*** Provided By Tris