Search London wiki and Pub wiki history sites
All public house, restaurants, bars etc closed for the forseeable future from 20th March 2020, but this is a pub history site.
Prince of Wales, 4 Caroline Street, Camden Town NW1
St Pancras index
Earlier address is at 31 Caroline Street; then at 4 Caroline Street and renamed to 4 Carol Street by 1944. Now the offices of a charity known as Women + Health ***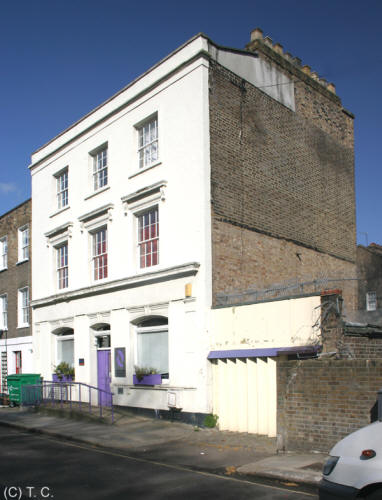 Prince of Wales, 4 Carol Street, NW1 - April 2010
Kindly provided by Tris
Historical London public houses, Taverns, Inns, Beer Houses and Hotels.
Residents at this address.
1848/Thomas Janes/beer retailer/../../Post Office Directory *

March 1849/Thomas Janes/ Outgoing Licensee /../../The Era

March 1849/Thomas Allen/ Incoming Licensee /../../The Era

June 1862/Jane Susannah Purcell/Outgoing Licensee/../../Era

June 1862/William Loy/Incoming Licensee/../../Era

1869/Henry Carter/../../../Post Office Directory

1871/James Mallett/Licensed Victualler/50/Norwich, Norfolk/Census
1871/Charlotte Mallett/Wife/51/Suffolk/Census
1871/Sarah H Mallett/Daughter/21/Norwich, Norfolk/Census
1871/James W Mallett/Son/18/Norwich, Norfolk/Census
1871/Sarah Mallett/Daughter/12/Clerkenwell, Middlesex/Census
1871/Frederick Cross/Potman/18/Kirby, Essex/Census

1881/James Mallett/Licensed Victualler, Widow/60/Norwich/Census
1881/James W Mallett/Son/22/Clerkenwell, Middlesex/Census
1881/Sarah Mallett/Daughter, House Keeper/28/Norwich/Census
1881/Charlotte Childs/Daughter/31/Norwich/Census
1881/Charlotte L Childs/GrandDaughter/3/Holloway, Middlesex/Census

1882/James Mallett/../../../Post Office Directory

1884/James Mallett/../../../Post Office Directory

1891/James Mallett/../../../Post Office Directory

1895/James Mallett/../../../Post Office Directory

1899/James Mallett/../../../Post Office Directory

1901/William Stroud/Licensed Victualler/40/Devonport, Devon/Census
1901/William Stroud/Son, Butcher/20/London/Census
1901/Lily Stroud/Daughter, Cook/17/Lewisham/Census
1901/Arthur Clark/Barman/48/Ireland/Census
1901/Elizabeth Day/Barmaid/32/Kettering, Northamptonshire/Census
1901/Alice Meaby/Domestic Servant/19/London/Census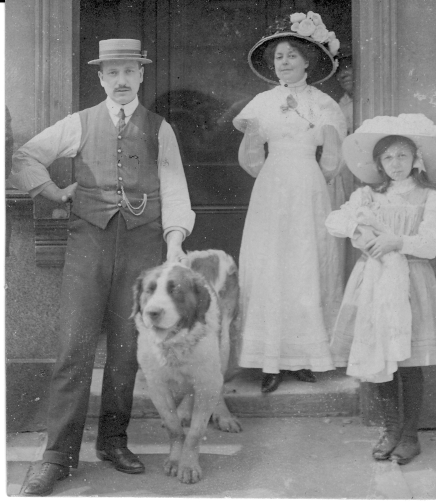 James William Kingdon and his first wife, Winifred Emily Hurrell - circa 1910
Kindly provided by Trish Brown
The picture is of James William Kingdon and his first wife, Winifred Emily Hurrell. The child with them is an adopted daughter, Hilda. This picture may have been taken outside the pub, "Prince of Wales" at 14 Caroline Street, Camden Town around 1910. Hilda was born in 1900 and Winifred died in 1913 from pneumonia. ***
1906/James W. Kingdon/../../../Post Office Directory *

1910/James William Kingdon/../../../Post Office Directory

1915/James William Kingdon/../../../Post Office Directory

1921/James William Kingdon/../../../Post Office Directory

1927/James William Kingdon/../../../Post Office Directory *

1934/James William Kingdon/../../../Post Office Directory *

1938/James William Kingdon/../../../Post Office Directory

1940/Arthur Martin/../../../Post Office Directory *

1966/David E A Clark, Prince of Wales, 4 Carol street NW1/../../Licensed Victuallers Association

1971/T. H. Rose/../../../BT Telephone Directory *



* Provided By Ewan

*** Provided By Trish Brown