Search London wiki and Pub wiki history sites
All public house, restaurants, bars etc closed for the forseeable future from 20th March 2020, but this is a pub history site.
Prince Of Wales, 119 Hampstead Road NW1
This pub is listed as 16 Frederick Place, Hampstead Road up to the 1861 census. *
St Pancras index
Now known as Positively 4th Street ***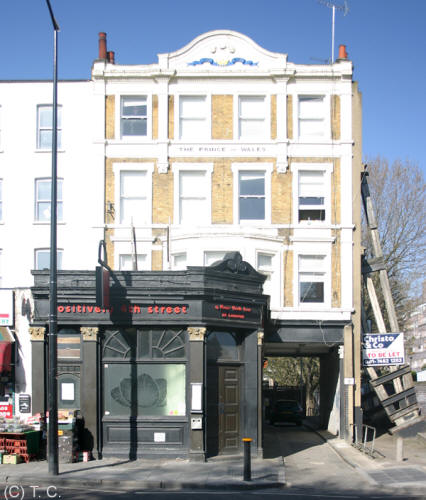 Prince of Wales, 119 Hampstead Road, NW1 - April 2010
Kindly provided by Tris
Historical London public houses, Taverns, Inns, Beer Houses and Hotels.
Residents at this address.
1807/James Woodroffe/victualler/../../Sun Fire Office records held at the London Metropolitan Archives *

1819/William Wolgar/victualler/../../Sun Fire Office records held at the London Metropolitan Archives *

1819/John Lester/victualler/../../Sun Fire Office records held at the London Metropolitan Archives *

1820/William Bloomfield/victualler/../../Sun Fire Office records held at the London Metropolitan Archives *

1822/William Bloomfield/victualler/../../Sun Fire Office records held at the London Metropolitan Archives *

1831/William Bloomfield/victualler/../../Sun Fire Office records held at the London Metropolitan Archives *

1833-34/William Bloomfield, Prince of Wales, 16 Frederick place, Hampstead road/../../Pigot's Directory

1834/William Blomfield/victualler/../../Sun Fire Office records held at the London Metropolitan Archives *

1836/John Evans/victualler/../../Sun Fire Office records held at the London Metropolitan Archives *

1839/W J Priest/../../../Pigots Directory *

1841/William Marley/../../../Post Office Directory *

1842/William Marley/../../../Robson's Directory *

1843/William Marley/../../../Post Office Directory *

1848/George Castle/../../../Post Office Directory *

November 1847/George Castle/ Outgoing Licensee /../../The Era

November 1847/Alfred James Morey/ Incoming Licensee /../../The Era

October 1849/Prince of Wales, Hampstead road, Alfred James Morey to William Francis Millis/../../Era

1851/William Fras Millis/../../../Kellys Directory *

1851/William F. Millis/Licensed Victualler/37/City of London/Census *
1851/Ann Millis/Wife/38/Dublin, Ireland/Census
1851/Susannah Millis/Daughter/16/Strand/Census
1851/Frances Millis/Son/2/Holborn/Census
1851/Lucy Millis/Daughter/2 months/St Pancras/Census
1851/Helen Clancey/House Servant/22/Limerick, Ireland/Census
1851/Mary Millis/Mother/63/Shoreditch/Census
1851/John Millis/General Servant/24/Clerkenwell/Census

1861/Sarah Death/Licensed Victualler/52/Cheshunt, Hertfordshire/Census *
1861/Frederick O. Death/Son, Assistant/22/Cheshunt, Hertfordshire/Census
1861/Ellen Death/Daughter/19/Cheshunt, Hertfordshire/Census
1861/Lizzie E. Death/Daughter/10/Cheshunt, Hertfordshire/Census
1861/Elizabeth Laxton/Sister, Nurse/56/Cheshunt, Hertfordshire/Census
1861/Charles Warkman/Potman/28/Bisley, Gloucestershire/Census

1869/Mrs S Death/../../../Post Office Directory

1871/Frederick O. Death/Licensed Victualler/33/Cheshunt, Hertfordshire/Census *
1871/Mary E. Death/Wife/27/Farringdon, Berkshire/Census
1871/Thomas Death/Brother, Barman/26/Cheshunt, Hertfordshire/Census
1871/Clara Death/Sister, Barmaid/24/Cheshunt, Hertfordshire/Census
1871/Florence M. Death/Daughter/2/St Pancras/Census
1871/Oliver Death/Son/2 months/St Pancras/Census
1871/Mark Clapton/Waiter/22/North Lee, Oxfordshire/Census
1871/Lucy Page/Domestic Servant/22/Limehouse/Census
It is also in the following directories on your site:

1881/Martin Wilson/Licensed Victualler/44/Gt Grimsby, Lincoln/Census
1881/Elizabeth A Walker/Housekeeper/30/Bourne, Lincoln/Census
1881/Robert Double/Barman/26/Halstead, Essex/Census
1881/Rose Murray/Barmaid/19/London, Middlesex/Census
1881/Thomas Webberley/Barman/20/London, Middlesex/Census
1881/Annie Coombes/Domestic Servant/18/London, Middlesex/Census

1882/Martin Wilson../../../Post Office Directory

1884/Martin Wilson/../../../Post Office Directory

1891/John William Grigg/../../../Post Office Directory

1895/John William Grigg/../../../Post Office Directory

1899/James Hemming/../../../Post Office Directory

1910/James Hemming/../../../Post Office Directory

1915/James Hemming/../../../Post Office Directory

1921/Ernest Henry Moseley/../../../Post Office Directory *

1927/Charles Quinn/../../../Post Office Directory *

1934/Frederick Beaumont/../../../Post Office Directory *

1938/J F Barnes & Co/../../../Post Office Directory

1940/J. F. Barnes & Son Ltd/../../../Post Office Directory *

1944/J F Barnes & Co/../../../Post Office Directory

1966/Pioneer Catering Co & R F G Kernan, Prince Of Wales, 119 Hampstead road NW1/../../Licensed Victuallers Association



* Provided By Ewan