Search London wiki and Pub wiki history sites
All public house, restaurants, bars etc closed for the forseeable future from 20th March 2020, but this is a pub history site.
York & Albany, 127 Parkway, Regents Park NW1 7PS
St Pancras index
Address claters to 129 Parkway by 1944, previously at Gloucester gate. This is now a restaurant presided over by Gordon Ramsey (I believe the 2008 photo shows it as closed, so here's a picture showing it open). ***
Historical London public houses, Taverns, Inns, Beer Houses and Hotels.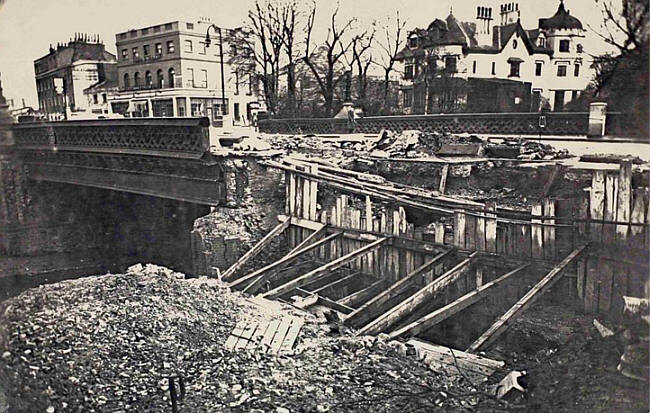 A war time photo of bomb damage around the York and Albany, Park Way NW1.
Kindly provided by John Carnaby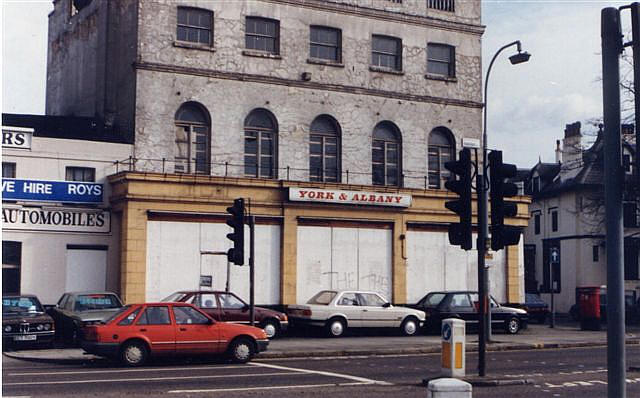 York & Albany Hotel, Gloucester Gate - in 1988
Kindly provided by Karen Wand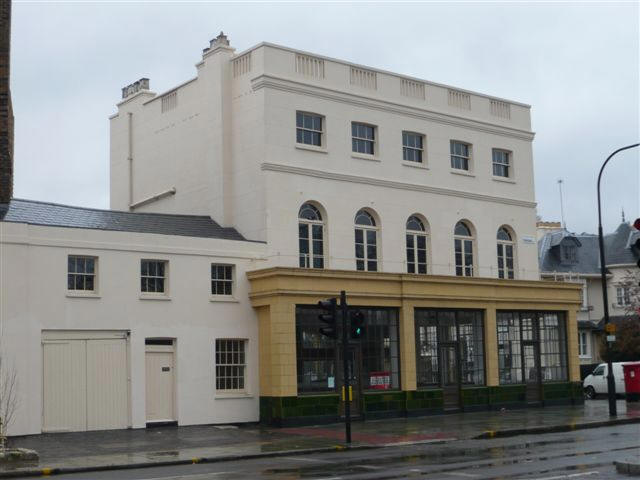 York & Albany, 129 Parkway, NW1 - in March 2008
Kindly provided by Stephen Harris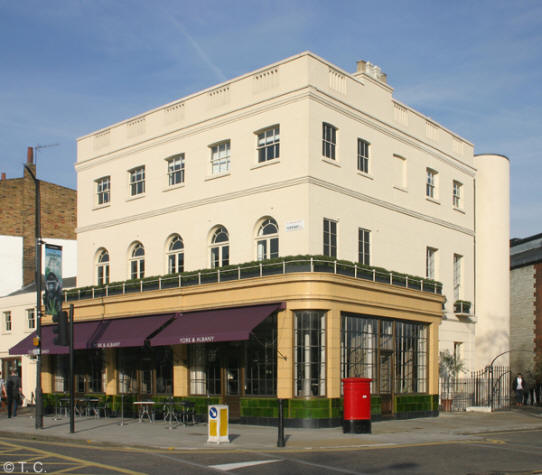 York & Albany, 129 Parkway, NW1 - March 2010
Kindly provided by Tris
Residents at this address.
1830/Charles Green//Prerogative Court of Canterbury records held at the National Archives *

1833-34/Jane Pugh/[York & Albany Tavern]/../../Pigot's Directory *

1834/Thomas Pugh/victualler, York and Albany Tavern/../../Prerogative Court of Canterbury records held at the National Archives *

1839/William Berry/Clarence Street/../../Post Office Directory *

1841/William Berry/[York & Albany Tavern]/../../Post Office Directory *

1843/William Berry/Gloucester Gate/../../Post Office Directory

1848/William Barron/Gloucester Gate/../../Post Office Directory *

1851/William Barron/Gloucester Gate/../../Kellys Directory *

1851/William Barron/Licensed Victualler/49/Tysoe, Warwickshire/Census *
1851/Elizabeth Barron/Wife/47/Tetworth, Sussex/Census
1851/William Barron/Son, Assistant/17/City of London/Census
1851/George Richardson/House Servant/21/Pitworth, Sussex/Census
1851/George Maker/House Servant/23/London/Census
1851/Sarah Bird/House Servant/34/London/Census

April 1853/William Barron/Outgoing Licensee/../../Era

April 1853/Thomas Stevens/Incoming Licensee/../../Era

1856/Thomas Stevens/[York & Albany Tavern]/../../Post Office Directory *

1861/William E. Stevens/Licensed Victualler/65/Lundigley, Radnorshire/Census *
1861/Aletten Stevens/Wife/74/Kingston, Herefordshire/Census
1861/Aletteon Stevens/Stepdaughter/51/Landigh, Radnorshire/Census
1861/Thomas H. Stevens/Nephew/21/St Lukes Chelsea/Census
1861/William Stevens/Nephew/19/St Lukes Chelsea/Census
1861/Alethea P. Stevens/Niece/14/St Leonards Shoreditch/Census
1861/Louisa P. Stevens/Niece/11/St Leonards Shoreditch/Census
1861/Harriett Griffiths/Servant/30/Holborn/Census
1861/Jane Jarvis/Servant/23/Stratford, Essex/Census
1861/Margaret Donnoly/Servant/30/Ireland/Census
1861/Henry Coachman/Servant/19/Loose, Kent/Census

1869/George Lancefield/../../../Post Office Directory

1871/John Reed/Licensed Victualler/50/Belstead, Suffolk/Census *
1871/Eliza Reed/Wife/49/Hockley, Essex/Census
1871/Edward T. Reed/Son/26/Hatfield, Essex/Census
1871/Harriet Griffiths/Barmaid/40/Holborn/Census
1871/Sarah Collard/Housemaid/19/Larence, Somerset/Census
1871/Ellen Green/Housemaid/18/Willing, Cambridgeshire/Census
1871/Amelia Reinbord/Barmaid/26/Southam, Warwickshire/Census
1871/Mary A. Reinbord/Barmaid/21/Southam, Warwickshire/Census

1880/Charles Erasmus Homer/../../../Post Office Directory **+

1881/Charles E Homer/Publican/42/Hackney, Middlesex/Census
1881/Lydia Homer/Wife/37/Bethnal Green, Middlesex/Census
1881/Charles H Homer/Son/16/Limehouse/Census
1881/Edith Homer/Daughter/11/Limehouse/Census
1881/Edward Homer/Son/5/Limehouse/Census
1881/Frederick Walton/Barman/35/Chichester, Sussex/Census
1881/John Johnson/Barman/20/Pimlico, Middlesex/Census
1881/William Clews/Barman/20/Islington, Middlesex/Census
1881/Mary A Cathrall/Domestic Servant/56/Rudham, Norfolk/Census
1881/Kate Manix/Domestic Servant/22/Camberwell, Surrey/Census

1882/Charles Erasmus Homer/../../../Post Office Directory

1884/Holden & Son/../../../Post Office Directory

1891/Frederick John Holden/../../../Post Office Directory

1895/Frederick J. Holden/../../../Post Office Directory *

1899/Frederick Holden/../../../Post Office Directory

1906/Mrs Kate Hannah Holden/../../../Post Office Directory *

1910/Henry Arthur Mayes/../../../Post Office Directory

1915/Henry Arthur Mayes/../../../Post Office Directory

1921/Leslie Leber/../../../Post Office Directory

1921/Lazarus Leber/../../../Hughes Directory

1922/Mrs R Leber/../../../BT Telephone Directory

1925/Mrs R Leber/../../../BT Telephone Directory

1927/Mrs Rebecca Leber/../../../Post Office Directory *

1928/Mrs R Leber/../../../BT Telephone Directory

1929/Mrs R Leber/../../../BT Telephone Directory

This was my Grandfather's pub, when he lived at Stanhope Terrace in the late 1920's. Moving to Canada in 1930, he had met a Welshman at the York & Albany who convinced my grandfather to move his family to Canada and become a gentleman farmer. *+

1934/Claude Sparkes/../../../Kellys Directory

Claude Sparkes is at the Sun Inn, Hammersmith by the following year.

1938/Sydney A Kemp/../../../Post Office Directory

1940/Reginald Joseph Cook & Joseph Frederick Cook/../../../Post Office Directory *

1944/Reginald Joseph Cook/../../../Post Office Directory

1966/St George's Taverns Ltd & Charles F Ruff, York & Albany Hotel, 129 Parkway NW1/../../Licensed Victuallers Association

1971/../York & Albany Hotel, 129 Parkway NW1/../../Pub Directory



* Provided By Ewan

*+ Provided By Karen Wand

**+ Provided By Stephen Harris

*** Provided By Tris