Search London wiki and Pub wiki history sites
All public house, restaurants, bars etc closed for the forseeable future from 20th March 2020, but this is a history site.
Yorkshire Grey, 28 Maple Street, Tottenham Court Road, W1
St Pancras index
At 17 London Street until 1884, then at 28 London Street by 1891, then 28 Maple Street by 1910, Tottenham Court Road W1. Rebuilt, probably in the 1930s and now a bar called Potion (2013). * Since 2014, it is now a bar called Simmons. *+
Historical London public houses, Taverns, Inns, Beer Houses and Hotels.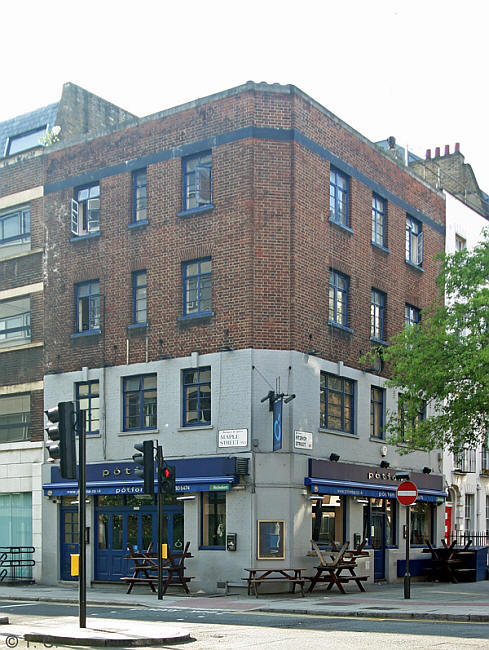 Yorkshire Grey, 28 Maple Street W1 - in 2013
Kindly provided by Tris
Residents at this address.
1825/Mr Harker, Yorkshire Grey, London street, Fitzroy square/../../Licensed Victuallers Association

1833/Mrs Beeton/../../../Licensed Victuallers Association

1839/John Cheeseman/../../../Pigot's Directory *+

1841/I. Cheesman/../../../Post Office Directory *+

1848/Thomas F. Adams/../../../Post Office Directory *+

January 1848/Thomas Fretwell Adams/Outgoing Licensee/../../Era

January 1848/Joseph Adams/Incoming Licensee/../../Era

April 1849/Susannah Elizabet Adams/Outgoing Licensee/../../Era Newspaper

April 1849/Frederick Bliss/Incoming Licensee/../../Era Newspaper

1851/Frederick Bliss/../../../Post Office Directory *+

1856/Mrs Mary Ann Nares/../../../Post Office Directory *+

February 1857/Mary Ann Pierce (late Mary Ann Nares/ Outgoing Licensee /../../The Era

February 1857/to her husband/ Incoming Licensee /../../The Era

1869/Thomas Curtis/../../../Post Office Directory

1871/Thomas Sturdy/Licensed Victualler/35/Kirby Wick, Yorkshire/Census
1871/Elizabeth Sturdy/Wife/39/Stockton on Tees, Durham/Census
1871/Ann Henderson Sturdy/Daughter/11/Stockton on Tees, Durham/Census
1871/Cecilia Margaret Sturdy/Daughter/8/Stockton on Tees, Durham/Census
1871/Charlotte Dunn/Barmaid/20/Henley on Thames, Oxford/Census
1871/Elizabeth Smithson/General Servant/33/Devonport, Devonshire/Census
1871/William Guffs/Potman/18/Cheltenham, Gloucestershire/Census

1881/Thomas Sturdy/Licensed Victualler/45/York/Census
1881/Elizabeth Sturdy/Wife/47/Durham/Census
1881/Celie Mary Sturdy/Daughter/18/Durham/Census
1881/Florence Clark/Domestic Servant/18/Middlesex/Census
1881/Anna Howes/Domestic Servant/18/Norfolk/Census
1881/John Slack/Domestic InnServant/26/Surrey/Census
1881/Charles S Hales/Son in Law, Railway Clerk/24/Middlesex/Census
1881/Anne H Hales/Daughter/21/Durham/Census

1882/Thomas Sturdy/../../../Post Office Directory

1884/Thomas Sturdy/../../../Post Office Directory

1891/Fredk Jas Judd/../../../Post Office Directory

1895/Joseph Wm Bower/../../../Post Office Directory

1899/Nathaniel Foley/../../../Post Office Directory

1910/Nathaniel Foley/../../../Post Office Directory

1911/Nathaniel Foley/Licensed Victualler/59/City, London/Census
1911/Esther Foley/Wife/58/City, London/Census
1911/Tedhom Isaacs/Nephew/17/Stepney, London/Census
1911/Percy Lloyd/Manager/37/Stepney, London/Census
1911/Olive Adanis/Barmaid/27/Marylebone, London/Census
1911/Dot Matthews/Cook/43/Brighton, Sussex/Census

1915/Nathaniel Nathan Foley/../../../Post Office Directory

1921/Nathaniel F Foley/../../../Post Office Directory

1938/Hy Ernest Morrison/../../../Post Office Directory

1944/William F. A. Meadows/../../../Post Office Directory *+

1966/Charles F Pflang, Yorkshire Grey, 28 Maple Street W1/../../Licensed Victuallers Association



* Provided By Tris

*+ Provided By Ewan