Lamb, 10 - 12 Leadenhall Market, London EC3
St Peter Cornhill index
This pub was established in 1780 and was rebuilt in its present form in 1881 when Leadenhall Market was reconstructed. It is at Half Moon Passage in the 1851 census. *** This is a Youngs pub in 2017.
Historical London public houses, Taverns, Inns, Beer Houses and Hotels.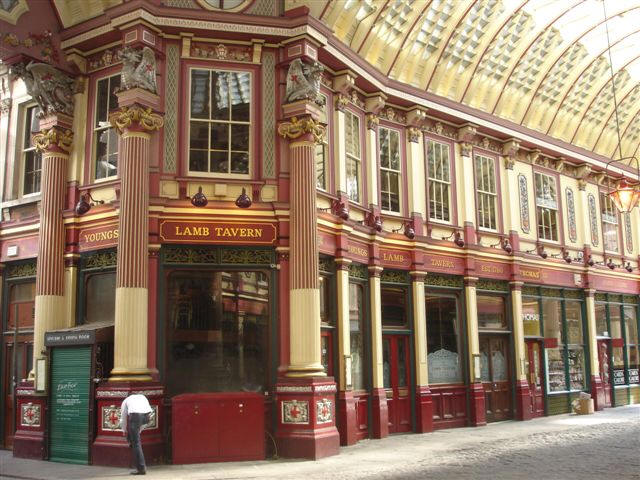 Lamb Tavern, 10/12 Leadenhall Market, EC3 - in August 2007
Kindly provided by Stephen Harris
The following entries are in this format:
Residents at this address.
1804/James Pardey / Victualler /../../Sun Fire Office records held at Guildhall Library **

1811/James Pardy, The Lamb, 1 Leadenhall market/../../Holdens Directory

1817/Benjamin Summers / Waiter /../../Proceedings of the Old Bailey **

1836/William & George Pardy, Lamb Tavern, Leadenhall market/../../Pigots Directory

1839/William & George Pardy/../../../Pigots Directory **

1841/William & George Pardy/../../../P.O. Directory **

1844/George Pardy (Tavern)/../../../Thompson's Directory **

1844/George Yarnton (Tap)/../../../Thompson's Directory **

1846/Geo. Yarnton/../../../Post Office Directory **

1851/Geo & William Pardy/../../../Kellys Directory **

1851/John Wm. Cooper (Tap)/../../../Kelly's Directory **

1851/George Pardy/Licensed Victualler/55/London/Census
1851/William Pardy/Nephew/31/London/Census
1851/Elizth Pardy/Sister in Law, Widow/70/Poole, Dorset/Census
1851/Fras Leith Pardy/Niece/43/London/Census
1851/Ann C Kearley/Servant/58/Poole, Dorset/Census
1851/George Smith/Servant/23/London/Census
1851/Chas Nicholson/Servant/17/Folkestone, Kent/Census
1851/Charles Hart/Servant/40/London/Census
1851/Jane Williams/Servant/23/Wales/Census

1852/Geo. & Wm. Pardy/../../../Watkins Directory **

1856/William Pardy/../../../Post Office Directory **

1862/William Pardy/../../../Post Office Directory **

1869/William Pardy/../../../Post Office Directory *

1871/William Pardy/Tavern Keeper/51/St Peter on Cornhill, Middlesex/Census
1871/Eliza Pardy/Wife/40/Barking, Essex/Census
1871/George Pardy/Son, Clerk/17/Limehouse, Middlesex/Census
1871/James R Pardy/Son, Warehouseman/16/St Peter on Cornhill, Middlesex/Census
1871/Edith M Pardy/Daughter/7/St Peter on Cornhill, Middlesex/Census
1871/Amy R Pardy/Daughter/5/St Peter on Cornhill, Middlesex/Census
1871/Mary A Leach/Housemaid/30/St Andrews Undershaft, Middlesex/Census
1871/Elizabeth Ferguson/Cook/25/Clerkenwell, Middlesex/Census
1871/Margaret Trotter/Nursemaid/29/Hartley, Northumberland/Census
1871/Harriet Leach/Barmaid/20?/St Andrews Undershaft, Middlesex/Census
1871/Isabella Wright/Barmaid/24/Swaffham, Norfolk/Census
1871/William E Hammond/Waiter/20/Clerkenwell, Middlesex/Census

1873/William Pardy/../../../Post Office Directory **

1874/W Pardy/../../../H.D. Miles London & Suburban Licensed Victuallers' Directory **

1876/William Pardy/../../../P.O. Directory **

1878/William Pardy/../../../P.O. Directory **

1882/William Pardy/../../../Post Office Directory *

1883/William Pardy/../../../Post Office Directory **

1891/Pardy Brothers/../../../Post Office Directory **

1894/Pardy Bros./../../../City of London Directory **

1895/Pardy Brothers/../../../Post Office Directory **

1899/Pardy Brothers/../../../Post Office Directory **

1902/Pardy Bros./../../../P.O. Directory **

1910/John Rowan Lindsay Daish/../../../Post Office Directory **

1911/John Rowan Lindsey Daish, trading as Pardy Brothers / Licensed Victualler /../../London Gazette, 26 May 1911 **

1915/Charles Alfred Clarke/../../../Post Office Directory **

1917/Charles Alfred Clarke/../../../Post Office Directory **

1921/Charles Alfred Clarke/../../../Post Office Directory **

1934/George Robert Amor/../../../Kellys Directory

1926/George Robert Amor/../../../P.O. Directory **

1935/George Robert Amor/../../../P.O. Directory **

1938/George Robert Amor/../../../Post Office Directory

1944/Geo Rt Amor/../../../Post Office Directory **

2017/../Lamb Tavern, 10/12 Leadenhall Market, City of London, London, EC3V 1LR : Youngs../../../pub directory ***



* Provided By Ewan

** Provided By Stephen Harris