Search London wiki and Pub wiki history sites
All public house, restaurants, bars etc closed for the forseeable future on 20th March 2020, but this is a history site. But how about the landlords give their tenants a break, no business, then please charge them no rent.
A1 Tower Tavern, Metropolitan Meat Market, Smithfield EC1
St Sepulchre index
A1 Tavern was so called because it was at address Smithfield Avenue A, #1 - Mouflets Hotel. The address is at 1 Central Markets by 1895. The name is Mouflet's Hotel in the 1869 directory. *
Historical London public houses, Taverns, Inns, Beer Houses and Hotels.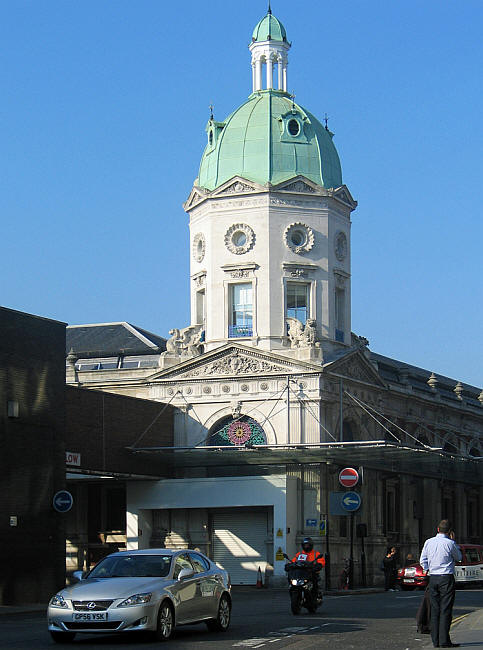 A1 Tower Tavern, 1 Central Markets, Smithfield EC1 - in June 2013
Kindly provided by Tris
Residents at this address.
1869/Mouflet Brothers/../../../Post Office Directory *

April 1871/Francis C Mouflet/Outgoing Licensee/../../Era Newspaper

April 1871/Louis A Mouflet/Incoming Licensee/../../Era Newspaper

1874/Louis Mouflet/../../../H D Miles London & Suburban Licensed Victuallers Directory **

14 September 1878/Deaths : Mouflet - Flatman - Also, at the same time, Louis Alexandre Mouflet, his wife, Nancy, their two eldest children, Alec and Annie, of Lordship Park, and the A 1 Tower, Meat Market, Smithfield, also Phillis Flatman, of Newmarket, sister to the above Nancy Mouflet

17 October 1878/The Will of Louis Alexandre Mouflet late of the Tower Smithfield Market in the City of London Licensed Victualler who died 3 September 1878 having been drowned in the River Thames was proved at the Principal Registry by Francois Christostome Mouflet of the "Greyhound" Hotel Richmond in the County of Surrey Licensed Victualler the Brother the surviving Executor./Sheffield Independent

The Mouflet / Flatman family were not the only people to drown in the Thames on the night of 3 September 1878. The story of the sinking of the SS Princess Alice with the loss of 650 lives is told here. **

January 1881/ A 1 Tower, admirably situated and being at the south west corner of the London Central Meat Market. When property of this class is announced for public sale it is usual to dilate upon its specialties, but in this instance such usage will be more honoured in the breach than the observance, because the mere fact of ite enviable position in the largest dead meat emporium in the world places encomium at a discount, and renders commendation superfluous. To summarise its salient points it is only necessary to observe that the returns are very large, the profits singularly beneficial, the cost of management comparatively moderate, and the premises are entirely closed on Sundays./ Era Newspaper

1882/Francoise C Mouflet/../../../Business Directory of London **

1884/Francois C Mouflet/../../../Post Office Directory

1891/Francois Chrisostome Mouflet/../../../Post Office Directory *

1895/F. C. Mouflet/../../../Post Office Directory *

1899/Francois Christostome Mouflet/../../../Post Office Directory

1906/Francoise C Mouflet/../../../Morris' Business Directory of London **

1910/Alfred John Cope/../../../Post Office Directory

1915/Alfred John Cope/../../../Post Office Directory *

1917/Alfred John Cope/../../../Post Office Directory **

1921/Alfred John Cope/../../../Post Office Directory

25 March 1922/ London Central markets, Smithfield EC1
Notice is hereby given that on expiration of the Lease at Midsummer next on the premises now known as the A 1 Tower Tavern, in the above market, the Licence will be abandoned and the premises let as a Market Shop, for the purposes of the Wholesale Meat Trade, on a weekly tenancy, at a rental of £15 a week./Exeter and Plymouth Gazette



* Provided By Ewan

** Provided By Stephen Harris