Castle, 34 & 35 Cowcross Street, St Sepulchre EC1
This pub was present by 1830, probably earlier. ** There is no listing of this pub in Cowcross street for some period of time, from about 1840 and it reappears about 1869. It is right alongside the old and new Farringdon stations, as can be seen in the modern day photograph in 2019.
St Sepulchre index
A listing of historical London public houses, Taverns, Inns, Beer Houses and Hotels in St Sepulchre, London.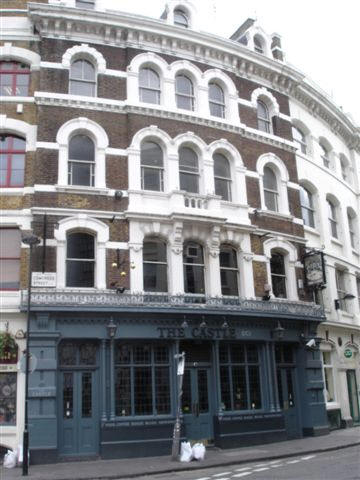 Castle, 34 Cowcross Street EC1- in March 2007
Kindly provided by Stephen Harris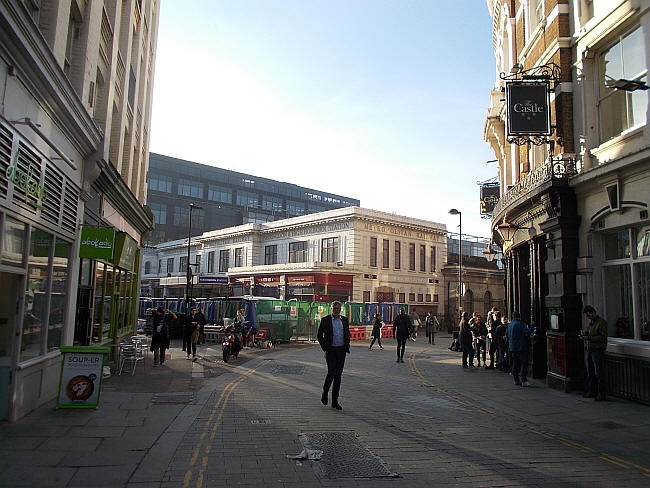 Castle, 34 Cowcross Street EC1- in February 2019
The following entries are in this format:
Residents at this address.
1811/Elizabeth Bill, the Castle, Cow Cross street/../../Holdens Directory

1825/Mr Higgs, Castle, Cow cross/../../Licensed Victuallers Association

1825/Henry Sabine/victualler/../../Sun Fire Office records held at the London Metropolitan Archives *

1833-34/John Mansfield, Castle, 32 & 33 Cowcross street, Smithfield/../../Pigots Directory

1839/William Morris/../../../Pigots Directory **

1869/John G Bishop/../../../Post Office Directory

1881/George Reeves/Licensed Victualler/40/Lambeth, Surrey/Census
1881/Charlotte Reeves/Wife/37/Bishopsgate , Middlesex/Census
1881/George Reeves/Son/19/London, Middlesex/Census
1881/Alfred Dine/Barman/31/London, Middlesex/Census
1881/Charles Keogh/Barman/18/Islington, Middlesex/Census
1881/Edwin Barber/Barman/19/City ofLondon, Middlesex/Census
1881/Charles Bazan/Barman/19/Kent/Census
1881/Fanny Attew/Barman/30/Pimlico, Middlesex/Census
1881/Mary Clark/Housemaid/16/Enfield, Middlesex/Census
1881/Elizabeth Clark/Cook/19/Bishops Stortford, Hertford/Census

1882/George Reeves/../../../Post Office Directory

1884/George Reeves/../../../Post Office Directory

1885/George Reeves/../../../Post Office Directory **

1891/John Gray Veale/../../../Post Office Directory

1891/William J White/Licensed Victuallers Manager/30/Clifton/Census
1891/Annie M Halls/Licensed Victuallers manageress/28/Bath/Census
1891/Sidney White/Visitor, Widow/66/Bath/Census
1891/Edward Caced/Barman/29/Brentwood, Essex/Census
1891/Mary Chesher/Housemaid/23/Hertfordshire/Census
1891/Ellen Constance/Barmaid/27/../Census
1891/Charlotte Squires/Barmaid/28/Bow, London/Census
1891/Alice Lloyd/Barmaid/20/Hackney, London/Census
1891/Thomas A Peters/Potman/30/Sheerness/Census
1891/Annie E Trott/Kitchen Maid/21/Holborn, London/Census
1891/Elizabeth C Clark/Cook/29/Cambridge/Census
1891/Christine Diggens/Barmaid/27/Norwich/Census

1895/Herbert Mayor/../../../Post Office Directory

1899/Alfred Damer Rayner/../../../Post Office Directory

1900/Thomas Alfred Damer Rayner/../../../Post Office Directory **

1906/Mrs Annie Josephine Maltby/../../../Post Office Directory

1910/William Pankhurst/../../../Post Office Directory

1915/Carl Bose/../../../Post Office Directory

1919/Harris Goodman/../../../Post Office Directory **

1921/Sarah Goodman/../../../Hughes Directory

1927/Sydney Thomas Balls/../../../Post Office Directory

1934/Ernest Sidney Goodwin/../../../Kellys Directory

1938/Ernest Sidney Goodwin/../../../Post Office Directory

1942/H. J. Knee & William R. Brown/../../../Post Office Directory *

1944/H. J. Knee & William R. Brown/../../../Post Office Directory *

1983/../CASTLE: 43 Cowcross Street EC1 : Charrington. Large busy semi-circular bar; a pawnbroker's sign and a large painting commemorate a former licensee of this pub lending George IV money for a bet, with a watch as security, upon which he accepted as reward the right to practice as a pawnbroker./../../Pub Directory

1991/../CASTLE: 43 - 45 Cowcross Street EC1 : Charrington/../../Pub Directory



* Provided By Ewan

** Provided By Stephen Harris