Search London wiki and Pub wiki history sites
All public house, restaurants, bars etc closed for the forseeable future from 20th March 2020, but this is a pub history site.
Cross Keys Hotel, 16 St John Street, West Smithfield EC1M 4NT
It was certainly present by 1721 and probably as early as 1637. But it had closed before 1983 when my records commence. The premises are now in commercial use. ** The address is 108 St John Street in 1856 and earlier, prior to street renumbering. *
St Sepulchre index
Historical London public houses, Taverns, Inns, Beer Houses and Hotels.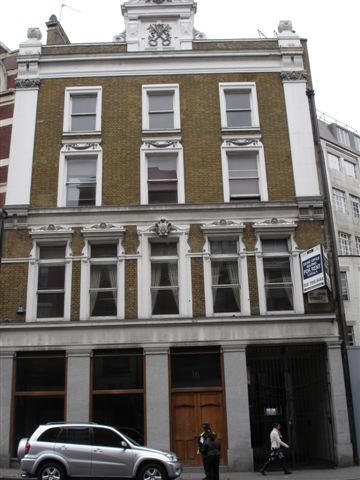 Cross Keys, 16 St John Street - in March 2007
Kindly provided by Stephen Harris
Residents at this address.
1797/William Sanford/victualler, Cross Keys Tap/../../Sun Fire Office records held at the London Metropolitan Archives *

1822/John Hill/../../../Pigots Directory **

1825/John Hill/../../../Pigots Directory **

1841/T. William Broderick/[Cross Keys Inn]/../../Post Office Directory *

1843/John William Shain/[Cross Keys Inn]/../../Post Office Directory

July 1848/John Griffiths, deceased/Outgoing Licensee/../../Era Newspaper

July 1848/Mary Anna Griffiths, his executrix/Incoming Licensee/../../Era Newspaper

1851/Mrs Mary Ann Griffiths/../../../Kellys Directory

September 1850/Mary Ann Archer (late Griffiths) to her husband/Incoming Licensee/../../Era

1851/Walter Archer/Hotel Keeper/30/Hertfordshire/Census
1851/Mary Ann Archer/Wife/34/Hereford/Census
1851/Eliza Griffiths/Wifes daughter/3/St Sepulchre, Middlesex/Census
1851/Charlotte Bishop/Barmaid/18/Kingston, Surrey/Census
1851/Jane Scrivens/Cook/30/Somerset/Census
1851/Emma Ellis/Housemaid/26/../Census
1851/William Williamson/Porter/18/Middlesex/Census
1851/John Miller/Lodger, Commercial Traveller/30/Bath/Census
1851/William Redman/Lodger, Farmer/32/Bedfordshire/Census
1851/Thomas Wells/Lodger, Farmer/34/Oxfordshire/Census
1851/Henry Styles/Lodger, Farmer/40/Norfolk/Census

April 1852/Walter Edmund Archer/Outgoing Licensee/../../Era Newspaper

April 1852/Ann Susannah Johnson/Incoming Licensee/../../Era Newspaper

February 1854/George Brooks/ Outgoing Licensee /../../The Era

February 1854/Ann Fox/ Incoming Licensee /../../The Era

1856/George Brooks/../../../Post Office Directory

1862/Mrs Eliza Brooks/../../../Post Office Directory **

March 1866/William Williams/License renewal/../Clerkenwell News

1869/J Charlton/../../../Post Office Directory

February 1870/Joseph Charlton/Outgoing Licensee/../../Era

February 1870/John Thomas Sweet/Incoming Licensee/../../Era

1879/Thomas Rudkin/../../../Post Office Directory **

1881/Mary Allen/Licensed Victualler/42/Shipdham, Norfolk/Census
1881/Sarah Allen/Niece/22/Ovington, Norfolk/Census
1881/Ellen Hannah Aldrich/Barmaid/18/Margate, Kent/Census
1881/George Brooks/Barman/32/Westley, Cambridge/Census
1881/William Lambert/Potman/31/Matching, Essex/Census

1882/Thomas Rudkin/../../../Post Office Directory

1884/Mary Allen/../../../Post Office Directory

1891/Thomas Collingwood/../../../Post Office Directory

1891/Thomas C Collingwood/Licensed Victualler/39/Islington, London/Census
1891/Annie J Collingwood/Wife/38/Carmarthen, Wales/Census
1891/Nellie A C Collingwood/Daughter/3/Lambeth, Surrey/Census
1891/Caroline Barnes/Cousin, Widow/38/Camden Town, London/Census
1891/Caroline M Barnes/Niece/11/Southampton, Hampshire/Census
1891/Maria Griffiths/Visitor, Milliner/22/Lambeth, London/Census
1891/Alice Rose Coles/Barmaid & Cashier/29/St Martins, London/Census
1891/William Jones/Barman/20/Notting |Hill, London/Census
1891/Ellen D Palser/Barmaid/24/Southwark, London/Census
1891/Alice E Denney/Barmaid/21/Ckerkenwell, London/Census
1891/Alice Lodge/Barmaid/18/Aberdeen, Scotland/Census
1891/Eliza Golding/Cook/20/Maidstone, Kent/Census
1891/Alice M Bundle/Kitchen Maid/26/Camden Town, London/Census
1891/Mary E Aldridge/Nurse/15/Stepney, London/Census
1891/Alfred W Townsend/Barman/19/Bristol, Gloucestershire/Census

1895/Alfred Wordsworth/../../../Post Office Directory

1899/John Vian/../../../Post Office Directory

1900/John Vian/../../../Post Office Directory **

1910/Robert Jackson/../../../Hughes Directory

1914/Harry Byford/../../../Post Office Directory

1915/Harry Byford/../../../Post Office Directory

1919/Frdk Jas Hy Gerhard/../../../Post Office Directory **

1921/Frdk Jas Hy Gerhard/../../../Post Office Directory **

1938/J T Davies & Sons Ltd/../../../Post Office Directory



* Provided By Ewan

** Provided By Stephen Harris