Fox & Anchor, 115 Charterhouse Street, Farringdon, London, EC1M 6AA
At 115 Charterhouse Street by 1884; Rebuilt in its present form in 1898 and closed in December 2006 - currently empty. ** Currently trading. This pub's address is now 115 Charterhouse Street (2014). * The address is 18 Charterhouse Lane in 1869 and earlier, prior to street renaming. *+
St Sepulchre index
Historical London public houses, Taverns, Inns, Beer Houses and Hotels.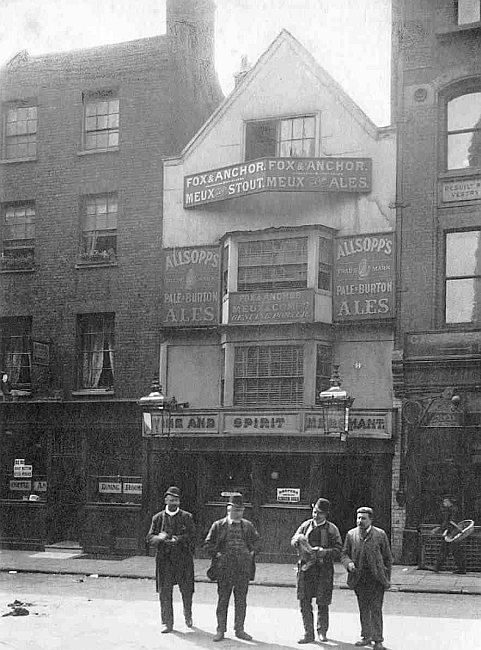 Fox & Anchor, 115 Charterhouse Street- before 1897
At the time of the rebuilding the pub was let to the victuallers Roberts Brothers, who also ran a cigar-shop next door at No. 117. During their tenure an opening was made between the two premises to create an extensive first-floor dining-room.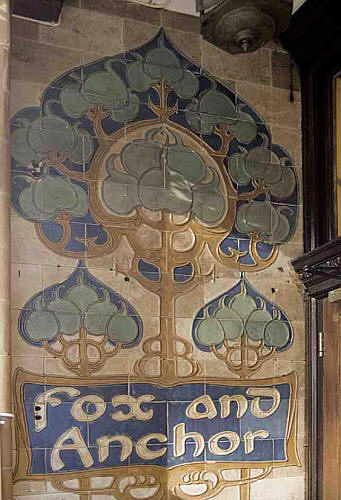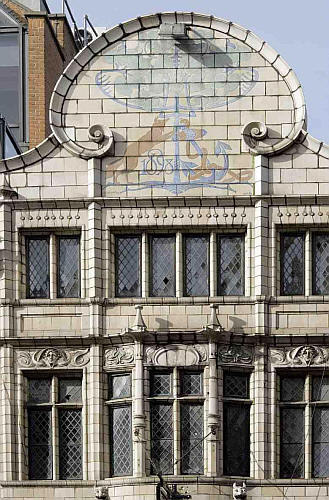 These two images in 2006 show Doulton's Carraraware by W. J. Neatby, 1897­ 1898, on upper facade and (below) in entrance.
Kindly provided by John Carnaby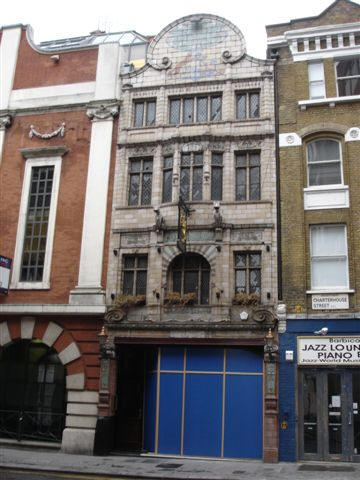 Fox & Anchor, 115 Charterhouse Street, EC1 - in May 2007
Kindly provided by Stephen Harris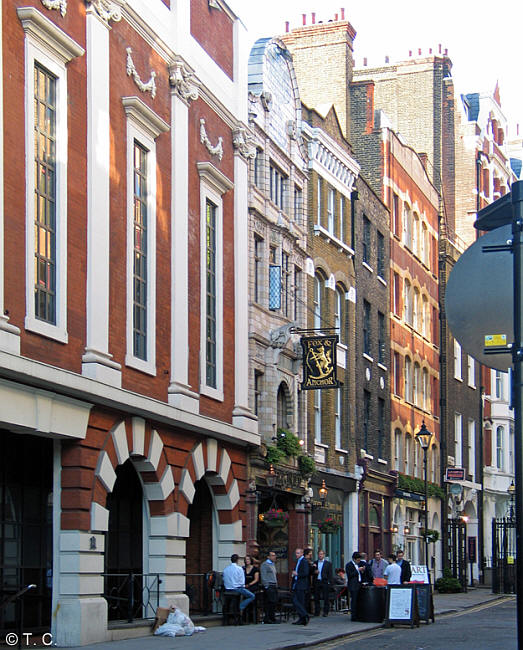 Fox & Anchor, 18 Charterhouse Street EC1 - in June 2013
Kindly provided by Tris
The following entries are in this format:
Residents at this address.
1788/John Martin/victualler/../../Sun Fire Office records held at the London Metropolitan Archives *+

1789/James Duffell/victualler/../../Sun Fire Office records held at the London Metropolitan Archives *+

1832/Barton/../../../Robsons Directory

1833-34/John Burton, Fox & Anchor, 18 Charterhouse lane/../../Pigots Directory

1839/Ann Barton/../../../Pigots Directory

1841/C Phillips/../../../Kellys Directory

1842/Chas Phillips/../../../Robson's Directory

1843/Charles Phillips/../../../Kellys Directory

In 1844, 1846 and 1847 (and presumably the intervening dates) John Edward Judge was a licensed victualler residing at 18 Charterhouse Lane. Prior to this he had been at the Grave Maurice, Bow Lane. ***

1848/Henry Ward/../../../Post Office Directory

1851/Mrs Martha Ward/../../../Kellys Directory

1851/William Ward/Licensed Victualler/37/Boddington, Northamptonshire/Census
1851/Elizabeth Ward/Wife/27/Tipton, Worcestershire/Census
1851/Sarah Ward/Daughter/4/Clerkenwell, Middlesex/Census
1851/Elizabeth Ward/Daughter/2/Clerkenwell, Middlesex/Census
1851/Florence Ward/Son/2 months/St Sepulchre, Middlesex/Census
1851/William Willis/Lodger, Pawnbroker/28/Ayford/Census
1851/Peter Stewart/Lodger, Bookbinder/44/Perth/Census
1851/Edmond Copp/Visitor, Draper/22/Exmouth/Census
1851/William Cox/Visitor, Draper/26/Norton, Somerset/Census
1851/Henry Davies/Lodger, Drapers Assistant/27/Basingstoke, Hampshire/Census
1851/William Littory/Lodger, Drapers Assistant/21/Cernsbury, Devon/Census
1851/Charles Bocking/Waiter/20/Bellington, Essex/Census
1851/Sophia Smith/Nursemaid/14/Clerkenwell, Middlesex/Census
1851/Mary Ann Williams/Maid of all Work/18/Clerkenwell, Middlesex/Census

1856/William Ward/../../../Post Office Directory

September 1864/Marian Goss/Outgoing Licensee/../../Era

September 1864/Benjamin Stratton/Incoming Licensee/../../Era

March 1866/Benjamin Stratton/License renewal/../Clerkenwell News

1869/Peacock & Watson/../../../Post Office Directory

September 1870/John Thomas Peacock/Outgoing Licensee/../../Era Newspaper

September 1870/Alex Watson/Incoming Licensee/../../Era Newspaper

1880/Robt Edward Bright/../../../Post Office Directory **

1881/Jane Elizabeth Bright/Wife of Licensed Victualler/44/Stratford, Essex/Census
1881/Emily Jane Bright/Daughter/13/London, Middlesex/Census
1881/Jessie Hannah Bright/Daughter/11/London, Middlesex/Census
1881/William Frank Bright/Son/7/London, Middlesex/Census
1881/Arthur Thomas Bright/Son/7/London, Middlesex/Census
1881/Harriett Sarah Macilwain/Barmaid/17/Poplar, Middlesex/Census
1881/Rebecca Jane Ripsher/Domestic Servant/20/Ickleton, Cambridge/Census

1882/Robt Edward Bright/../../../Post Office Directory

1884/R E Bright/../../../Post Office Directory

1891/Mrs Jane Elizabeth Bright/../../../Post Office Directory

1891/Robert E Bright/Butcher (Master)/52/Stratford, Essex/Census
1891/Jane E Bright/Wife, Licensed Victualler/54/Cripplegate, London/Census
1891/Emily J Bright/Daughter/23/Cripplegate, London/Census
1891/Jessie H Bright/Daughter/21/Cripplegate, London/Census
1891/William F Bright/Son, Architects Assistant/17/Cripplegate, London/Census
1891/Arthur T Bright/Son, Auctioneers Assistant/17/Cripplegate, London/Census
1891/Annie L Lee/Visitor/22/Chelsea, Middlesex/Census
1891/Rebecca J Bipsha/Cook/30/Ickleton, Cambridgeshire/Census
1891/Louisa Hendley/Domestic Servant/17/Plaistow, Essex/Census
1891/Harriet E Bird/Barmaid/20/Mile End, Middlesex/Census

1894/Robt Edward Bright/../../../City of London Directory **

1895/Ann Young/../../../Post Office Directory

1899/Roberts Bros/../../../Post Office Directory

1910/Pioneering Catering Co Ltd/../../../Post Office Directory

1915/Pioneer Catering Co. Ltd/../../../Post Office Directory *+

1917/Pioneering Catering Co Ltd/../../../Post Office Directory **

1921/Pioneer Catering Co. Ltd/../../../Hughes Directory *+

1938/Pioneering Catering Co Ltd/../../../Post Office Directory

2017/../Fox & Anchor, 115 Charterhouse Street, Farringdon, London, EC1M 6AA : Youngs../../../pub directory ***



* Provided By Tris

*+ Provided By Ewan

** Provided By Stephen Harris

*** Provided by Tom Fisher