Newmarket, 25 King Street / 26 Smithfield street EC1
In the 1911 census the address of the Victoria is 24a King street, with the Newmarket next door at 26 King street. In 1921 the New Market & Victoria Hotel, at 24 & 26 King Street. Now primarily a restaurant called Bird of Smithfield (2014). This pub's address is now 26 Smithfield Street. * The original Newmarket at King street was bombed and completely destroyed in September 1940.
[Note: If you are trying to find the Black Bull listed at 25 King street, it is listed as the Victoria!]
St Sepulchre index
Historical London public houses, Taverns, Inns, Beer Houses and Hotels.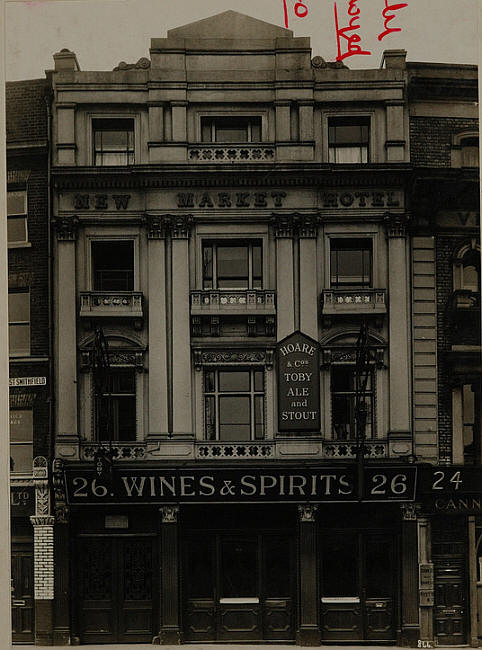 Newmarket, 25 King Street, Snowhill EC1 - pre 1940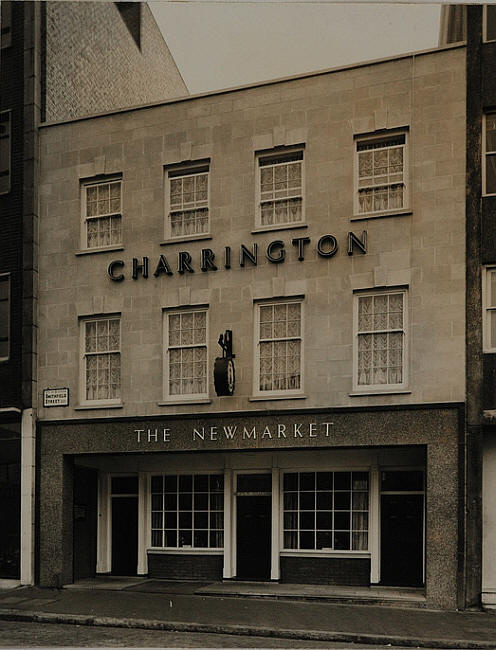 Newmarket, 25 Smithfield street EC1 - in 1964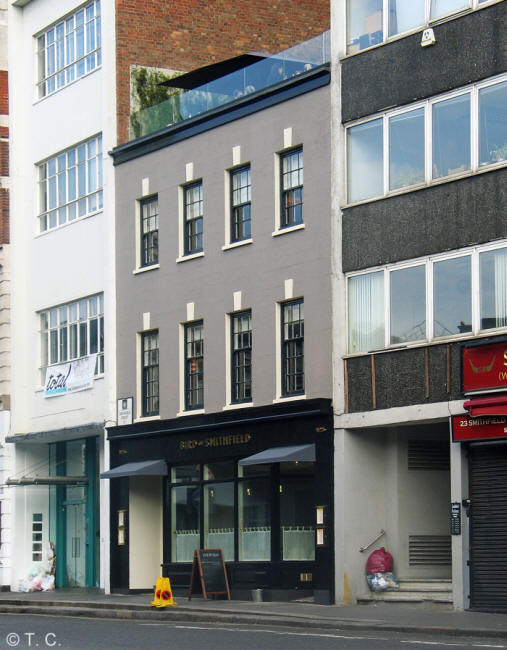 New Market Hotel, 25 King Street, EC1 - in June 2013
Kindly provided by Tris
Residents at this address.
1864/Thomas Armstrong, New Market Hotel, 26 & 27 King street, Snow hill EC/../../Post Office Directory

1866/George Frederick Kerschner, New Market Hotel, 26 King street, Snow hill EC/../../Post Office Directory

1869/George Frederick Kerschner, New Market Hotel, 26 King street, Snow hill EC/../../Post Office Directory

1874/T Bull, New Market Hotel, 26 King street, Snow hill EC/../../Licensed Victualler & Hotelier Directory

Dwelling: 25 King Street, Snowhill :
1881/Samuel Gummer/Licensed Victualler/34/London, Middlesex/Census
1881/Elizabeth Gummer/Wife/35/London, Middlesex/Census
1881/John Vertun/Barman/18/London, Middlesex/Census
1881/George Chapman/Barman/21/London, Middlesex/Census
1881/Margaret Weatherley/Cook/28/London, Middlesex/Census
1881/Emily Beeton/Housemaid/17/London, Middlesex/Census

1884/James Crimmen, New Market Hotel, 25 & 26 King street, Snow hill EC/../../Post Office Directory

1891/Thomas Charles Dorling, New Market Hotel, 25 & 26 King street, Snow hill EC/../../Post Office Directory

1895/Henry Sirkett/../../../Post Office Directory

1899/Arthur William Priddy, New Market Hotel, 25 King Street, West Smithfield EC/../../Post Office Directory

1901/Mabel Emma Tull/Manageress/26/Southwark, Surrey/Census
1901/Minnie Bearman/Barmaid/25/Sevenoaks, Kent/Census
1901/Hannah Caroline Eaton/Cook/31Stoke Newington, London//Census
1901/Albert Edwd Turner/Barman/20/Bermondsey, London/Census
1901/Frederick J Farthing/Billiard Marker/29/Rushmore, Suffolk/Census
1901/Albert Chambers/Barman/20/Wilbey Green, Suffolk/Census
1901/Ernest Edward Philbeam/Potman/19/Hastings, Sussex/Census
1901/George Mancer Clark/Barman/22/Hastings, Sussex/Census

1911/Edward George Billinghurst/Licensed Victualler/37/Plumstead, Essex/Census
1911/Clara Chidley/Housekeeper/29/Leyton, Essex/Census
1911/Elizabeth Holloway/Cook/26/Paddington, London/Census
1911/Beatrice Gray/Servant/21/Somerset/Census
1911/Charlotte Harris/Kitchenmaid/24/Camberwell, London/Census
1911/William Dolling/Head Barman/27/Bath, Somerset/Census
1911/Alfred Wachett/Barman/23/Chadwell Heath, Essex/Census
1911/Sidney Batt/Barman/24/Alrediston, Wiltshire/Census
1911/Walter Nunn/Barman/23/Bury St Edmunds, Suffolk/Census
1911/William Lake/Barman/25/Kirachee Barracks, India/Census
1911/Harold Ferris/Waiter/23/Peckham, London/Census
1911/James Stevens/Waiter/20/Bethnal Green, London/Census
1911/William Holloway/Waiter/21/Forest Gate, Essex/Census
1911/Daniel Miller/Head Waiter/21/Southwark, London/Census

1921/Edward Geo Billinghurst/../../../Post Office Directory

1934 - 1940/Billinghurst/../../../Freehold

1938/Edward Geo Billinghurst/../../../Post Office Directory

1964/J R Johns/../../../Freehold

1965/Copes Taverns/../../../Freehold

1966/D Harman/../../../Freehold



* Provided By Tris

** Provided By Stephen Harris